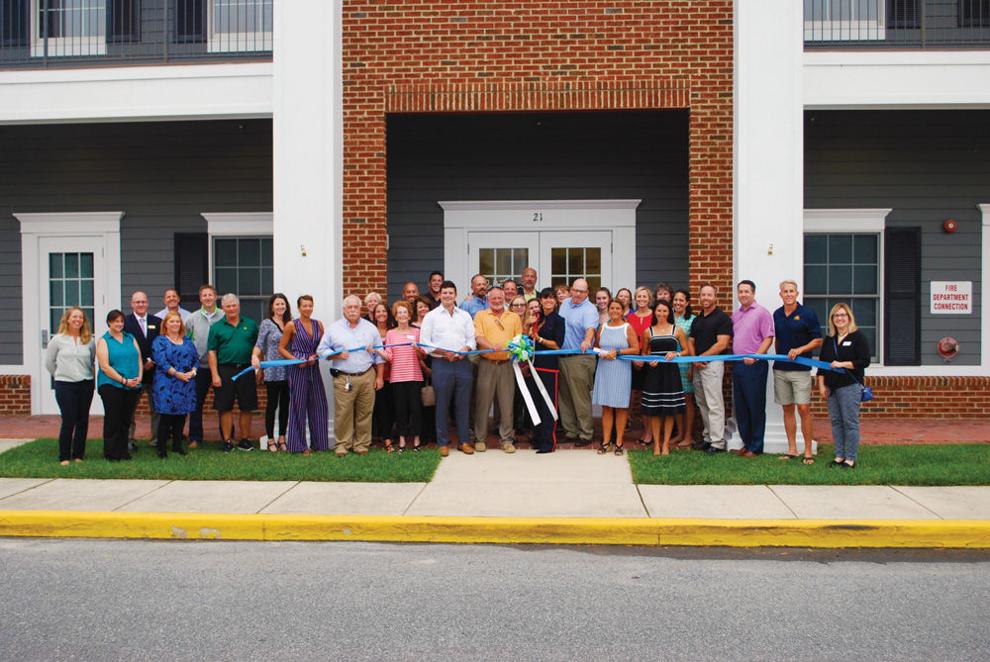 Causing too much traffic — and a comparison to clogging roadways the way cholesterol clogs a heart patients' arteries — were among concerns expressed by opponents of a proposed 70-room hotel with restaurant during a Sussex County Planning & Zoning Commission public hearing this week.
Planned by Carl M. Freeman Companies, who built the Bayside community east of Selbyville, the hotel is expected to be situated on Route 54 near Lighthouse Road, in the vicinity of Treasure Beach RV Park & Campground and Papa Grande's and Catch 24 restaurants.
During the hearing, one woman proposed that Michelle Freeman, CEO of the Carl M. Freeman Companies, post a sign saying the company has decided to preserve the land.
"Wouldn't that be wonderful? Everybody knows how important that land is," she said.
"That's a terrific idea, probably the best idea I've heard," said a man who called in to speak to commissioners. Although commissioners eventually asked speakers during the hearing to refrain from repeating what others had already said, the caller said it was important to repeatedly talk about anticipated problems.
"Route 54 connects Fenwick to the rest of Sussex County. It's been clogged for years, like a dying man about ready to have a heart attack and every summer it has that heart attack. So why not shove some more cholesterol in there? It just doesn't make sense," he said.
After listening to dozens of adversaries explain why they want the commission to recommend against the project — nobody spoke in favor — commissioners deferred making a recommendation at the Thursday, June 10, hearing. The matter is expected to go before the Sussex County Council at its Tuesday, July 27, meeting, for approval or denial.
Samantha Danaher, who, with friend Kirsten McGuigan-Kleinstuber, formed the Fenwick Protection Project, also objected, saying, "How disappointed our loyal tourists will be when they are driving east and that beautiful land is gone that welcomed them to the beach."
Adding a hotel and restaurant goes against the character of "the Quiet Resorts," she said.
The location is close to the Delaware-Maryland border.
"It would sadden me to see Delaware become as populated as Ocean City is with all the hotels and high rises," she said.
What she grew up with "is being stripped up from us faster than we can keep up with it," she said.
"Being able to run through marshlands as kids, run through all the woods that have been torn down. Now this piece of land is the last piece of picturesque land on Route 54," she said, asking for the land to be preserved.
Mark Tingle said the proposed hotel and restaurant would be within walking or biking distance to the beach.
"The shoulders in no way can accommodate this kind of thing now, and if you add this many more people, that is going to be that much worse. I don't come to these meetings because most of the county is zoned one way, and all you ever talk about is taking — you're taking somebody's rights — but now you are taking a piece of property, and instead of building townhouses on it, you are allowing them to build a hotel and a restaurant.
"This isn't a conditional use. This is a permanent structure. This thing isn't going away. It's there … Every time you guys take something like this you are taking from us. You are taking my life. It's getting to the point where I can't take it anymore. And I'm really getting to the point where I'm thinking about selling and moving," he said.
"Shame on the Carl Freeman Corporation for even wanting to development that property," another speaker said. "You brag about being philanthropic, so why don't you listen to us? You speak a lot about the community, but I would like them to start listening to us," she said.
Local, sixth-generation farmer Henry Bennett, who spoke to commission members by phone, said opponents didn't want Bayside, "and you didn't listen."
"This company has, and will continue to, pave over Delmarva if they are allowed," he asserted.
Bennett said Route 54 cannot handle more traffic and that he was concerned about nutrient management. Farmers take courses on nutrient management and know turf is hazardous to the environment and pollutes water, he said.
"Nobody will catch a crab in the Fenwick Ditch for generations. Agriculture is well and thriving in this area. Leave it as the last piece of land in that area for future generations to enjoy," he urged.
Another caller asked commissioners to consider the future of the area and the importance of tourism.
"Tourists won't sit in bumper-to-bumper traffic, and home owners will look elsewhere for second homes. Please consider the cumulative effect of everything you are approving and ask yourself, 'When will we reach a tipping point?'" she said.
A Fenwick Island resident said there are already daily traffic jams and summer hasn't yet begun.
"We just don't need this. When are you guys going to stop?" he said.
"It doesn't seem right or ethical or even possible. … Just because everything around us is built up doesn't mean this property should be," another woman said, adding that her biggest fear is she won't be able to evacuate in case of a major storm.
"It makes no sense. There is no compelling reason whatsoever," she said.
Another caller asked commissioners why they feel a hotel and restaurant would benefit the community.
"I don't understand why you would even entertain this when there are so many people who oppose it. I would like to know why you wouldn't represent your constituents. I don't see anything positive about it," he said.
Before the hearing, McGuigan-Kleinstuber, who co-founded the Fenwick Protection Project, saidshe worries about an increase in traffic and too much stress on the infrastructure.
"I am also concerned about the impact on the community, the general quality of life. We all live here because it's 'the Quiet Resorts.' We enjoy the natural beauty, the kind of a slower way of life. In Fenwick, we only have a few hotels. This is not a big hotel town. I think that's why people live here and like it here," she said.
"Wetlands are in that whole area. I'm sure a buffer zone will be required before they can build, but even just putting in impervious surfaces — pavement — and developing that area will have a major impact on the whole," she said.
Members of the Fenwick Protection Project said they will write letters to commissioners, Sussex County Planning & Zoning Director Jamie Whitehouse, Sussex County Council members and local newspapers and are likely to plan a protest.
But Joshua M. Mastrangelo, senior vice president at Freeman, said in a statement sent to the Coastal Point, that the proposed hotel and restaurant will be "a beautiful addition to the existing commercialized area."
"Carl M. Freeman Companies is recognized for our attention to both the environment and design aesthetics. That said, here are a few key characteristics of the project," including the company has more than 120 acres of land, but only plans to develop 30 to 40 acres.
"Always cognizant and respectful of the environment, we are clustering the development towards the road and preserving the most sensitive areas of the site. The total preserved wetlands on this site is more than 82 acres. The hotel will have 70 rooms. The proposed restaurant and hotel will be adjacent to existing commercially developed areas," he stated.
"Our company is making significant investments in the infrastructure in the immediate area, specifically aligning the intersection and making it safer for pedestrians, cyclists and all vehicles. We are also installing a traffic signal," he stated.
He and those who run Freeman understand, he said, "that sometimes growth and change can be tough for people to embrace, so we appreciate the opportunity to share information about this exciting project."
"We have been standard-bearers of innovation and excellence in real estate development since 1947. Today we are guided by our CEO Michelle Freeman's philosophy that the well-being of society is as important as the success of development itself. The impact our company has made on Southeast Sussex County fills us with pride."