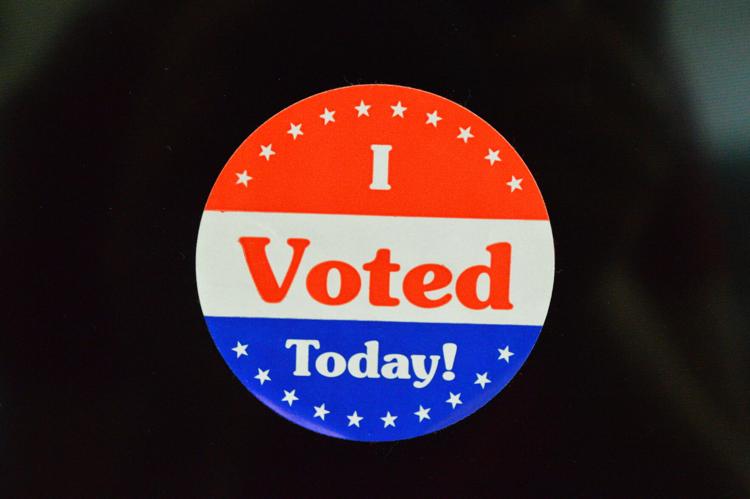 Delaware's primary election will be held across the state on Tuesday, Sept. 15, from 7 a.m. to 8 p.m. Primary voting is only for voters who are registered as Democrats or Republicans, to choose which candidates will represent their respective political parties in the Nov. 3 general election.
People can vote in-person. Or with some pre-planning, absentee voting and vote-by-mail are also still available.
Delawareans will be back at their traditional polling places of fire halls, town halls and schools (unlike the July presidential primary election, where people could choose their voting location).
Contested elections for the 2020 primary include:
Sussex County Democrats
• U.S. Senator (Christopher Coons of Wilmington or Jessica Scarane of Wilmington)
• Governor (John Carney Jr. of Wilmington or David Lamar Williams Jr. of Camden-Wyoming)
• Insurance Commissioner (Kayode Abegunde of New Castle or Trinidad Navarro of Bear)
Sussex County Republicans
• U.S. Senator (James "Jim" DeMartino of Lewes or Lauren Witzke of Delmar)
• Representative in Congress (Matthew Hathaway Morris of Wilmington or Lee Murphy of Wilmington)
• Governor (Colin Bonini of Camden, David Bosco of Greenwood, Dave Graham of Smyrna, Julianne Murray of Seaford, Bryant Richardson of Seaford or R.E. Scott Walker of Wilmington
• Sussex County Council, District 2 (Lisa Hudson Briggs of Georgetown, Cynthia Green of Greenwood or Robert D. Wilson of Georgetown)
• Sussex County Council, District 3 (Irwin "I.G." Burton III of Lewes or Mark Schaeffer of Lewes)
There are other contested races in other parts of Delaware, too, while Neil Shea withdrew from the Republican governor's race.
Eligible voters must be a state resident; a U.S. citizen; at least 18 years of age by the Nov. 3 general election; and registered to vote in Delaware.
For voters, the deadline to register or change parties for the Sept. 15 Primary Election has already passed. People are not required to choose a party in order to participate in the Nov. 3 general election, but they must be registered to vote by Oct. 10 (or Oct. 19 for uniformed service members and citizens living outside the U.S.).
Voters can find a "one-stop shop" for voting online at https://ivote.de.gov (register to vote, update address or political affiliation, find polling locations and view sample ballots).
More maps, calendars, eligibility rules and candidate lists are online at https://electionssc.delaware.gov (Sussex County) and https://elections.delaware.gov (Delaware).
People can also contact the Department of Elections, Sussex County Office at 119 N. Race Street, P.O. Box 457, Georgetown DE 19947. The phone number is (302) 856-5367. The email address is votesc@delaware.gov (general information) or absenteesc@delaware.gov (absentee voting).
Reminders for in-person voting
All in-person voters should expect to wear masks and socially distance. If indoor spaces fill up, voters may need to wait in line outdoors. To protect the public and poll workers, there will be face shields, hand sanitizer, rubber gloves and alcohol wipes for the machines.
Voters are being warned that they will come within 6 feet of poll workers during sign-in and during the machine tutorial.
Delaware does not require voter ID cards at the polls, but poll workers will need some proof of identity. Anyone who prefers not to show some ID must instead fill out a form before voting. Valid proof of identification can include a Delaware driver's license or state ID card; U.S. passport; signed polling-place card; signed Social Security card; signed vehicle registration; signed credit card with photo; or a similar document that identifies the person by photo or signature.
Handicapped-accessible polling places and voting machines are available. Voters who need assistance can inform the election officers at the polls. Voters with special needs may also bring someone with them to help in the voting process.
Reminders for absentee or vote-by-mail
There is little difference between vote-by-mail and absentee voting. Both involved a two-part process, requiring voters to submit an application before the paper ballot itself is obtained. This can be done in person at the Department of Elections, by mail, by fax or online at https://ivote.de.gov.
All ballots are paper. But absentee voting allows electronic ballots for military service people away from home and for people with disabilities.
Anyone who has already requested an absentee ballot this year can vote absentee for the reason: "I am sick, or physically disabled" in order to practice self-quarantine or prevent community spread of the coronavirus COVID-19. On the other hand, the newer vote-by-mail option does not require a reason, and it was created by the general assembly.
Completed ballots cannot be dropped at a polling location. All mailed ballots must be received by the Department of Elections in Georgetown by 8 p.m. on election day (confirm that the ballot was received by checking online at https://ivote.de.gov). There is also a 24-hour drop box at the back of the building for hand-delivery of ballots. Anyone may deliver the signed and sealed ballot after the registered voter completes the forms.
The deadline to request an absentee or mail-in ballot for the primary by mail is noon on Friday, Sept. 11. However, voters waiting until then to request a ballot may need to hand-deliver ballots back to Georgetown in order to make the Sept. 15 voting deadline.
"We always advise folks to really mail it as early as possible. … We do have drop boxes in the [Department offices], so that is an option for you if you're tight on time," said State Election Commissioner Anthony Albence.
However, if folks are unable to deliver their completed ballot on time to Georgetown, they can still physically vote at their regular polling place. Such a voter can go to their polling place on Election Day, and the staff will check the voter's record, which may require extra time to telephone Georgetown. If the record shows that no ballot had been collected at that point, the absentee ballot will be voided, and the voter can proceed to a voting booth. If they vote in person and their written ballot does belatedly arrive in Georgetown, that second ballot will be rejected.
Introduced in 2019, the state's new electronic sign-in system keeps track of who has voted, to prevent people from double-voting.