Delaware is trying a new type of public transit in Millsboro and Georgetown, starting this month. Starting soon, DART Connect buses will come when passengers call them and, for $2, drop riders within a block of their destination in either town.
It's "on-demand micro-transit service … smaller vehicles serving fewer people than conventional bus routes, [moving people to] precise locations," said Nathan Attard, a strategic planner in the Office of Innovation at Delaware Transit Corporation (DTC), which runs DART First State.
And it'll be a more flexible and convenient way for the general public to travel within and between Georgetown and Millsboro.
"For the same price as a DART bus fare, customers can travel to more destinations without waiting for a bus schedule," officials said. "Instead of planning a trip around a bus schedule, customers can instead book a trip within minutes. Waits are estimated to be no more than 15 minutes during service hours."
The program will ask users to walk just a little bit, to the nearest intersection, to minimize driving times. There are no fixed bus stops — just the nearest corner drop-off. However, signage will be added around town, explaining how to use DART Connect. The pilot project effectively doubles the service area, and reduces wait times from the previously hourly Flex circulator route.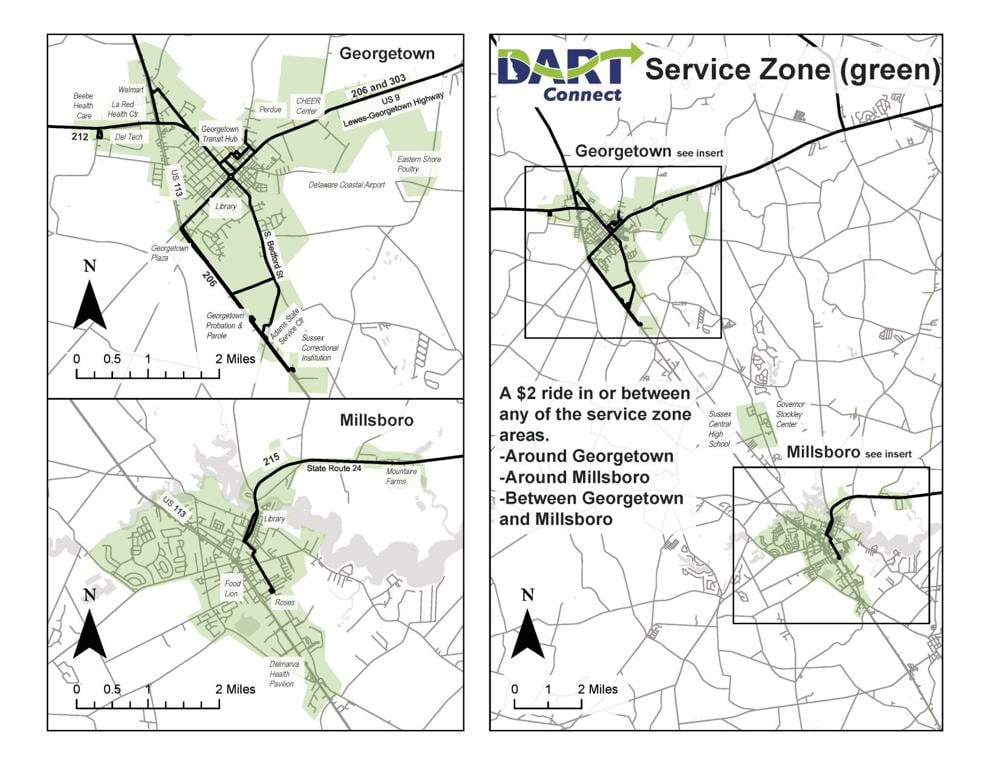 The zones for the program include most of Georgetown and Millsboro, including a mile or two down their outgoing roads, serving schools, libraries, shopping centers, government buildings, poultry producers, health centers, sports and recreation areas, apartment complexes and housing developments.
Customers can schedule rides using a new DART Connect mobile app or by calling 1-800-652-DART, Option 3. The cost is generally $2 per ride, with the service honoring passes and discounts. Riders can bring cash for the fare box (exact change) or, soon, by using the DART Pass mobile app.
"In a matter of three minutes, you will have a ride booked," said DTC Chief Innovation Officer Veronica Vanterpool.
The mobile app will launch on Thursday, April 1. Ride reservations will begin Monday, April 12. As a 30-day promotional period, all rides will be free from April 12 to May 11, giving everyone a chance to test the service.
Hours of operation will be 5:45 a.m. to 8 p.m. Monday to Friday (no bookings past 7:45 p.m.), which is the same as the former Flex Routes 901 and 902, which the service replaces.
"This is a demand-response service that does not take [advance] reservations. So, rides are booked when you need them," said Vanterpool.
However, pedestrians cannot just hail or flag down a passing bus. Reservations are currently required, by phone or app.
One person can book a ride for his or her entire group to ride. Also, anyone who represents, say, a service organization, can also book rides for their clients.
Visually, the app's map will show individuals where to walk for their pick-up; the incoming vehicle's location; and a picture of what type of bus or vehicle to expect. For telephone reservations, DART will send regular text messages for location updates.
Millsboro and Georgetown also connect to DART's other fixed bus routes: the 215 to Long Neck and Rehoboth Beach; the 206 to Lewes; the 212 to western Sussex; and the 303 to Dover. By perhaps just walking one block, people will be linked to other Sussex County and Delaware buses, which lead to other planes, trains and automobiles.
Riders can bring bicycles on the small bright-white buses. Wheelchair users are welcome, and they can even request rides to the front door (without travelling to the nearest street corner).
The program will provide "first/last mile" connections for other bus routes. It won't deliver regular passengers directly to their front door, but they'll only have to walk to the nearest corner or intersection to catch a ride.
Although the immediacy is similar to a taxi, Uber or Lyft, Dart Connect does not provide "individual trips for individual people," said Vanterpool. "There are other services that do that. This is providing a transit experience: providing people similar rides in a similar direction."
Riders may see the same folks every day at the same hour, or the ridership could change from any given time to another.
DART Connect replaces the previous DART Flex service that introduced in November 2014. Lately, officials said, the circulator buses in each town weren't getting many requests for the special one-mile deviations. Many DART transit services were paused when the pandemic started, and the deviations simply weren't started again, said Tremika Cherry-Wall of DTC planning department. However, Flex Route 903 will continue to serve Seaford.
"We have heard that our residents in Sussex, in particular, were clamoring for improved transit options," Vanterpool said at virtual public information sessions on March 30 and 31.
Millsboro and Georgetown, officials said, were well-suited for the Connect pilot program, which stemmed from a 12-month Federal Transit Administration grant to explore new transit models. The on-demand flexibility better serves the rural surroundings with more immediacy, they said. The company Via Transportation Inc. is helping with software for logistics, mapping and scheduling.
"It's a test. It's a pilot program. If it doesn't work, DART will look for other ways to serve you that is effective," Attard said.
"The program is going to change over its life, over the different phases," Attard noted.
In the future, DTC staff hope to connect the app to more modes of transportation, so Connect riders could coordinate their full trip through Wilmington, or book to a local taxi or non-emergency medical transport vehicle.
The mobile app will download in English (or Spanish, if the phone is set to that language). Information fliers will be coming in English, Spanish and Haitian-Creole.
For more information or to provide feedback, email dtc_dartconnect@delaware.gov. Details are online at dartfirststate.com/programs/dartconnect.