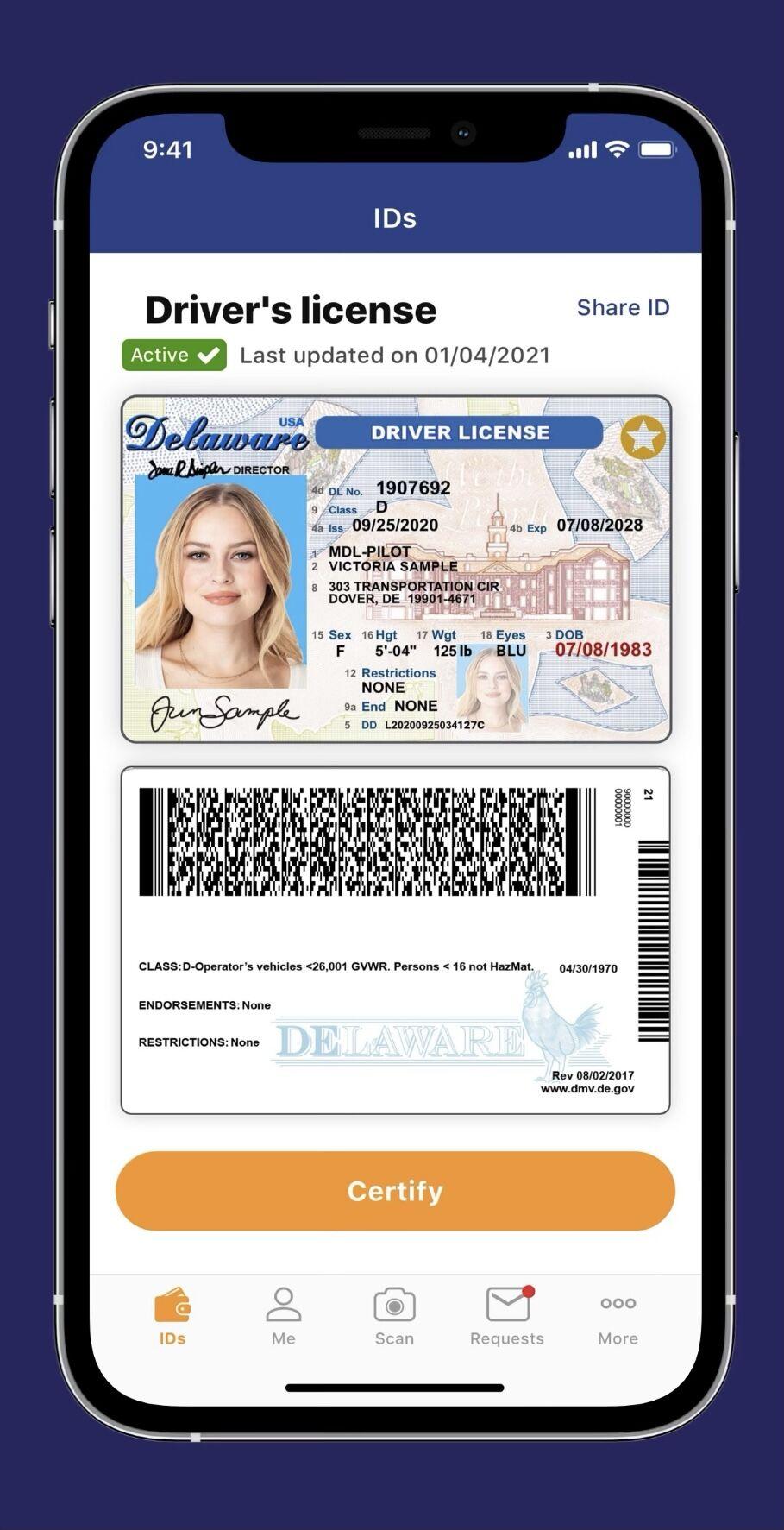 The Delaware Division of Motor Vehicles (DMV) on March 9 announced is now offering a digital identification credential to residents via a new app, Delaware Mobile ID.
The app allows Delaware's more than 800,000 licensed drivers and ID cardholders to use their smartphones as a form of ID, transforming the way residents manage their identity, officials said. After several years of extensive pilot testing, Mobile ID is newly available to the public.
"Mobile ID is also a significant step forward in the fight against identity theft due to several security features," officials noted. "Specifically, it requires users to capture and upload their physical ID, as well as a live selfie to compare against the individual's file with the Delaware DMV. After approval, users unlock the app using their face or fingerprints, ensuring only they can access their ID.
In addition to safeguards to open the app, Mobile ID offers privacy-control options that allow the user to verify they are of legal age while hiding unnecessary information, such as the user's address.
"It is important to note that, by law, one is still required to carry their physical credential as applicable for age and identity verification," officials emphasized.
"Mobile ID has additional benefits that a physical identification card simply does not have, and Delaware is proud to be one of the first states to pilot this technology," said Jana Simpler, director of the Delaware DMV. "We are happy to be able to provide this voluntary option to our customers."
Businesses and organizations will also experience the benefits of Mobile ID by using the platform to verify necessary information with confidence. Fraudulent credentials will significantly decrease as Mobile ID displays the most up-to-date version and status provided by the DMV.
"Delaware's release of Mobile ID technology is a significant step in bringing citizens a secure identification option at their fingertips," said Matt Thompson, senior vice president, Civil and Mobile ID of IDEMIA, the company behind Delaware's Mobile ID technology. "We are pleased to continue our long-standing partnership with Delaware to unveil this innovative technology as the state pioneers this new industry."
To learn more about where people can use Delaware's Mobile ID, visit www.dmv.de.gov/mobileID. To download the app, visit the Apple App Store or Google Play Store.