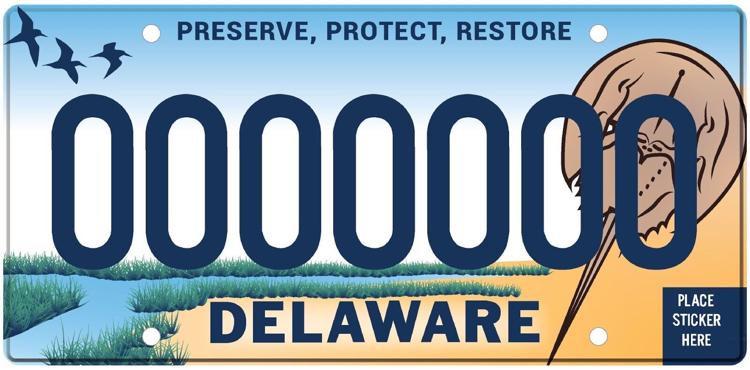 Delaware is known for, among other things, its license plates and horseshoe crabs. Delawareans can now embrace their First State heritage and support an environmental cause by purchasing a license plate featuring the state's very own living fossil.
The new environmental license plate featuring a coastal scene and limulus polyphemus — better known as the American horseshoe crab — is now available to purchase through the Delaware Department of Transportation's Division of Motor Vehicles, online or in-person at DMV locations throughout the state.
The plates cost $50 (a one-time fee) and can be a holiday gift for oneself or a loved one — a gift that keeps on giving, as 70 percent of the proceeds directly support the Delaware Center for the Inland Bays (CIB) and the Partnership for the Delaware Estuary (PDE). Both organizations conduct scientific research and surveys in the Delaware Bay and the Delaware Inland Bays, considered critical habitats for horseshoe crabs and the shorebirds that rely on their eggs each spring.
Delaware is the home of two National Estuary Programs (NEP) that are both non-profit organizations: the CIB, based in Rehoboth Beach, and the PDE, whose headquarters are in Wilmington. There are 28 NEPs across the country. The NEP is a nationwide program that's designed to protect and restore the water quality and ecological integrity of estuaries of national significance.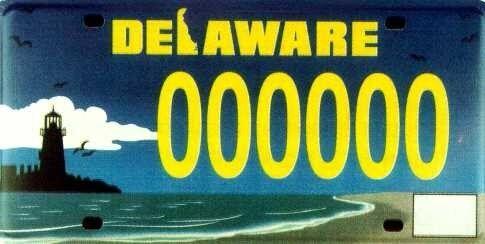 The iconic lighthouse environmental specialty license plate, which also benefits the CIB and PDE, is still available for purchase as well.
For more information about purchasing the plate, go to dmv.de.gov.