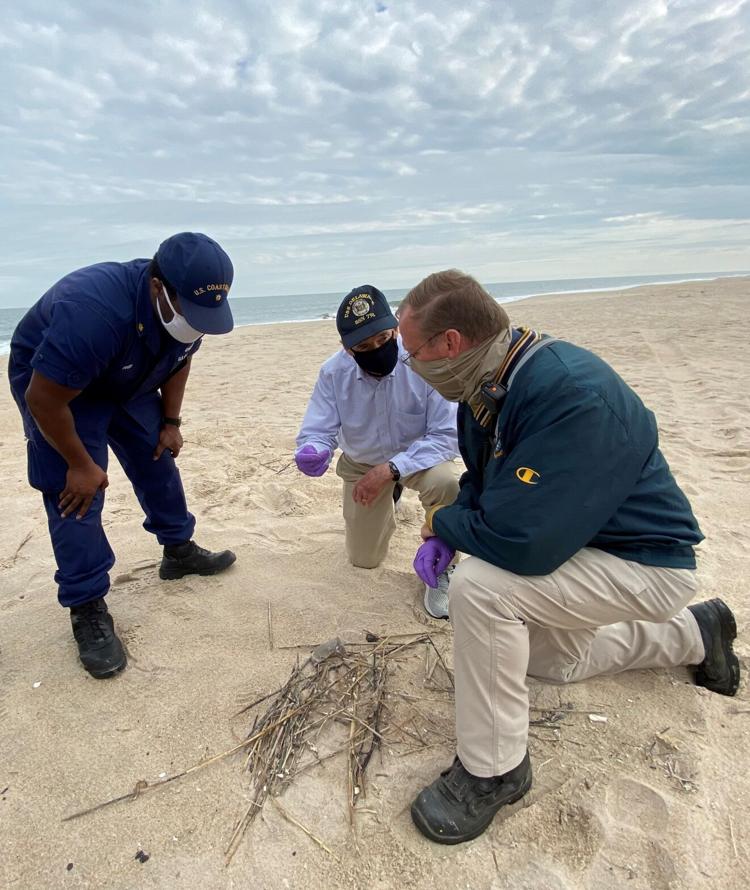 As cleanup efforts continued along Delaware beaches following a still-mysterious oil spill almost two weeks ago, state and federal officials this week continued to try to find the origin of the "tar balls" and oil-covered vegetation showing up as far south as Ocean City, Md.
U.S. Sen. Tom Carper (D-Del.) visited area beaches, including a stop at Tower Road beach in the Delaware Seashore State Park on Tuesday, Oct. 27, for a briefing on the cleanup and investigation.
As Carper and representatives from the Coast Guard and the state Department of Natural Resources & Environmental Control stood on the beach, a drone flew nearby checking for signs of oil on the beach.
Piles of vegetation from what is known as the "wrack line" — made up of objects such as eel grass, kelp, feathers, bits of shells and occasional trash that wash ashore at high tide — could be seen dappled with black oil.
The piles were being raked and removed by crews from Lewis Environmental, a cleanup company hired for the task since the oil was first seen at Broadkill Beach at the northern end of Sussex County.
U.S. Coast Guard Lt. Cmdr. Frederick Pugh, incident commander for the oil spill response, said 116 people had been brought in from Lewis Environmental for the cleanup, and 15 DNREC employees were also assisting. As of Tuesday, the waste from the spill was estimated at 65 tons, or enough to fill seven commercial dumpsters.
As of Tuesday afternoon, Pugh said, the epicenter of the spill seemed to be in the Broadkill Beach area, with the most oil having been seen on the beach there and effects lessening farther south. He said that, while there had been tar balls spotted on the beach as far south as Ocean City, Md., cleanup efforts so far have been focused on the area between Broadkill and the Indian River Inlet.
Pugh said samples of the oil have been sent to the Coast Guard's Research & Development Center in Connecticut and, "They are currently working to get basic characteristics of what the oil is and to fingerprint these samples," comparing them to oil samples taken from some vessels that are likely candidates for having released the oil, "to see if they match."
In addition, Pugh said, samples gathered by the National Oceanic & Atmospheric Administration (NOAA) have been sent to a laboratory at Louisiana State University for further testing "to get more of a profile on the oil, to determine exactly what that oil is."
Answering a question from Carper about whether a vessel could have released the oil without realizing it, Pugh said it is possible, and that it also could have been intentional or a result of some type of mechanical failure.
He said investigators have a few "candidate vessels." "We're not suspecting anyone just yet because we're not certain, and we're not sure how this happened."
Pugh said that, if a vessel is found to have discharged oil into the environment, "They are liable for the impact of that oil." Typically, he said, if a vessel is found to be responsible for an oil spill, "They would be roped into our incident command" and would be held responsible for the cost of the cleanup.
For now, Pugh said, cleanup funds are coming from the federal Oil Spill Liability Trust Fund, set up 30 years ago.
"I was involved in that," noted Carper, who is the ranking member of the U.S. Senate Committee on Environment & Public Works.
The funds will be used for both cleanup and investigation of the spill. Disposal of the collected oil materials has not been settled; they were working through a bid process with companies authorized to dispose of such materials, Pugh said.
Cmdr. Brett Workman, who is the chief of the Coast Guard's Response Sector Delaware Bay, based in Philadelphia, said NOAA satellite imagery "wasn't able to find an actual spill," apparently because the oil was just below the water's surface and didn't present a "sheen" that would have identified it.
One possible suspect vessel was tracked to Corpus Christi, Texas, and was examined, but has not been implicated in the spill, Workman said.
Through side-looking sonar, the bottom of the Delaware Bay near Broadkill Beach was examined, and no "anomalies" were found that could cause damage to marine life on the bottom of the bay, Workman said.
Workman said the oil — which is a heavier fuel oil — while not as toxic to animals as a lighter, more volatile oil, does have the potential to stay in the water longer than a lighter oil that would dissipate more quickly.
Jamie Bethard, DNREC's chief of emergency response, said that, due to testing of how different types of oils react when released into soil on the Delaware Bay shore, "We have a good history" and good information "about what this is going to do to our ecosystem."
"It's never a good thing," Bethard said, adding that eventually, the oil will turn into "an asphalt-type material."
"If we don't get it all," Bethard said, "the reality is we'll probably see some more next year. It has a tendency to migrate back up to the surface, and then you have little people walking on the beach with little black tar balls on their feet.
"We're doing the very best we can do," Bethard said.