On Sept. 11, 2019, Salted Vines bottled a red wine blend of Cabernet Sauvignon, Cabernet Franc and Syrah and named it "Tribute," to recognize those who are or have served in all branches of the military, police, fire and ambulatory services. For over a year, a portion of the proceeds from every bottle of Tribute sold was collected to be donated to local charitable organizations supporting these public heroes. Donations were recently presented to Blessings for Badges and Friends of the Delaware Veterans Trust Fund Endowment.
Blessings for Badges is a non-profit organization, founded in Sussex County. The organization provides warm meals for first responders who are on duty on Thanksgiving Day and cannot be at home with their families. Friends of the Delaware Veterans Trust Fund Endowment helps raise awareness and handles donations for Delaware Veterans Trust Fund, which was founded to provide assistance to veterans who have a financial emergency.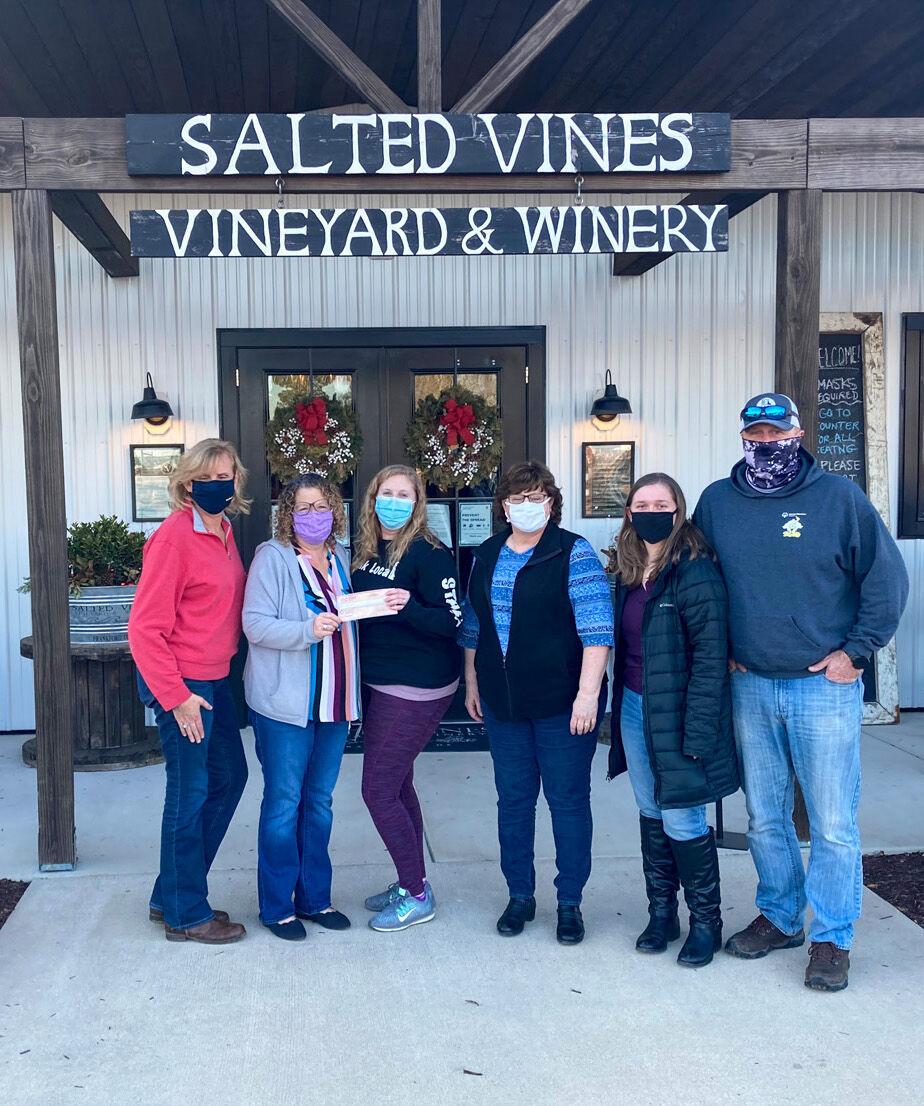 "Salted Vines is thankful for all the work our military and first responders do to serve our community. Creating Tribute was a way for the winery to honor them and extend our thanks by making a donation to help support the important work of these two local organizations," said General Manager Katie Duke.
Salted Vines Vineyard & Winery was founded in 2015 after owners Adrian and Jess Mobilia decided their previous winery Fenwick Wine Cellars, located in West Fenwick, was ready to expand. Salted Vines has had much success since the expansion, being voted the Best Winery in Coastal Style Magazine for 2018, 2019 and 2020 and Best Wine List for 2019 and 2020. They are also the recipient of The Bethany-Fenwick Area Chamber of Commerce's 2018 Best in Business award.
Located at 32512 Blackwater Road, Frankford, DE 19945, Salted Vines is on 26 acres of land, home to four vineyards, great outdoor seating, a newly renovated patio and a beautiful tasting room.
Visit Salted Vines' website (www.saltedvines.com) for details on business protocols during COVID-19. For additional information please call (302) 436-1500 or email info@saltedvines.com.