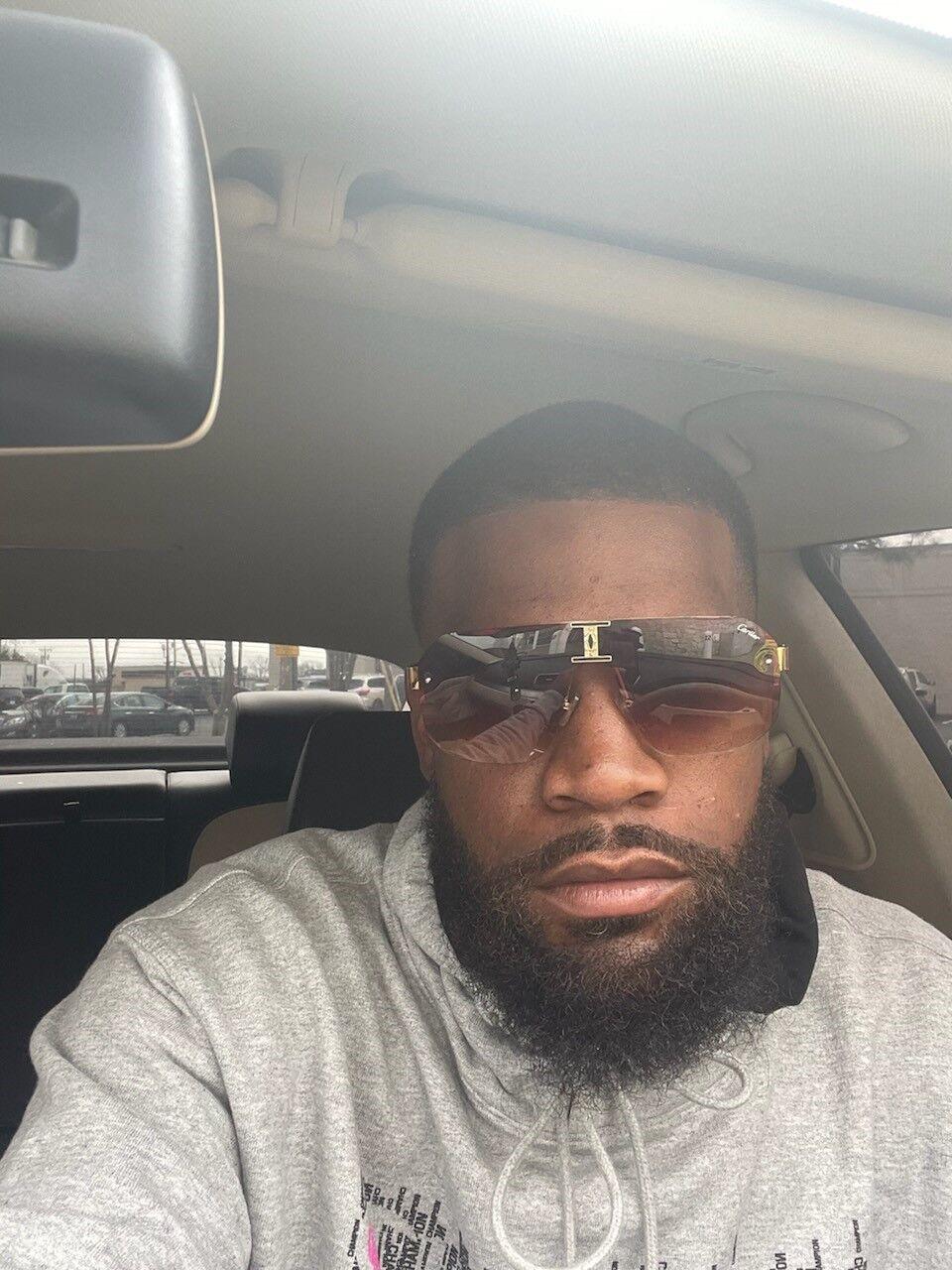 Darrin Taylor spent the 2021 Christmas holiday with his twin sister, Dawn, who lives in the Washington, D.C., area. Sussex County natives and graduates of Indian River High School, they both said their old stomping grounds have changed in the decades since they graduated.
Darrin Taylor knows this better than most. In the past five years, he has lost two sons to gun violence. The first one, his namesake, Darrin Gibbs, was gunned down in Millsboro in 2016. His body was found alongside a road. A second son, Dioandre "Onnie" Gibbs, was shot in broad daylight in Frankford almost eight months ago.
Although they both have moved away from the area, they still have strong ties here. Both said the gun violence that has shattered their family has changed the landscape of the place where they grew up.
Dawn Taylor said her nephew Onnie Gibbs was "very kind. He was goofy. He was sometimes quiet." Given the chance, however, to talk about him, she quickly shifted gears. "For me," she said, "this is not so much about who he was as it is about what's happening in lower Delaware."
She said she believes what led to her nephew's murder, just after 3 p.m. on May 19, is the easy availability of guns — particularly to young people. Both she and her brother Darrin said they believe the person who shot Onnie Gibbs is a teen or young adult. They also said they believe they know who it is. "We … probably broke bread with his family," she said.
"A 17-year-old boy can get a gun and do what he did to my son…" Darrin Taylor said, adding that it angers and saddens him that guns are now so much a part of the culture of the area where he grew up. As the months have gone by since Onnie Gibbs' murder, with no arrest, both have become frustrated. Dawn Taylor recently added $5,000 to the existing $1,000 reward offered by Delaware Crime Stoppers for information leading to an arrest in her nephew's murder.
A few weeks ago, representatives of Crime Stoppers, as well as the Delaware State Police, which is handing the investigation into Onnie Gibbs' murder, and Frankford Police Chief Laurence Corrigan, joined to place posters with a photo of Onnie Gibbs and information on the reward along Kauffman Lane, where he was shot, and in front of the home into which he crashed his car after being shot.
Corrigan recalled that the shooting occurred not only in broad daylight, but at a time of day when school buses were dropping children off at their homes after school. Darrin and Dawn Taylor said they believe that someone saw what happened to Onnie Gibbs that afternoon.
Dawn Taylor said she feels that local police departments are ill-equipped to handle the increase in gun violence the small towns across Sussex County. Corrigan readily admitted on the day of the Crime Stoppers event that he knew he needed the help of the state police — at the time, he was running a one-man department while working to build its size through recruiting part-time officers.
During a recent interview, Corrigan said he is grateful for the fact that the state police have the resources to devote to an investigation such as the one into the murder of Dioandre Gibbs.
"This is a very unique role for me," he said. "I'm not used to working second-chair."
He said that, although he has reached out to state police and local attorneys-general, he doesn't want to "step on their toes.
"It's more than stepping on their toes," he said. "I don't want to compromise anything. I wanted to retain the case, but we just don't have the resources here. I just don't feel like, with our lack of resources, we would do it justice."
Corrigan said he feels the state police are "highly trained and highly qualified people with a vast amount of resources. I'm grateful that they're here. The amount of resources that the state police poured into this case was phenomenal," he said.
Larger municipal agencies have access to state and federal grants to bring in more personnel to deal with serious crimes, Corrigan said. He added that he and his officers, although in an assisting role, are "actively seeking information" on Onnie Gibbs' murder.
In Sussex County alone, state police investigated eight homicides in 2021, with seven of those involving firearms and the eighth another type of weapon. Three of those homicides were domestic incidents, according to police records. Included in the eight was the murder of Delmar Police Cpl. Keith Heacook, who was investigating a report of a burglary and fight in progress when he was attacked.
"It's not Mayberry anymore," Dawn Taylor said from her home. To anyone who knows what happened to her nephew, she exhorted, "You're not doing this person any favors by hiding him. He thinks he's gotten away with something. I won't stop 'til he's behind bars. I won't stop."
"Someone asked me, if the shoe was on the other foot, would I say something?" Dawn Taylor said. "I said, 'Unequivocally, yes, I would.' I would be the first person at the police station" if she knew someone she was close to was responsible for the death of another person, she said.
"I don't know how people sleep at night," she said. "I want to make a plea to everyone who reads this: Come forward. There is a family that is in mourning. We need closure," she said.
"It's tough," she said. "My heart is shattered. I'm never going to recover."
Darrin Taylor said that, while drugs may be a driving force in the increase in gun violence in Sussex County, "drugs are going to be everywhere. My thing is the guns," he said. He said he is alarmed by the culture change in which teens will do anything for "that cool pair of sneakers, that nice necklace."
"These little teenagers," Darrin Taylor said. "They think it's cool, doing this. It took both of my sons.
"Mentally, I'm going through a lot," he said. "I get very angry sometimes."
When Darrin Gibbs was killed in November of 2016, his aunt said, family members were able to provide information which, in addition to ballistics testing and surveillance video, led to the arrest of A.J. McMullen in connection with the crime, in September of 2017. Taylor had been shot in the back of the head and was found near the intersection of West Monroe and Houston streets in Millsboro.
According to the state Department of Justice, McMullen killed Gibbs to prevent him from providing information on a robbery McMullen had committed against a drug dealer. McMullen was sentenced to life in prison in February of 2020.
The Taylors are hoping the added reward will provide enough incentive for someone to come forward — anonymously, if they want, through Crime Stoppers — to help put Onnie Gibbs' killer in jail.
Meanwhile, they said they took solace in simply being together over the holiday.
"I thank God for my sister," Darrin Taylor said. "I wouldn't be where I am if it wasn't for her."
Dawn Taylor said old family pictures "that still hang on my wall, remind me of a better time." She added that, while those memories are sweet, "I will live a different normal," going forward. "I just feel like I'm watching a movie, and it's not really my life," she said.
"Where is this coming from and what are we going to do about it?" she asked. "If you see something, say something. We need to be vigilant and diligent. I do believe I am my brother's keeper."
Corrigan said he has talked to Dawn Taylor at length in recent days and that the conversation has been helpful.
"We're working very diligently on our end, and with the state police, and with the attorney-general, for that matter," he said. "We're daily working hard on the ground here, toward the resolution of this case," he added.
"That family deserves some type of closure," Corrigan said. While he acknowledged "there has been a huge uptick in gun violence — not just here, but statewide," he said, "what's driving it, I can't unequivocally answer. At this point, I think an actual motive is still unknown."
According to Delaware State Police statistics, there have been 29 homicides in Sussex County since 2016, including the eight in the year just ended.
"I just think we're mired in a society that's very quick to go to guns now," Corrigan said. He said he sees guns increasingly used against others "over a minor disagreement, in many cases."
The police chief, who has lived and worked in Sussex County for about three decades, said he believes "it will take a collaborative effort between families, the community and the police" to help stem the increase in gun violence in the area.
Dawn Taylor said she believes "the bigger story, beyond whatever was behind the murder" of her nephew, is "Are we equipped to handle what's going on? Are our police forces equipped?"
"What this family's been through is unfathomable," Corrigan said. "Justice needs to be served here."
While Dawn Taylor has found considerable success in her career in talent recruitment in Washington, D.C., she said her upbringing in Sussex County "molded me to be kind and humble."
The Taylor and Gibbs families continue to struggle to come to grips with how their own family has been forever altered by gun violence.
"That feeling of safe and quiet and peaceful, when I cross that bridge" from the western side of the Chesapeake Bay, she said, "that's gone forever."
Anyone with information that might lead to an arrest in Dioandre Gibbs' murder is being encouraged to call Det. Brian McDerby at (302) 741-2821, or email him at brian.mcderby@delaware.gov. Information may also be provided anonymously by calling the Delaware Crime Stoppers tipline at 1-800-TIP-3333 or through the website at at http://www.delawareCrimeStoppers.com.