At the funeral to honor Cpl. Keith Heacook, the family asked that voicemails from Heacook be played — upbeat, humorous messages to Susan, his wife of 22 years, whom he deeply loved.
"Hi, baby. Just wanted to say hello. I miss you. … Have a good day at work. I love talking to a machine instead of my wife. I don't get no kisses, no hugging. How rude. Love you. Mean it, from the heart," the 54-year-old, 22-year veteran of the Delmar Police Department said playfully in one of the recordings.
"Hi, honey. I figured I'd try to call you again but you're on the house phone. … Anyhoo, enjoy your day at work. Have fun. Work hard. Earn that dollar. See if you can take me out somewhere. Bye."
"I'm sorry you missed my call, too, because I was bringing sexy back."
Hearing those words was made more poignant because his wife, on her Facebook page on April 28 — the day he died, after having been assaulted while responding to a call in Delmar three days earlier — had posted simply, "I miss your voice."
Missing the officer was a repeated theme at the Monday, May 10, funeral.
Friends and family members walked down the aisle at the crowded Emmanuel Wesleyan Church in Salisbury, Md., past Heacook's flag-draped coffin and onto the pastors' platform, where they shared memories and shed tears.
"I'm going to miss my brother very much. Stupid things we did. I can top some of his voicemails, though," Tom Heacook said as the audience laughed and he told them that, once, the brothers got separated in a store and Tom paged his younger sibling as "Ferris Bueller."
Their mother, Anita, Tom Heacook said, chastised him, saying, "Don't you know he works in this town?"
"I said, 'Yeah, and he's a cop, too.'"
"I will miss all the phone calls, fixing things with him, for him," Tom Heacook said. "Right now, my brother's 10-7," he said, using police code for being out of service.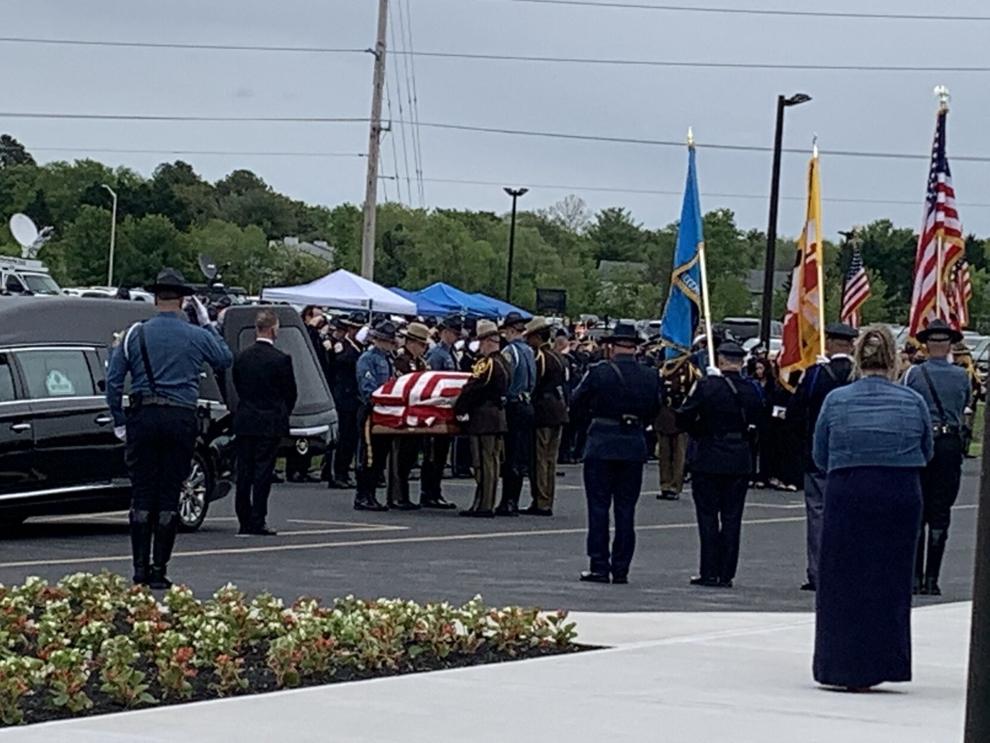 Heacook's stepdaughter, Michelle Colander, thanked the community for its love and support, on behalf of her mother and family.
"Keith came into our lives 22 years ago. From the beginning, he was my mother's best friend and biggest supporter. That kind of dedication was like something you'd see in the movies," she said, describing the couple as affectionate and inseparable. Colander said she thought at the time that it was just new and would fade, "but until the end, he was still leaving voicemails, calling her every morning, having candles lit, dinner for her when she got off work."
"They depended on each other for love and support. Nothing and no one could come between the love they shared as man and wife," she said, also crediting Heacook for supporting her and her brothers, "even though I'm pretty sure we've given him some gray hairs throughout the years."
Heacook is survived by his wife; a 12-year-old son, Matthew; stepchildren Colander, Clint Baker and Chuck Baker; mother, Anita Heacook; sister Maryalice Heacook Berrios; brother, Thomas Heacook; and sisters Kathleen and Anita Heacook.
Gov. John Carney, who spoke at the funeral, said that for the past two weeks he has "struggled to make sense of this."
"I find my only consolation is knowing the incredible good in peacemakers like Cpl. Heacook and other law-enforcement officers who are willing to risk their lives to keep the rest of us safe and in the end — that good will prevail."
When Heacook responded to the call, he wasn't just doing his job — he was trying to help his neighbors, the governor said.
"He was running toward the danger. … He went to that residence as a peacemaker. To Cpl. Heacook's family and members of the police department: We know you're feeling collective grief, but I hope you can also feel the collective support," he said.
Maryland Gov. Larry Hogan praised Heacook for bringing honor to his badge.
"In the morning, when that final, fateful call came in, Keith did what he was trained to do. He acted immediately, without regard to his own safety. The heinous crime that followed, which resulted in unspeakable tragedy, is a reminder of the risks our men and women in blue face every single day," Hogan said.
Cpl. Kevin McCahill of the Delmar Police Department began his remarks with a slight smile and imitation of Heacook, who was known for saying, "Heeey, buddy."
"Many of us are here because we knew and loved Keith," he said, adding that he hoped Heacook will be remembered as an extraordinary man.
He brought grins when he said the officer was "never late for a shot and a beer."
Heacook was also known for his "smile, his dry, quirky humor" and slowly filling out reports.
"He was so slow that he was what you might call a creative genius. His desk and his patrol car looked like a storm that came through, but he had his own system and always could find what he was looking for. You never knew what was going to come out of his mouth," McCahill said, characterizing Heacook as an officer who was developing into a skilled investigator who, like the TV detective Columbo, always looked for inconsistencies.
"He was a gentle giant, strong as an ox, always smiling, and he would do anything for anyone. He had the heart of a servant. He fought the good fight with dignity and grace," he said.
Heacook's cousin, Larry Schwartz, a retired police officer, had more serious words, from chastising the media for not being careful with the spelling of Heacook's name to asking what would have happened to Heacook's reputation if he had been forced to kill the man who struck him.
"His life would have been hell. The media would have been here in full force. He would have been placed on administrative leave and his life put under a microscope, even if he was cleared," he said.
When he was getting ready for his shift, Schwartz said, he didn't imagine it was going to be his last day at work. He stopped to visit his elderly mother, got back into the patrol car and, around 5 a.m., responded alone to a call for a disturbance. The "actor," as Schwartz called the assailant, using police terminology, had already harmed neighbors in their home when Heacook encountered him.
"Unarmed criminals can kill you," Schwartz said, calling on "the politicians of Delmar" to not just "roll the dice," but to make changes so no other officers are killed.
He urged Delmar Police Chief Ivan Barkley, who has said he needs more manpower, to make his voice heard. "Stand up and fight for your officers. Don't be silenced."
Schwartz drew a standing ovation when he said the people who hate bad officers the most are "the good cops out there doing a good job every day."
Heacook's wife, in an April 27 Facebook post, had asked if the incident could have been avoided.
"To the Delmar Police Department, I ask why? Why was my husband the only officer on duty? Why was he the only officer sent to respond to that call? … My husband was beaten unconscious without any other law-enforcement there to back him up. How long did he lay on the floor before help arrived?" she wrote.
Delaware Attorney General Kathleen Jennings, in a news release, called Heacook's death "the worst moments any of us can imagine: mourning the loss of a member of our law enforcement family" and said 30-year-old Randon Wilkerson, who was arrested and charged in the case, will now also be charged with attempted first-degree murder.
The Rev. Chris LaBarge, pastor of St. Francis de Sales Catholic Church in Salisbury, who officiated at the funeral, read from the Bible's books of John and Revelation, and said he understands the difficulty family and friends are having understanding why Heacook, who was also an accomplished carpenter and countertop fabricator, had to die. There is no answer, but there is "Now what?" as the officer's legacy is forever honored, he said.
Before a gun salute, playing of "Taps" and flyover, Beth Niblett, police communications officer for the Delmar Police Department, conducted the "End of Watch Call," during which a call is issued to an officer, followed by silence, a second call, silence again, then the announcement that the officer failed to reply because he died in the line of duty.
"Heacook, your wings were ready; our hearts were not," Niblett said. "We will forever miss you. Keep smiling, buddy."