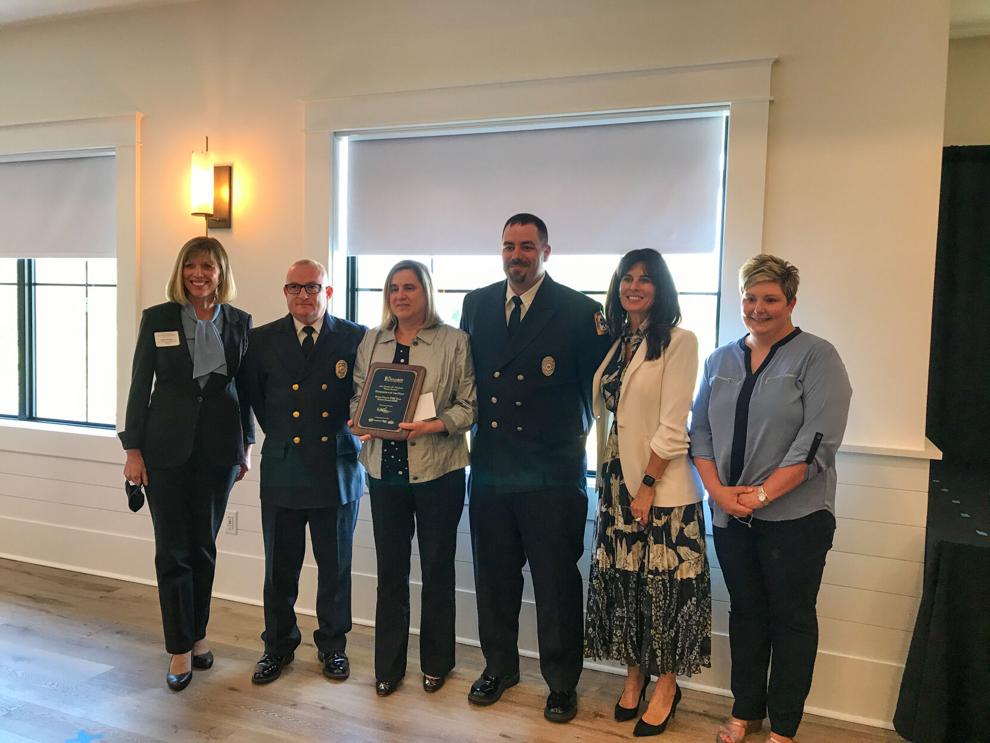 Being a first-responder is a tough job on any given day. Add a year of pandemic-related uncertainty, and it's the challenge of a lifetime. In a special recognition, the entire staff of the Sussex County Emergency Medical Services (EMS) this week won the 2021 Joshua M. Freeman Valor Award for their service.
"I don't think people truly understand the sacrifices that our staff made, that all healthcare professionals made in the past year," said EMS Director Robbie Murray. "Not only did you deal with it at work, but you had to live with the real possibility that you could take this virus home, So, it was a different level of stress than I think any first-responder is used to dealing with.
"We had spouses sleeping in separate bedrooms. We had a husband and wife," both working in healthcare, "who decided to send their kids to live with their parents," out of an abundance of caution, he said.
Meanwhile, his administrative team was meeting daily, starting in March of 2020, to assess the situation.
Behind the scenes, the administrative staff "were focused on making sure they were getting all the PPE they needed," which meant a lot of research and shopping around for that personal protective equipment, said Lynn Kleb, office manager.
"I think as long as you're in the proper protective equipment, you're really not at risk," said Mark Sheridan, deputy director, but that's something people have come to learn in the past year. The first several months were very uncertain. "I don't think anyone expected it to last this long."
A point of pride is that, based on contact tracing, none of the EMS staff appears to have contracted COVID-19 as result of patient interaction.
"We've definitely went above the minimum requirements, and I think that helped us all feel as safe as we could be," said paramedic Calvin Yelverton. But that meant discomfort, such as wearing N-95 masks during the response to a cardiac arrest on the beach in July. "It didn't come without challenges or hardships, trying to work around all the additional equipment, but we made it work, as we always do."
At the worst of times, when science and health officials were just learning how COVID can spread or linger, medics were still going out into communities and homes for patients' worst health incidents.
"It just shows the dedication of the entire department and their ability to overcome adversity through the past year and working over our own fears to accomplish our goals of taking care of the citizens of Sussex County," Yelverton said.
Celebrating the service of many
The Bethany-Fenwick Area Chamber of Commerce honored about a dozen individuals from police, fire and ambulance agencies in southeastern Delaware at a May 7 luncheon at the restaurant Signatures at Bayside.
These are the people who keep the local communities safe all year, for the benefit of residents and the many visitors to "The Quiet Resorts."
"It's no secret our community's been hurting. … However, today we are uplifted" by celebrating those who keep the community safe, said emcee Mike Bradley.
"As someone who's lived through tragedy … no one truly understand how important [emergency responders are] until you have to use them," said Michelle DiFebo Freeman, owner and CEO of the Carl M. Freeman Companies, chairman of its charitable foundation and the founding chairperson of the Joshua M. Freeman Foundation, named after her late husband, who was killed in a helicopter crash in 2006. "And then when they come to your rescue, or you know that they're with a loved one … then you understand the power of their service."
In memory of the Selbyville Volunteer Fire Company member who died while responding to an accident on April 9, the Laura Madara First Responder Endowed Scholarship was also announced at the May 7 event, with Madara's parents in attendance.
The scholarship will be administered by Delaware Technical Community College for Sussex County women who are interested in pursuing an education in EMT basic training or an associate's degree in criminal justice or similar avenues. The Carl M. Freeman Foundation and SVFC have both committed funds to the scholarship.
"Laura was a shining example of what it means to serve … known for her volunteerism and commitment to public safety," said Freeman. "We were so inspired by the impact one woman can make on a community."
This legacy will give "Sussex County women the opportunity and training needed to continue to serve their community," said Freeman, thanking the fire company and Madara family. "We wish you all of the best and thank you for your families' many years of service. Our community is a better place because of families like yours."

Police Officers of the Year
Police officers in each local department were singled out for their work in 2020:
 Sgt. Rhys Bradshaw of the Ocean View Police Department and Officer Anthony Quiroz of the South Bethany Police Department, for courage in the face of danger during a late-night altercation and arrest of a wanted person who violently resisted arrest while under the influence of crystal methamphetamine.
 Sgt. Chuck Scharp of the Bethany Beach Police Department, for helping develop policies, training, accountability and the BBPD's accreditation by the Commission on Accreditation for Law Enforcement (CALEA). The BBPD is one of the nation's smallest units to be certified as such.
 Capt. Anthony Valenti of the Frankford Police Department, for his overall enthusiasm, work ethic in policing and commitment to town projects, even while pursuing a bachelor's degree and currently achieving a 3.9 GPA.
 Lt. Michael Bruette and Cpl. Eric Foskey of the Selbyville Police Department, for quick action and response to a motorcyclist who, after speeding at least 130 mph on Route 113, fled by breaking into a downtown Selbyville house, where three children, ages 1 to 14, were home alone.
 Officer Megan Loulou of the Dagsboro Police Department, for her proactive and community-oriented policing, such as in removing an armed driver under the influence from the roads, as well as her strength and compassion in working with those with medical or mental health needs.
Firefighters of the Year
Local firefighters who were nominated for awards included:
 Walter "Walt" Johnson of the Millville Volunteer Fire Company, for leadership in recruiting, and mentoring less-experienced members on everything from firefighting itself to personal conduct, plus his own dedication to emergency calls as 2021 assistant chief and on-call command officer.
 Rolland Marvel Jr. of the Roxana Volunteer Fire Company, for ongoing dedication to both the fire company (as a Top 10 responder and fire line officer) and his own training, and overall enthusiasm to serve the community on tasks, big or small.
 Barry Mitchell of the Frankford Volunteer Fire Company, for more than 30 years of service and leadership, including fire-prevention program revitalization with local schools, and quick planning to design and implement COVID-19 precautions, for both the ambulances and the fire company's take-out dinner fundraisers.
EMTs and Paramedics of the Year
EMTs and paramedics who were honored this year included:
 EMT Tyler Hickman of the Millville Volunteer Fire Company, for leadership in equipment management, selflessness in picking up extra shifts (even on days off), overall compassion and lifesaving skills in his service.
 EMT Gary Walls of the Roxana Volunteer Fire Company, for dedication to improving emergency service since becoming their first career EMT/firefighter years ago, improving firefighter rehab (recovery) at emergency scenes and 20 years of overall service.
 The entire Sussex County EMS Team, who also won the overall Valor Award.
Remember their families, Freeman urged, "when the lights fade and things go back to normal, because that's when they need it most."