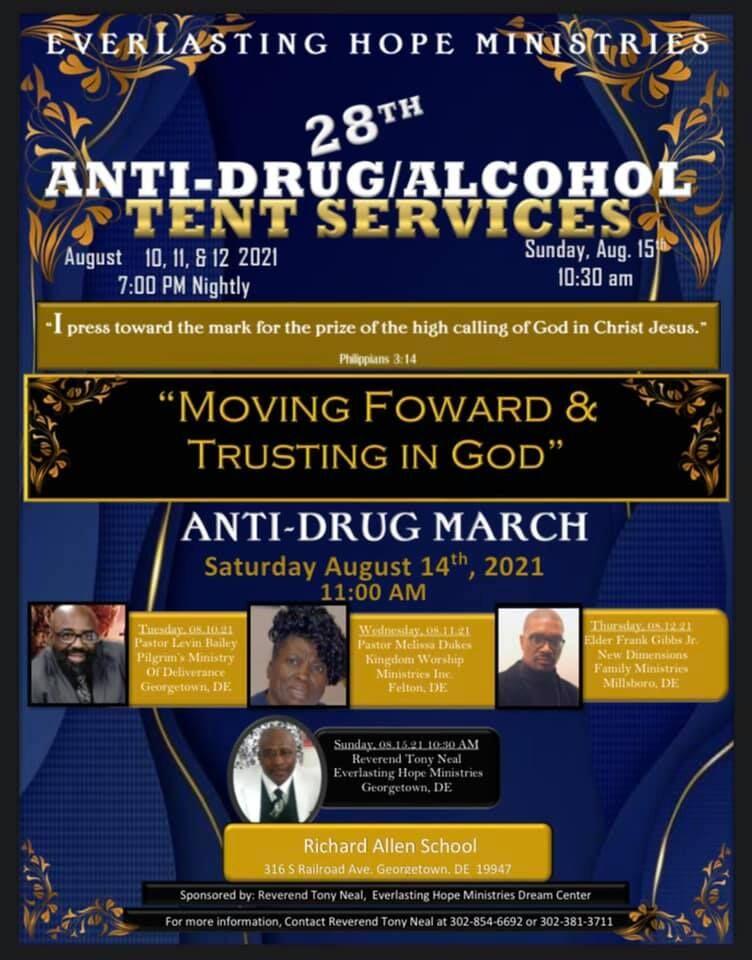 Everlasting Hope Ministries, under the leadership of the Rev. Anthony "Tony" Neal, will sponsor its 28th Annual Community Anti-Drug Rally & March on Saturday, Aug. 14. The march will begin at 11 a.m. on the grounds of the Richard Allen School, located at 316 South Railroad Avenue in Georgetown.
Organizers said the purpose of the rally and march is to send a positive message to the entire community — especially to youth — that says yes to life and no to drugs. Participants will be carrying signs and spreading their anti-drug messages through the streets of Georgetown.
The march will return to the Richard Allen School grounds, where Fun Day activities will be held from noon until 4 p.m. There will be a variety of games, food, bounce houses, train rides, door prizes and more. Everything will be provided free of charge.
Exhibit tables will also be available for those interested in distributing helpful literature and other items. Those who are interested in sponsoring a vendor table should contact Tony Neal. Free T-shirts will be provided to the first 300 participants. For more information, contact Vanessa Neal at (302) 854-6692 or the Rev. Tony Neal at (302) 381-3711).
Tent services to be held in Georgetown
Everlasting Hope Ministries this week also announced the schedule for this year's 28th Annual Tent Services. The services will be held on Tuesday, Wednesday and Thursday, Aug. 10-12, and Sunday, Aug. 15. The big tent will be located on the grounds of the Richard Allen School, 316 South Railroad Avenue in Georgetown. Services will begin 7 p.m. Tuesday through Thursday. The Sunday service time is 10:30 a.m.
The purpose of the meetings is to encourage individuals whose lives have been adversely affected by drugs or alcohol. A guest speaker will present a timely message nightly to inspire and challenge those in attendance to resist drugs and alcohol. Attendees will also be challenged to strive for individual excellence through a personal relationship with Jesus Christ.
The speakers are: Tuesday, the Rev. Levin Bailey form Pilgrim's Ministry of Deliverance, Georgetown; Wednesday, the Rev. Melissa Dukes from Kingdom Life Ministries, Millsboro; Thursday, Elder Frank Gibbs Jr. from New Dimensions Family Ministries, Millsboro; Sunday morning, the Rev. Tony Neal, the host pastor and director of Everlasting Hope Ministries.
The services are open to the public; everyone is welcome to attend. For more information, contact the Rev. Tony Neal at (302) 381-3711 or (302) 854-6692.