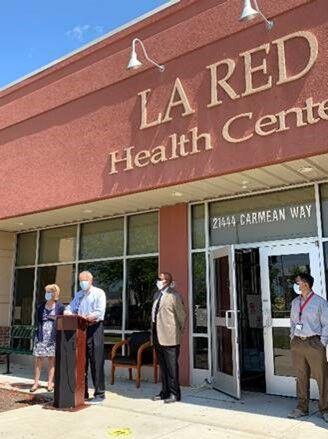 On Tuesday, May 4, U.S. Sen. Tom Carper (D-Del.) joined La Red Health Center CEO Brian Olson, La Red staff and representatives from the offices of U.S. Sen. Chris Coons and Congresswoman Lisa Blunt Rochester (both also D-Del.) to announce a $3.8 million grant award from the U.S. Department of Health & Human Services. The funding was made possible by the American Rescue Plan, passed by Congress and signed into law by President Joe Biden in March.
The American Rescue Plan provides $7.6 billion for community health centers and federally qualified health centers. The funds can cover retroactive costs incurred since the beginning of the pandemic and can be used for activities necessary to respond to COVID-19, including testing, vaccine administration, delivery of healthcare services, infrastructure modifications, and community outreach and education.
"This year, La Red is celebrating its 20th anniversary, and it may be its toughest year yet," said Carper. "Working with local churches and organizations to reach out to the most rural parts of Sussex County, La Red reaches tens of thousands of Delawareans who face barriers to receiving care, especially during this pandemic, when so many patients were home-bound. I'm so proud that we are able to fund our federally qualified health centers like La Red so that all Delawareans can access quality, affordable healthcare."
"Community health centers are critical to providing high-quality healthcare to some of our state's most vulnerable communities," said Coons. "I am proud that through the American Rescue Plan, La Red Health Center was able to secure federal funding to expand access to the care they have been delivering to Delawareans during this pandemic."
"Throughout the entire COVID pandemic, La Red and all of Delaware's community health centers have provided heroic care to our communities," said Blunt Rochester. "I'm so pleased that the Delaware delegation, working with the Biden Administration, was able to secure this key funding so that La Red can continue their critical work and help keep Delawareans healthy and well."
La Red and Delaware's other federally qualified health centers are designed to provide Delawareans with affordable, quality health services, and offer a critical safety net that uninsured Delawareans can rely on in a time of need. The grant award will use funds provided by the American Rescue Plan to expand their efforts to provide quality healthcare delivery to those Delawareans who otherwise would not have it.