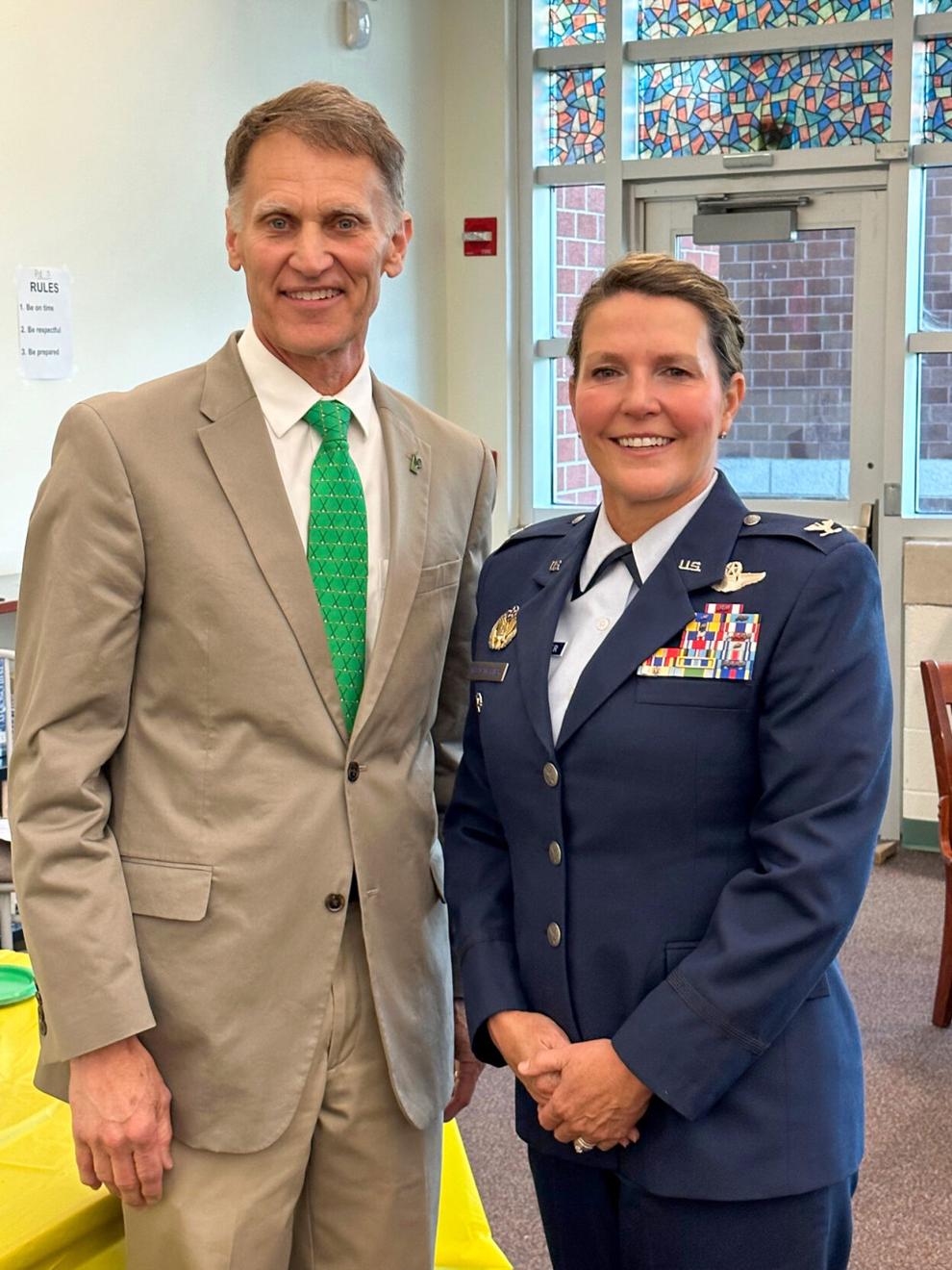 U.S. Air Force Lt. Col. Anita West-Werner and state Rep. Ron Gray (R-38th) were inducted in to the IRHS Hall of Fame on May 17 at a special senior awards evening, which included the Air Force colonel, who is a member of the IRHS Class of 1993, and the legislator, who is a member of the Class of 1973, providing motivational remarks on leadership geared toward inspiring the college-bound young people.
Bennett Murray, newly elected as Indian River Alumni Association president, said, "Tonight we have the best of the best among us who are all graduates of this high school and have gone on to very successful careers. Perhaps you can follow in their footsteps. Our IRHS Hall of Fame committee this year has selected Air Force Lt. Col. Anita West-Werner and State Delegate Ron Gray to be inducted into your Hall of Fame."
Murray, who had served as both an assistant principal and principal at IRHS before taking his current position as assistant principal at John M. Clayton Elementary School, also announced more than $7,000 in alumni association scholarships from its fundraisers, including the Beef & Brew event held recently at the Frankford Volunteer Fire Company fire hall.
He became visibly emotional when he announced that two scholarships for $2,500 would be created in honor and memory of his son, Ridge Murray, who died in 2022 in a drowning accident at Fells Point in Baltimore. Bennett Murray said he was pleased that his son's IR legacy would continue through this grant money.
West-Werner is with the 512 Operations Group at Dover Air Force Base. She currently supports the director of the Air Force crisis team at the Pentagon and is a Boeing 737 pilot with United Airlines.
Gray was first elected to the state house in 2012. A professional engineer, has had successful civil engineering businesses and real estate companies.
Dr. Devi Enerio-Ellant, a practicing doctor now based in New York City and the class president for the Class of 1987, introduced the Hall of Fame award winners. She served as chairperson of the selection committee and provided her own remarks on being a Filipino immigrant who had to battle stereotypes about women in science and medicine to complete her degrees. She also thanked IRHS teachers and administrators for their role in shaping her career.
West-Werner noted that she had also originally wanted to have a career in medicine, and had completed her degree at University of Delaware in pre-med and sciences, then went on to study veterinary medicine in the Virgin Islands.
"But I made an about-face," she told the senior students. "I stepped out of my box and took a risk. I wanted to learn how to fly and to choose a career in the military instead."
Known to many of the IRHS students as "Mama West," since she has a daughter attending the high school. She said her only regret was missing some of her daughter's and younger son's achievements due to military deployments. West-Werner thanked her own mother, in particular, "for everything and for getting me to where I am today."
"I started out with an eight-year military commitment in 1999," said West-Werner, who has served for more than 24 years in the USAF and at Dover Air Force Base. "I was commissioned back in 2000 as an officer and I got my wings," she said. "Of course, then we had the Sept. 11, 2001, crisis the following year, so my next job was to stand up to the war on terror."
"Last week just marked my 24th year in the United States Air Force," said West-Werner. "I am also a United Airlines 737 pilot. I am very blessed," she said.
She quoted Amelia Earhart, one of her lifelong heroes and the first woman to fly across the Atlantic Ocean: "Use your fear; it can take you to a place where you store your courage."
Gray noted that he had been out of Indian River High School for more than 50 years, but that "It seemed like yesterday" that he was walking the hallways. Gray has remained active at the high school with various clubs and continues to mentor young students, so has seen the expansion of IRHS programs.
"I was sitting where you are 50 years ago," said Gray. "As you look back over the four years of your education, you must now look forward to what is ahead."
"What brought me success was to have a plan, to continue my education, to complete every task with vigor and to really recognize your own talents," said Gray. "Perseverance is the most important trait — people give up too early and easily."
"You will receive great joy," with these character traits, he said. "Luck is really being prepared for the next opportunity. You must always be ready and then you can become very lucky indeed."