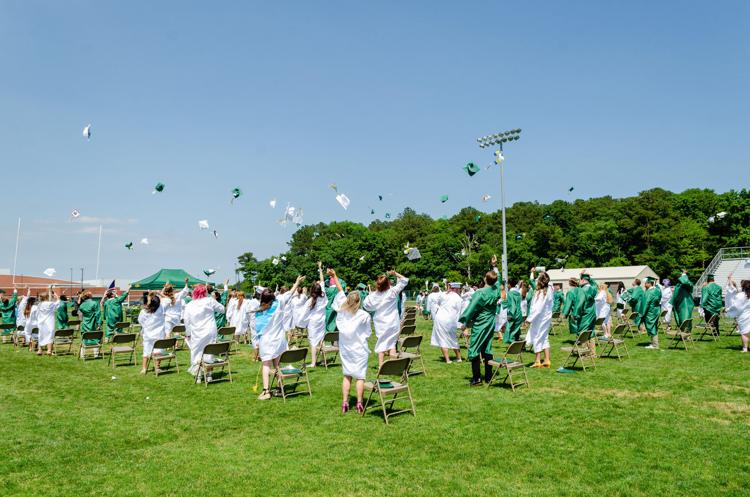 This month, the Indian River High School Class of 2020 enjoyed one moment of certainty: they crossed the graduation stage under sunny skies at the IRHS football stadium, surrounded by their classmates and family.
For months, seniors have endured a pandemic, unexpected school closure, home learning, masks, social distancing — and, finally, heavy thunderstorms.
For the 51st commencement ceremonies at IRHS, the 220 graduates were divided into two separate events on Friday, June 19, (rescheduled from two days prior, and then still dodging a thunderous downpour that hit perfectly between the two ceremonies).
"No one could have predicted that Friday, March 13, would have been the last time that seniors would walk the halls of Indian River High School with their friends and classmates," said Principal W. Michael Williams, but he was proud of their accomplishments. "While the circumstances of your graduation may not be ordinary, I hope you look back on this day as a new beginning."
Co-valedictorians Kaila McCabe and Maddison Olley thanked the educators and families who got them this far in life.
"We don't always want to be known as the 'Class of COVID-19' … We are so much more than a product of our circumstances," McCabe said. "We will always be the Indian River Class of 2020, and we should take our IR pride with us wherever we go."
"We are rejoicing today at being able to see our peers again for the first time in months. We are relieved to see our teachers. … We want nothing more than to hold our friends and family close," Olley said. "Today we appreciate the smallest things much more than before."
Living in a world that is beautiful, but sometimes uncertain and unfair, Olley encouraged people toward action.
"We can no longer accept the world we live in to change, without our willingness to become the change. We are a generation shaped not only by pandemic but by a host of other problems," both social and economic. "Today we begin our own journey of tackling these problems as they should have been tackled centuries ago. … We must accept our responsibility to be a generation of change, the generation that believes in true equality, true justice, true love and true knowledge."
"Our class is full of bright thinkers and innovators who aren't afraid to stand up for what they believe in," McCabe said, "and will fight tooth-and-nail to make this planet we call home a safer and better place for every person. The Class of 2020 is going to change the world."
At least one student in each of the ceremonies exercised their right to free speech and opted not to face the flag during the national anthem — a silent protest in line with current events.
"Adversity is an opportunity to look at what you're doing, what you can do different — and jump over that barrier and move on," said Indian River School District Superintendent Mark Steele. "We need young people in this country to walk out and know how to jump that adversity barrier and move forward in this life, and make it a better world.
IRHS Teacher of the Year Jeff Bunting was invited to recite the names of the graduates, and he also offered a few words of advice, including to never stop learning.
To bring everyone together at least virtually, an IRHS graduation virtual ceremony video was also posted to YouTube. It featured speeches and special guests, including Class President Jonathan Falcone, who had departed for military training in Missouri nearly two weeks prior to graduation.
The senior song was "I Will Sing You the Stars" by Mark Burrows, which the IRHS Chamber Choir members performed individually at home and compiled into one recording.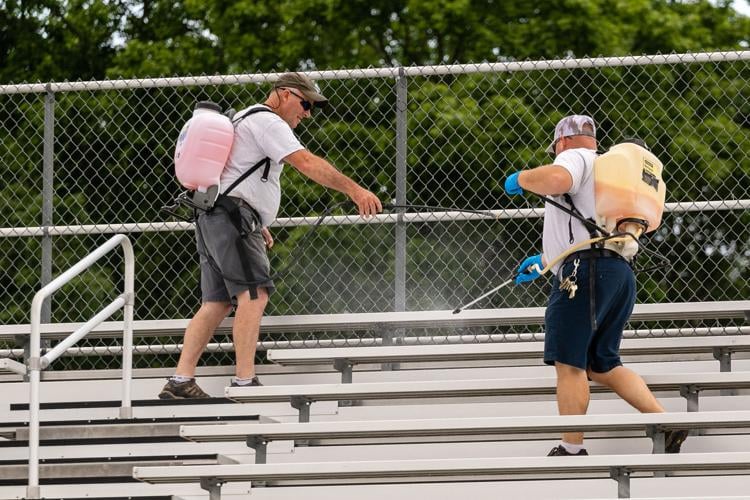 Finishing the most unexpected year
The in-person ceremonies brought a sense of normalcy to the school year. The Indian River School District held a total of seven graduation ceremonies at three schools, in order to allow for social distancing of the guests.
"I feel very blessed that the district found a way to allow us to celebrate our students' accomplishments and allow the parents to see their student graduate across the stage in a public format," said Keith Johnson, father of Madison Johnson. "I really appreciate our district taking the time and effort."
Despite wearing masks and sitting in chairs staggered at least 6 feet apart, the graduates still happily hugged and photographed each other on the field.
"Today is her last day — she's feeling that," said parent Leopoldo Alarcon, whose family brought flowers for her daughter, Elizabeth Alarcon Lopez. "I feel proud for her because she's a really good girl."
"It's been a long road," said Dawn Bivens, mother of Deneé Bivens.
School buildings had closed three months ago, to prevent the spread of respiratory illness COVID-19. Educators had to pivot and rewrite months of lesson plans and just ensure 11,000 district students even had adequate resources to continue learning at home.
But the stress of a state of emergency coupled with loss of in-person learning meant a lot of students had difficulty focusing in the final marking period.
"They had kind of checked out, mentally," Bivens said. "We've all been just a little stressed, but we knew it was for the best. … We've never experienced a pandemic.
"And most kids did not get an actual graduation. At least they're doing something here," she added. "I've got to take my hat off to Indian River for holding out."