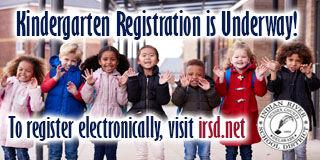 Early registration for kindergarten enrollment for the 2022-2023 school year is now open within the Indian River School District. Parents who want to help acclimate their preschoolers to the "big leagues" of kindergarten should go online to www.irsd.net or to the "Countdown to Kindergarten" campaign website at www.irsdearlylearning.net/kindergartencountdown.
There is a blue button for registration, and the forms are all available on the homepage.
Audrey Carey, who is the Indian River School District's supervisor of Early Learning, asked the question: "Why November?" And then she answered: "We want to know how many students are coming to our schools and connect with parents early in the process for kindergarten readiness."
Carey said that virtual tours of the various elementary schools in the IRSD will be provided, as will access to kindergarten teachers. She also indicated that the school system needs an early count to determine how many teachers to hire. The formula becomes even more tricky with the wild card of School Choice applications, which opened this week and could perhaps be an unknown in next fall's census. Some students may be interested in the Southern Delaware School of the Arts and others may be selected for language immersion programs — at either John M. Clayton or East Millsboro elementary schools.
"Kids should be prepared academically and socially" to begin their formal education, said Carey. She has been with the school district for more than 23 years. "Getting connected early is the most powerful piece of what we do in Early Learning. We want children to know that 'school is a good thing' from the outset."
Starting this week, and with an updated video now on the IRSD.net website, the Countdown to Kindergarten online portal will offer new activities for kids and families.
"Kids can meet their new teachers online through a learning series, some featuring and hosted by Indian River kindergarten teachers," added Carey.
The series includes weekly episodes on the kinds of things kids will learn in school, leading right up until the big day.
Those who prefer to do so may also register their child directly at their local elementary school.