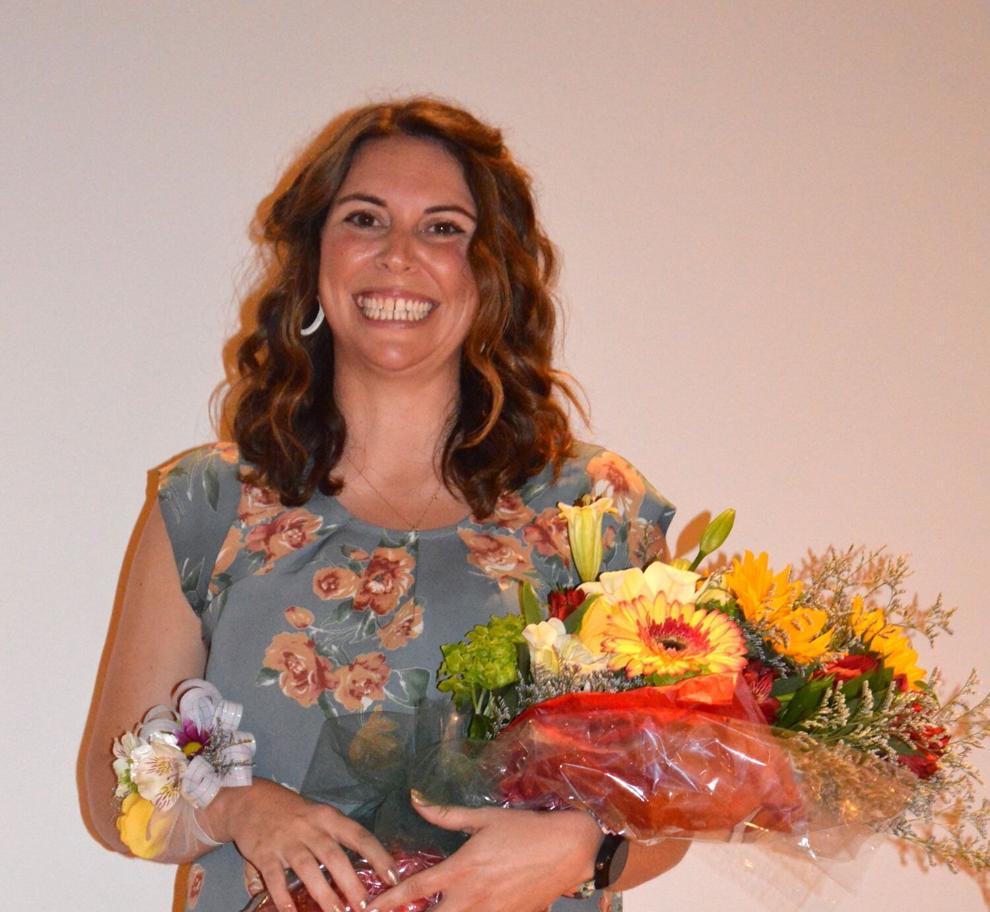 Before the school year started last autumn, teacher Haley Mears was already trying to reach parents. She wanted to learn what interests her students held, so that she might incorporate those themes into her lessons at East Millsboro Elementary School.
That dedication to her students is just part of why Mears was named overall Teacher of the Year for the Indian River School District for 2021-2022. The surprise announcement came at an April 29 in-person ceremony recognizing all 15 building-level winners.
"We appreciate everything that all of our teachers are doing, and we thank all of you in this room because you've been nominated and celebrated for a reason," said Renee Jerns, IRSD director of secondary education. "And it's too much to put into words, so we thank you."
"I was really honored to represent my school. We have such an amazing group of teachers who just always go above and beyond," said the very surprised Mears. "We have very high caliber teachers in this district."
After such a challenging year, one of her own students was proud to submit a letter of recommendation: "She helps me when I'm behind and makes me feel grateful. Mrs. Mears is like a shining light," the EMES student said. "She brings joy because she cheers people up and helps them. She never gives up, and she cares about us."
Mears teaches in the school's Intensive Learning Center, a special-needs room for grades 3 to 5.
Principal Karen Clausen commended her dedication, passion and commitment to excellence.
"However, I think the most telling trait is that she truly cares for her students and strives to meet the needs of the individual while setting high expectations for every child."
Others described her as one of the great teachers a person might have during their lifetime.
"I really just try to build confidence in them," which starts with "finding the things about them that are wonderful and amazing," Mears said.
"We work a lot on social and emotional skills, self-advocacy … and so our voices become more important than ever. I want my students to know that they have one and how to use it to bring about change they want to see."
Mears gave a shout-out to her mother, who is actually a co-teacher in the EMES special-needs department ("We work really well together") and to her husband, who helps with classroom projects, including the annual pumpkin-carving demonstration each Halloween.
"I love this district, and I love what I do," said Mears, who lives in the Millsboro area.
Mears has spent most of her career at East Millsboro, at the ILC since 2017, and a fifth-grade teacher for three years before that. She began her career as a paraprofessional there, from 2005 to 2009. She also taught middle-school social studies and English language arts (ELA) in the district from 2009 to 2014.
A graduate of Indian River High School, Mears earned a bachelor's degree in ELA and social studies education from Wilmington University, and a master's degree in reading and literacy from Walden University.
She is a member of East Millsboro's Instructional Leadership Team and a coach for the school's robotics team. She has served as a district Odyssey of the Mind (OOTM) coach for the past seven years. From OOTM to her classroom, she always finds a way to uncover "little things about them that they can excel in. … Children themselves are exceptional."
As the IRSD Teacher of the Year, Mears will go on to compete at the state level this autumn. She was presented with a statuette, proclamations from the Delaware legislators, a gift certificate for classroom supplies, admission to the educational conference of her choice, gift cards from each school and a painted planter from SDSA students.
The best of IRSD
Indian River School District has a rigorous selection process for the district winner. Each of 15 schools selects one representative, who then submits an extensive portfolio, as well as videotaped classroom instruction and essays on their own educational vision.
The 2021-2022 Teacher of the Year winners from each school were: Mears at East Millsboro Elementary School; Sarah Johnston of Georgetown Elementary School; Karen Coty of Georgetown Middle School; Eileen Gartman of Howard T. Ennis School; Matthew Selba of Indian River High School; Ashley Rowe of the IRSD Early Learning Center; David Grise of John M. Clayton Elementary School; Amy Absher of Lord Baltimore Elementary School; Laura Marsh of Long Neck Elementary School; Shelley McBride of Millsboro Middle School; Bethany Flood of North Georgetown Elementary School; Christine Hogsten of Phillip C. Showell Elementary School; Matthew McCowan of Selbyville Middle School; Erin Bullock of Southern Delaware School of the Arts; and Alina Wrench of Sussex Central High School.
"You're talented, you're creative, and you're dedicated to all of your students," said Brandon McCabe of Sussex Central High School, the outgoing IRSD Teacher of the Year for 2020-2021.  [This year] was the most difficult in the history of education," but educators continued their mission in a radically different environment, almost overnight.
"The hardest part of the school year, I believe, was creating relationships with the students," which he said is key to understanding students, their goals and dreams. "Each building Teacher of the Year overcame the struggle in your own creative way."
Superintendent Jay Owens said that, besides general excellence, IRSD teachers "have shown grace and flexibility, all for your love of our students. … You've provided a quality education to our students. Our families have relied on you for consistency, and you have met the challenge. … Thank you for all you do."