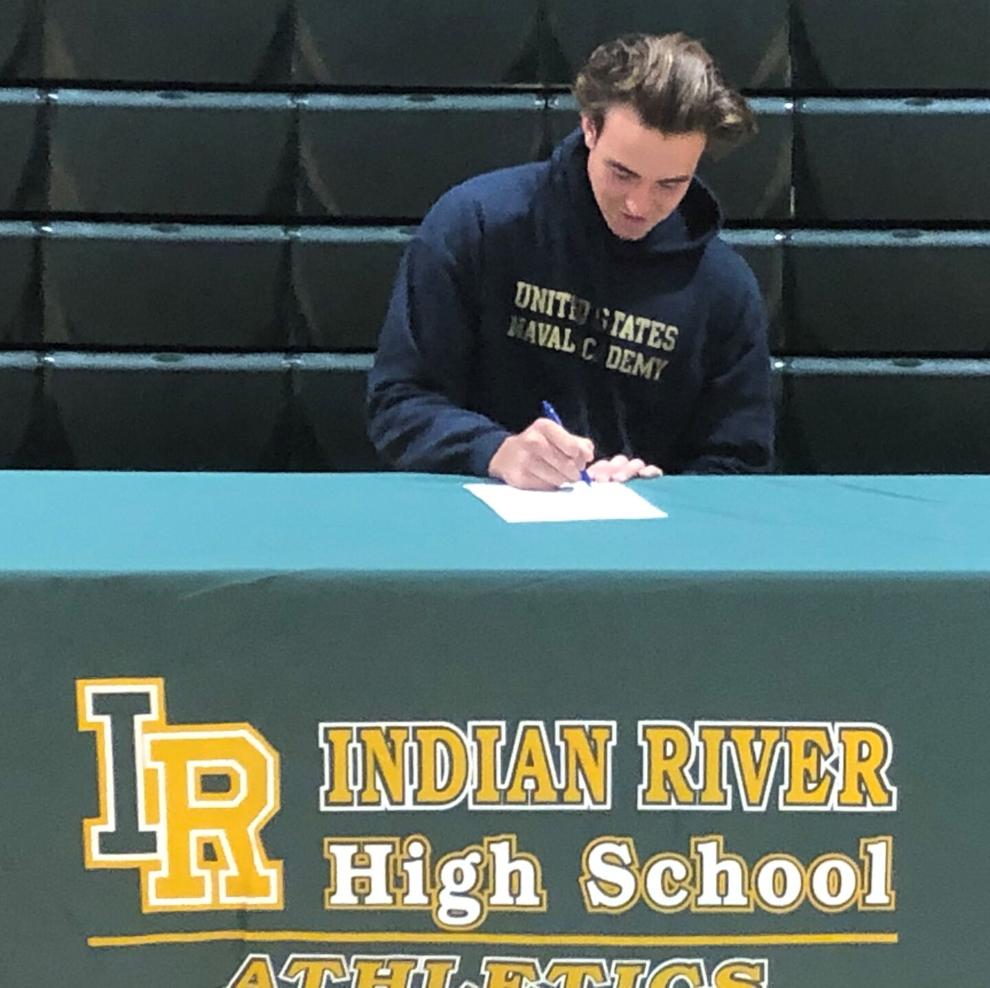 It is not as simple as just filing an application and hoping to be selected to attend that college. Not to belittle the process of any other college or university's application acceptance procedures, but to gain admittance into a U.S. military service academy is pretty extensive.
Recent Indian River High School graduate Lucas Weber fulfilled those requirements, and has accepted his appointment to the U.S. Naval Academy in Annapolis, Md.
An online tutorial on the process offers 10 steps to follow:
Focus on your grades.
Open your (pre) Candidate Profile on each academy's/school's website.
Visit the campuses.
Meet the Academy liaison in your area.
Begin networking to get a nomination from a Senator, Congressman, or the Vice President of the USA.
Apply for summer leader seminars at the Academies in January of Junior year.
Line up 3 recommendations for your nomination during Junior year.
Apply for your nomination (April).
Department of Defense Medical Examination Review Board (DoDMERB, pronounced: DAHD-merb) exams.
Apply early even though admission is rolling.
For Weber, that included meeting with U.S. Rep. Lisa Blunt Rochester (D-Del.), U.S. Sen. Tom Carper (D-Del.) and U.S. Sen. Chris Coons (D-Del.) to seek recommendations, and he received those letters of recommendation for the U.S. Naval Academy from both Carper and Coons.
Attending a U.S. military service academy started becoming an idea that Weber considered once he got into high school, thanks to his grandfather Nick Nicholson having served as a colonel in the U.S. Air Force. He remembered hearing the stories his grandfather would tell him, and knew that it was certainly something he would benefit him in the long run.
"The biggest reason I wanted to go" to the U.S. Naval Academy "was not only because it's an amazing school, but the individuals I'll meet all have high aspirations," Weber admitted. "It's a world-class leadership academy. I'll be able to get great experience that will help guide me through the rest of my life."
Weber finished his Indian River High School classes with a sterling 4.0 grade-point average and was among the top students in his graduating class.
His accolades outside the classroom were also impressive, having won the 2021 DIAA State Track & Field Championship gold medal in the discus event, while also being named to the Henlopen Athletic Conference All-Conference First Team as a tight end for the Indians' football team.
At the U.S. Naval Academy, he plans to focus his education on architecture, and after his four years of participating for the Midshipmen's track-and-field team, as well as his studies, he will serve his five-year commission. As of now, he is planning on being "a lifer" for the U.S. Navy.