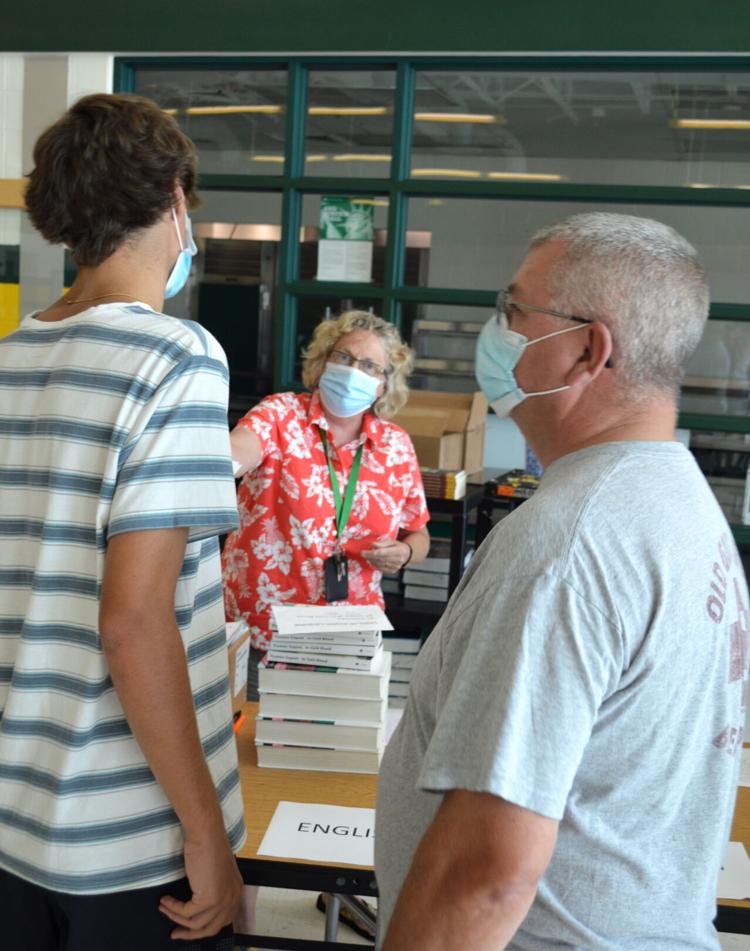 For a brief moment, students filled the cafeteria once again. They got their new schedules, said hello to their new teachers and walked back out to their cars, passing a few school buses in the parking lot.
Like many other schools, Indian River High School was prepping its students to learn mostly from home for the first marking period of the 2020-2021 school year.
Arriving all day long on Sept. 10, teens looped around the cafeteria, snagging English, math, science, social studies and any other special textbooks, and laptops. For a tiny bit of normalcy, everyone still received an agenda book, with district policies and personal calendar.
The Indian River School District is starting the school year with its regular curriculum and grading policies, but much of it is moving online.
"Students are realizing this 'counts,' so to speak, so we've seen tremendous turnout," IRHS Principal Michael Williams said, especially from the freshmen who are beginning their high school journey. "It's a tough way to start your first year," but "there's still a level of excitement, like any new school year.
"It's really good to see. I think if you polled the kids, they want to be back in school," he added.
Delaware school buildings were closed, starting on March 16, due to Delaware's State of Emergency for the coronavirus (COVID-19). The IRSD had adapted on the fly with take-home laptops and optional lessons. Since then, families have mostly only visited their schools to pick up daily lunches, return textbooks and then graduate. But this autumn, they're beginning the school year in earnest.
On a normal day, students might joke or complain about school, but it provides a structured schedule and safe place to build trusting relationships with friends and teachers.
"We want students to know: we're still here in the same capacity," Williams said.
First of all, there will be obstacles, trial and error.
"Be patient, No. 1. We're all going through this together for the first time," Williams said.
"Reach out to your counselor or teacher or school if there's a concern. They're not in our building every day [so] they're going to have to be advocating for themselves. … There may be things that we're not aware of," Williams said.
"It's just the social/emotional [support] for kids, the outlet of being able to see someone in person, a good breakfast, a good lunch," said Melody Huebner, a testing coordinator and instructional coach. "There's just so many things that the school provides, the wellness center where they can come get things taken care of; the nurse's office, who keeps an eye on kids who deal with something on a regular basis. When we can't … see them, we feel very frustrated because we can't continue to take care of those things."
That means, parents and students will have to work harder to speak up for themselves due to the physical distance.
"Use your resources," Huebner said. Call the school and ask, "'Who can help me with this?' Don't feel alone in this."
Teachers continue their mission, any way possible
In college, teachers undergo extensive training, but usually not for fulltime online learning. With the district's nine-day delay, educators had time to really dig into professional development for the various virtual programs. For the final few days, each department brainstormed how to use best use those technology tools.
"Our teachers have accepted the challenge. … I've been really impressed," Williams said. "Our staff has truly said, 'We have to figure out how to do this because that's what's best for the kids.'"
Just like every other person and parent, "It's been difficult because you don't know when something's going to change, and I think that's the hardest thing," said Huebner. She remembers the tears involved in trying to help homebound students reschedule AP tests due to home internet outages.
"When we left in March, I was sure that we would be full-time [by autumn]. I didn't even think that … we would be doing this still," Huebner said.
"I know some families feel like we're not giving their children the experience they were hoping for, [but] from a teacher's perspective … we're doing our best," said science teacher Megan Hines. "Learning looks different, but learning's still happening." She then turned back to warmly greet an approaching student, who was holding out class schedule. "Hello, I'm Mrs. Hines. I'm your anatomy teacher!"
It's still an imperfect system, but Hines said she appreciated that the IRSD has invested in technology this year, and they've been transitioning to tech more in the past several years. She's been working on moving science lab experiments into a digital space.
Is there any silver lining to virtual learning in a pandemic?
"I feel that during hard times in our nation, new things have been born, or people respond and learn how to better produce and make things happen," said Assistant Principal David Carter. "With us being forced to become more [tech] savvy, by default you do become more savvy, so when you get back to 'normalcy,' you'll know what other tools can do."
IRHS has moved to a two-semester model for their 980-some students, like a college. They'll only have four classes for now, and then begin four different classes on Feb. 1. This lessens the burden of at-home learning, so they can dig into four (instead of eight) classes at a time.
"See ya on Zoom soon!" called Michelle Peeling to one of her English language arts students.
"Pressure breaks pipes, but it also makes diamonds," Carter concluded.
Scheduling the first quarter
The school year begins for all IRSD students on Thursday, Sept. 17. However, most will initially be learning remotely at home, as the district slowly brings students back to the buildings, a few grades at a time.
That plan only applies to the first quarter, and then the district will reassess, based on state guidelines. The following schedule only applies to students in the hybrid model, who will have one or two days of in-person instruction each week. They will physically return to school starting on dates through Nov. 18.
• Sept. 17: Pre-kindergarten, kindergarten and Grade 1 (although lessons begin for all IRSD grades on that date);
• Oct. 5: Grades 2 and 3;
• Oct. 19 Grades 4, 5 and 6;
• Oct. 26: Grades 7 and 8;
• Nov. 9: Grade 9;
• Nov. 17: End of the first marking period; and
• Nov. 18: Grades 10, 11 and 12.
Families that chose remote learning for the first quarter will always study from home.
High-schoolers are being split into four cohorts, which will each attend school one day a week. All other grades are split into two groups, who either attend Monday and Tuesday or Thursday and Friday.
Students will continue studying on Wednesdays, but buildings will undergo deep cleaning.
The IRSD has been working hard to contact students who have gone quiet: maybe they didn't finish last year, or they haven't logged into the website or tried to pick up books.
Any families that have not picked up materials should contact their child's school immediately. They can borrow a laptop if needed. They can also choose to work entirely by paper, rather than rely on internet connectivity. Students do much work through online websites such as Schoology, which parents can also access. Tutorials will be posted online.
"We're here. We're listening. We want to make this transition as smooth as possible," Carter said. "We do this because we care. Nobody has the perfect answer, but we're all willing to try because students' success is of the utmost importance."
Parents can call their children's school for details. Updates are posted regularly at www.irsd.net and on the district and schools' individual Facebook pages.