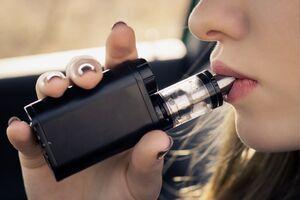 The Delaware Interscholastic Athletic Association (DIAA) has partnered with the American Lung Association through the Delaware Division of Public Health's Tobacco Prevention Community Contract to sponsor a video viewing contest to educate Delaware students about the health dangers of e-cigarette and vaping usage.
To participate in the contest, students must view the "Understanding Vaping and E-Cigarettes" video (https://nfhslearn.com/courses/understanding-vaping-and-e-cigarettes) through the National Federation of High Schools Learn curriculum course. Participants should watch the video and complete the course to register a video "view" for their school.
At the high-school level, five awards will be given out, to the school in each conference with the most video views. One school each from the Blue Hen Conference, Henlopen Conference, Delaware Independent School Conference and Diamond State Conference, and one non-conference school will receive an award in the amount of $500.
At the middle-school level, if there are more than five schools that participate in the contest, two $500 awards will be given to the top two middle schools with the most video views. If four or fewer middle schools participate, only one middle school will receive the award amount.
Participants should follow all directions on the NFHSLearn website when registering to view the "Understanding Vaping and E-Cigarettes" video and get credit for their school. The "Understanding Vaping and E-Cigarettes" video course is free to view. Only course views during the contest window, which runs from May 5 at 12:01 a.m. through May 16 at 11:59 p.m. will count toward the contest.
The award stipends should be used to assist the winning school's Student Athlete Advisory Committee (SAAC) to host a student development program activity. That could include a virtual leadership speaker or other student wellness educational activities.
The contest winners will be announced on Wednesday, May 19.
Funding for this contest is provided by the Delaware Health Fund and managed by the American Lung Association in Delaware. The DIAA is a not-for-profit association designated by the Delaware Secretary of Education to regulate and oversee the conduct of interscholastic athletics in the state of Delaware. The DIAA's mission includes two goals: (1) To protect the physical well-being of athletes; and (2) To promote healthy adolescent lifestyles.
"DIAA is looking forward to hosting this contest to educate Delaware students about the dangers of vaping and promote healthy lifestyles," representatives said. "Declared an epidemic by the U.S. Surgeon General in December 2018, teen e-cigarette use continues at record levels during this time of the COVID-19 pandemic.
According to the 2017 Delaware Youth Risk Behavior Survey (YRBS) of public high school students conducted by University of Delaware on behalf of the state Department of Health & Social Services (DHSS), 13.6 percent of students had used e-cigarettes in the past month while 6.2 percent smoked regular cigarettes. Approximately 38 percent of Delaware high school students reported ever trying an electronic vapor product.
In addition, youth exposure to nicotine is considered particularly dangerous since it has been shown to harm brain development, alter nerve cell functioning and make adolescent brains more susceptible to other addictive drugs, representatives noted.
To provide parents with a simple roadmap to address the dangers of vaping with their kids, "Get Your Head Out of the Cloud" has free educational resources including a conversation guide, which can be found online at https://www.lung.org/quit-smoking/helping-teens-quit/talk-about-vaping/conversation-guide. Questions regarding the contest should be directed to DIAA Coordinator Stephanie Mark at Stephanie.mark@doe.k12.de.us.