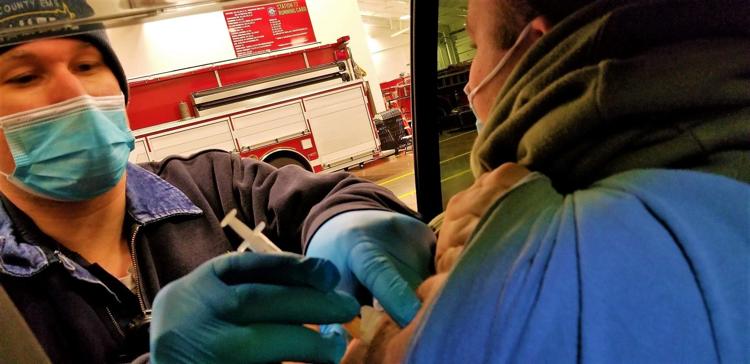 Experts had anticipated a jump in COVID-19 cases after the new year, but Sussex County is leading the pack with high infection rates.
"We are in the midst of the kind-of 'second surge' after Christmas and New Year's — the experts expected it to come," said Gov. John Carney at his weekly press conference on Jan. 12.
In the first week of 2021, Sussex County ZIP codes (except one that was non-reporting) had hit the highest rate in the state — at least 500 cases per 100,000 people.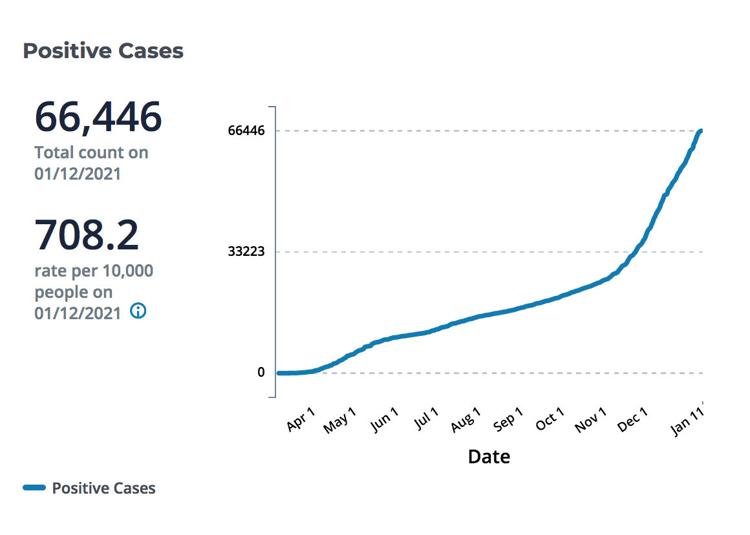 "This is the first time in quite a while that we have seen all of Sussex County light up like this. …. So we saw an increase in case rate of 50 percent in Sussex County this past week," said Dr. Karyl Rattay, director of the Delaware Division of Public Health. "So, this is really where we have our eyes focused right now."
With so much infection spread in Sussex, residents are being strongly encouraged to get tested and know their infection status. Other parts of Delaware also saw high spread rates, but only Sussex was completely dark on the color-coded infection map. The highest of the high were the areas of Frankford, Ocean View, Millsboro, Georgetown and Selbyville, ranging from 800 to more than 1,000 cases per 100,000 people.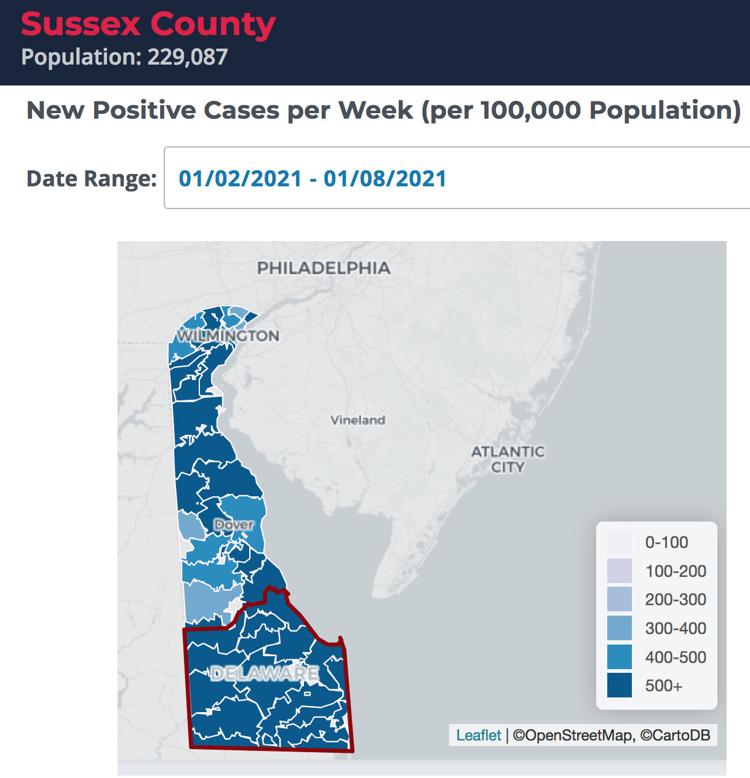 Carney thanked everyone who has continued serving the community at this time, from the contact-tracers to the educators back in school this week.
"I just call on all Delawareans to continue following those mitigation efforts. Stay home and only venture out when necessary. … The light is at the end of the tunnel," he said.
Delaware nears 1,000 deaths, high hospitalizations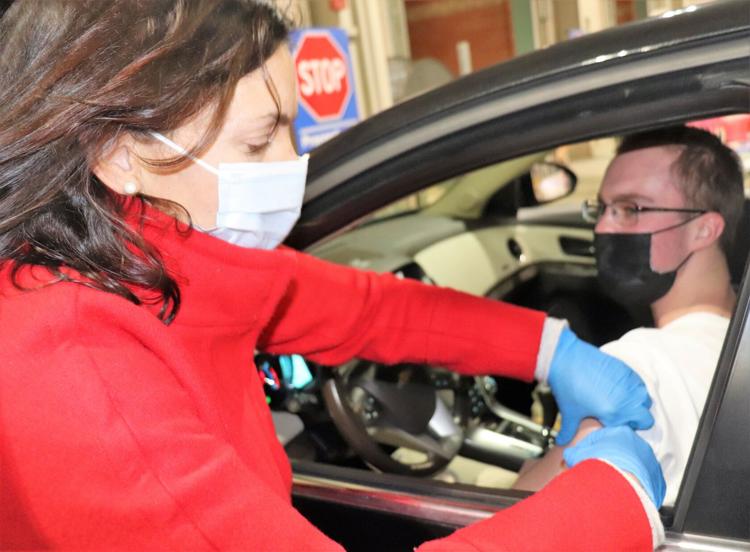 As of Monday, Jan. 11, a total of 991 Delawareans had passed away because of complications with COVID.
"We're closing in on 1,000 total lives lost. Every one is a precious one," Carney said on Tuesday.
Delaware has seen 66,446 cases since March, including 17,579 in Sussex County. Meanwhile, Monday also marked a record-breaking 473 COVID hospitalizations, including 55 patients in critical condition.
Hospitals indicated on Monday that they can meet the surge, although that means reducing elective surgeries or other measures. Delawareans can also now get monoclonal antibody treatment, which, when administered early, can prevent some high-risk individuals with COVID from eventually being hospitalized.
Since March, more than 1 million tests have been administered in Delaware, to about a half-million people. But the seven-day testing averages for positive cases are still too high for Delaware to relax restrictions. Currently, 1 in 4 tests are coming up positive.
"Very few states have a rate under 10 percent. We would like to be one of them," said Carney.
Positive testing rates had decreased over the summer, but the curve swung severely upward again in autumn and winter.
Vaccination opportunities will be well-advertised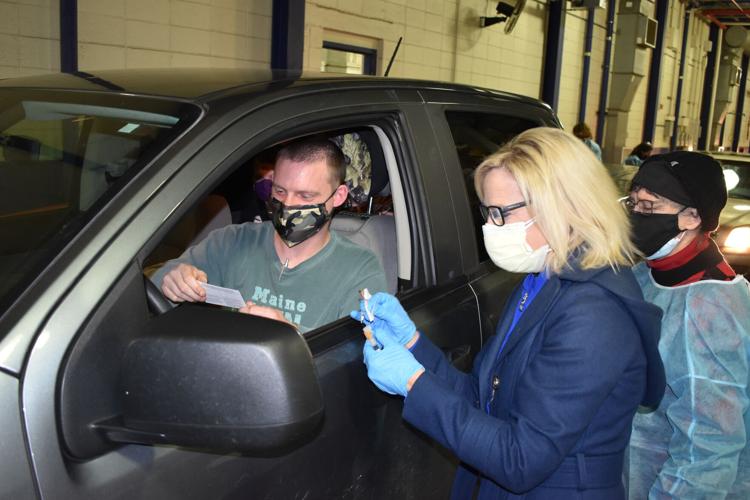 Vaccination has begun for the most at-risk populations in Delaware.
"Vaccination is not a hall pass. It doesn't mean you can burn your masks … and start throwing parties again," said Rattay. "First of all, the vaccine is not fully effective until the second dose, and not enough people in Delaware have taken it yet to give us widespread immunity or what we call 'herd immunity.'"
Delaware is still in the very first stage (1a) of vaccination, which is limited to residents of longterm-care facilities and for all healthcare personnel (such as hospitals, pharmacies and other direct health care professionals — including those who serve dialysis patients or people with intellectual disabilities). Phase 1b is expected to begin in a few weeks, offering vaccination for all Delawareans 65 or older and for essential frontline personnel (such as police, grocery workers, educators, manufacturing and more).
Officials said full details and schedules for the vaccination efforts will be advertised broadly in the community. (See contact information at the end of this article.)
As for the general public, "We promise we will be releasing information to you as soon as we are able … as your phase rolls around," Rattay said. There are going to be multiple options for you to be able to get vaccine."
When that time comes, many doctors are prepared to administer the vaccine. A person seeking vaccination could visit a drive-through event, or their local pharmacy. They could visit their family doctor, or get the shot while visiting the dentist, cardiologist or oncologist. But with Phase 1b having not yet arrived, public instructions aren't ready yet.
As of Tuesday, Delaware had received nearly 59,000 doses of Pfizer and Moderna vaccines (each person needs two doses of the same brand, several weeks apart, for maximum immunization effect). About 27,000 doses have been put into arms.
Drive-through events offered to Phase 1a vaccine recipients at Delaware DMV offices have been a success, and that will continue through January. For instance, Georgetown's two-hour event served 650 first-responders, school nurses and home health personnel.
"It is obviously very important that we escalate our vaccine efforts and get our vaccines to the 1a population as quickly as possible, because we're all eager to move on to 1b," although the phases may overlap, Rattay said.
"For those of you who have vaccine hesitation — what we have seen so far has been very positive," Carney emphasized.
Severe allergic reactions (such as anaphylactic shock) are exceedingly rare, according to a recent CDC study. Out of 1.8 million doses of Pfizer vaccine, only 21 people had a severe reaction. Many of them had prior allergies to medication, food or insects, and only four required hospitalization, Rattay said. With 1.9 million doses administered as of Jan 6, the total was 29 reactions (28 Pfizer and 1 Moderna) from all 1.9 million doses.
"For individuals who have a history of allergies, all of our sites are prepared to respond to that reaction, but you can talk to a doctor to make sure that you are comfortable with the vaccination plan," Rattay said.
UK strain hasn't arrived yet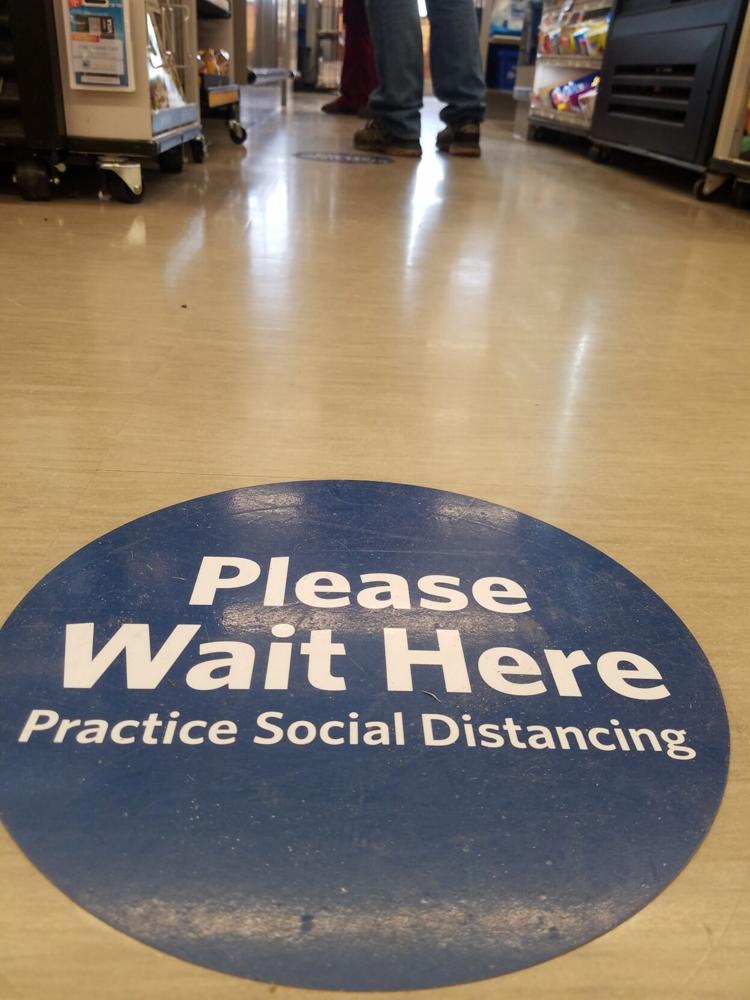 While neighboring Maryland has confirmed the presence of the UK variant of the coronavirus, Delaware has not identified any cases yet, although official said they're keeping an eye out for that newer and apparently even more contagious strain.
"I wouldn't be surprised if and when we find, it because multiple states now have found the UK variant," Rattay said, and Delaware labs can send questionable specimens to the CDC for additional analysis. "It is all the more reason to get vaccines in people's arms as quickly as possible. And the same mitigation strategies — the face coverings and social distancing — work for this variant as well, so we'll stay the course and keep our eyes open."
Carney reminded the public that testing and vaccines are "a way to get our community healthy," with the economy back to normal, kids back in schools and good public health. "That's going to require all of us to pull together on the testing side and on the disease mitigation side, mask wearing, social-distancing, keeping away from large gatherings. It's going to require us to get our vaccine when the venue is available."
For more information on Delaware's response to COVID-19:
The governor's weekly press briefings are usually hosted on Tuesdays at 1:45 p.m. The public can tune in at https://governor.delaware.gov/live.