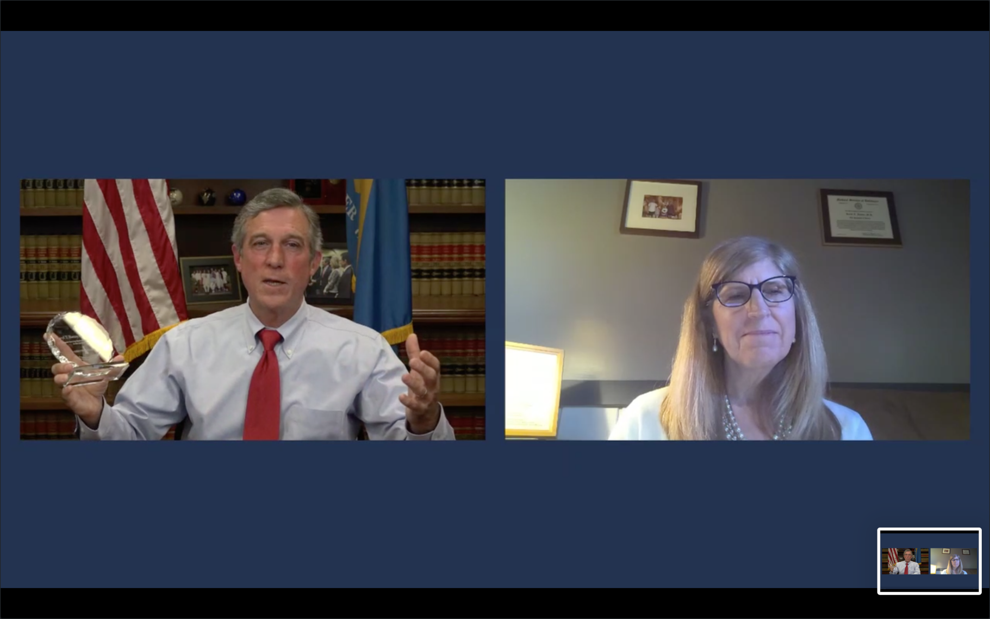 Wearing a face mask to protect against the coronavirus is still necessary, near two years after the CDC confirmed the first case of COVID-19 in the United States on Jan. 20, 2020.
"Masks are extremely helpful in preventing the spread of the virus," Dr. Karyl Rattay, director of the Delaware Division of Public Health, emphasized during a telephone interview with the Coastal Point this week.
"We weren't quite sure at first how effective masks would be, if they would protect the person who has the virus or the person who doesn't have the virus. It turns out it protects both the wearer and other people around him. It is one of our most important tools in our toolbox.
"A face mask is not quite as important as the vaccine, because masks aren't going to help us get out of this pandemic, but they definitely help with the spread," she said, adding that masks are not at all harmful to the wearer.
Although some people question their effectiveness or don't like wearing them, masks are even more important during the winter, she said, when there are more indoor gatherings — even for those who have been fully vaccinated.
"There are some great studies the CDC has done, and the American Medical Association's journal has printed multiple studies, and every credible study done by very credible researchers has demonstrated, over and over again, how masks have decreased the spread of the virus," Rattay said.
The type of mask selected isn't as important as it having two or three layers and fitting snugly around the face, with no gaps, she noted. Bandanas are not recommended, and gaiters are too thin.
"Any barrier is better than none, but if you are going to do it, do it right and have something that fits around your face snugly. Two layers of cloth is best," she said.
Ideally, cloth masks should be washed every time they are worn, and paper masks disposed of after each use, "but one thing that has become clear is it's most important to prevent particles from one person to another when they are talking, breathing, singing, screaming... If somebody puts a dirty mask back on, it's not a great idea, but you are still putting up a barrier. To reduce spread, it's better to wear a dirty mask than none at all," she said.
Rattay is in favor of mandating masks in schools, especially since there is a low rate of vaccination among children and adolescents. Only 58 percent have received even one shot and only 51 percent are fully vaccinated, she said.
Vaccines for those ages 5 to 11 were only approved a month ago, and so far only 11 percent of those children have gotten at least one dose.
"So, we have a largely unprotected population," she said of the school environment.
Many parents aren't getting their children vaccinated because they are concerned about side effects, although, Rattay said, side effects are not as severe in children. Vaccinations are important because children have become ill enough with the coronavirus to require hospitalization and many have suffered severe cases, including some deaths.
The vaccine has been found to be safe for youngsters 5 to 11 years old, with fewer and less side effects compared to other age groups, Rattay said, adding, "I hope that gives people confidence."
Concerning the new omicron variant of COVID-19, Rattay said the outbreak in Africa was largely around an unvaccinated population. Although scientists are still learning about the new variant, there are indications the vaccinations provide protection from contracting it.
Studies have also shown booster shots are necessary for those 18 or older, administered six months after receiving the second doses of the Pfizer or Moderna vaccine or two months after receiving the single-dose Johnson & Johnson (J&J) vaccine.
"The J&J recommendation of two months is a relatively new recommendation. Getting these additional doses will boost the immune system to protect you. The side effects are lower. Some people feel very under the weather, but generally the booster is well-tolerated and very protective — especially for seniors and those with underlying health conditions," Rattay said.
The Moderna booster contains half the dose of the original vaccine, and the Pfizer and J&J boosters are full doses, Rattay said. It isn't necessary to get a booster manufactured by the same company that made the original vaccine one received, she said.
"The best thing we can do right now is to get fully vaccinated and get our boosters. That is going to be what is most important. Like the flu shot, we will probably get an annual vaccine for COVID that changes on an annual basis depending on mutations. What study after study shows us is, even with different variants of the delta variant — and delta has many variants — the vaccine provides great protection," she said.
"We will exit out of this pandemic phase, but what it takes for that to happen is more and more people vaccinated and to have immunity, and we are not there yet."