Gov. John Carney, the Delaware Division of Public Health (DPH) and the Delaware Emergency Management Agency (DEMA) have announced the list of community testing sites throughout Delaware this week. Testing locations listed below include pop-up and Curative trailer sites.
DEMA has coordinated community sites this week in addition to permanent testing sites at Walgreens and at various hospitals and healthcare locations. Delawareans can view a full list of COVID-19 testing locations and reserve a spot at de.gov/gettested.
"Testing helps us track the spread of COVID-19 and monitor for potential outbreaks, but it's not an excuse to ignore the basic health precautions," said Carney.
"Wear a mask. Do not gather with friends or family outside your household. We all know better by now, so let's not let our guard down. COVID-19 can cause serious illness or worse — especially among our most vulnerable. We need everyone's help to limit the spread this winter and protect lives. Stay vigilant."
Delawareans are being encouraged to check the Delaware Department of Health & Social Services' social media accounts (Facebook, Twitter and Instagram) for testing location updates due to inclement weather.
Sussex County pop-up testing locations for the week include:
Monday, Dec. 7 from 10 a.m. - 6 p.m.: Rehoboth City Hall (229 Rehoboth Ave., Rehoboth Beach)
Monday, Dec. 7 from 10 a.m. - 6 p.m.: Woodbridge Middle School (307 S Laws St, Bridgeville)
Tuesday, Dec. 8 from 10 a.m. - 6 p.m.: Ellendale Fire Department (302 Main St, Ellendale)
Tuesday, Dec. 8 from 10 a.m. - 6 p.m.: Laurel Elementary School (815 South, N Central Ave, Laurel)
Wednesday, Dec. 9 from 10 a.m. - 6 p.m.: Indian River High School (29772 Armory Rd, Dagsboro)
Wednesday, Dec. 9 from 10 a.m. - 6 p.m.: Woodbridge Early Childhood Education Center (400 Governors Ave, Greenwood)
Thursday, Dec. 10 from 10 a.m. - 6 p.m.: Lewes Fire Department, Station 2 (32198 Janice Rd, Lewes)
Thursday, Dec. 10 from 10 a.m. - 6 p.m.: Delaware Tech Owens (21179 College Dr., Georgetown)
Friday, Dec. 11 from 10 a.m. - 6 p.m.: La Red Seaford (300 High St., Seaford)
Saturday, Dec. 12 from 10 a.m. - 4 p.m.: Delmar Haitian Church of the Nazarene (36926 Hide Away Lane, Delmar)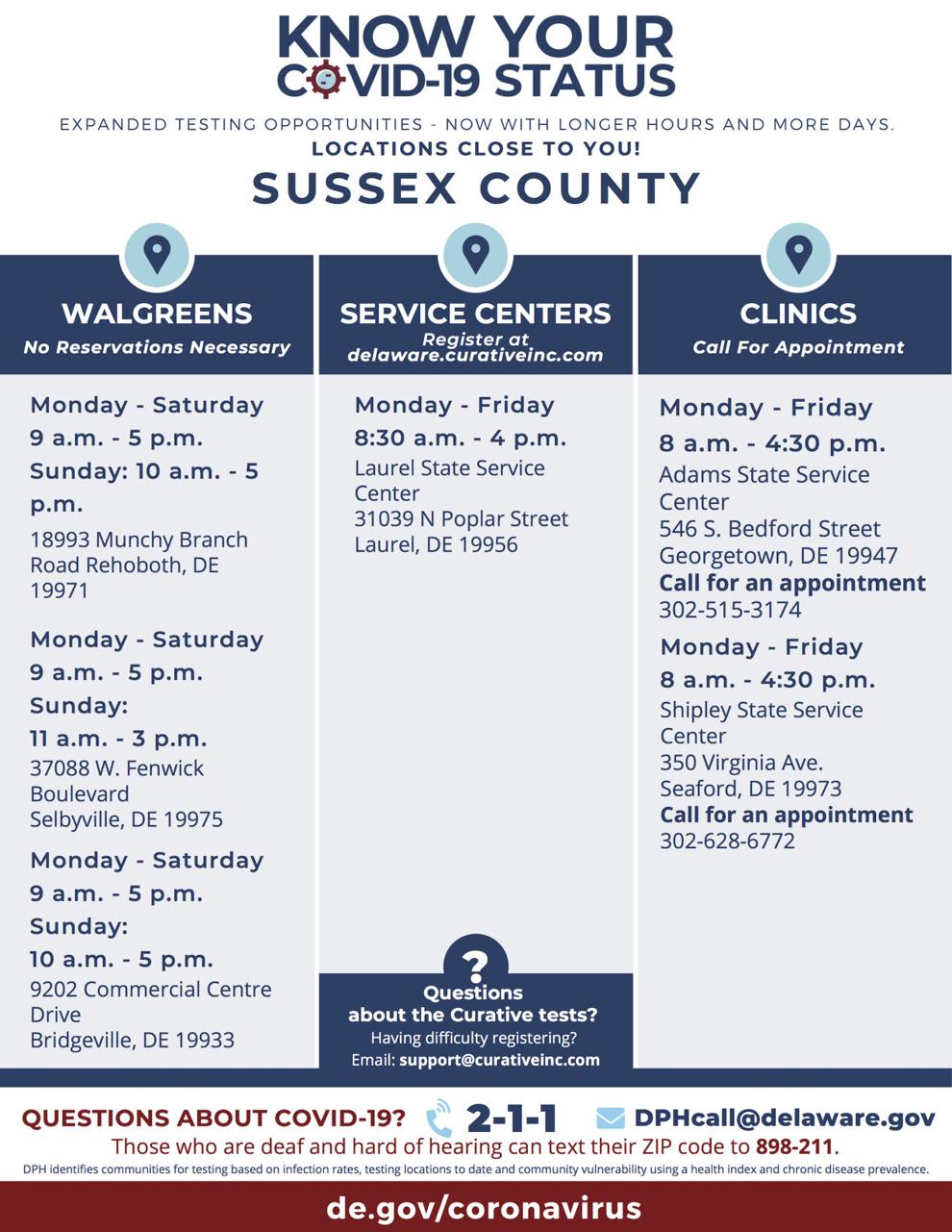 Other locations are also scheduled in Kent and New Castle counties.
Anyone with a question about COVID-19, whether related to medical or social service needs, should call Delaware 211. Individuals who are deaf or hard-of-hearing can text their ZIP code to 898-211. Hours of operation are 8 a.m. to 9 p.m. Monday through Friday; 9 a.m. to 5 p.m. Saturday and Sunday.
Download COVID Alert DE in the App Store or Google Play.
DPH will continue to update the public as more information becomes available. For the latest on Delaware's response, go to de.gov/coronavirus.