It started with a cough, during a meeting at work.
And then another one, later the same day, sitting in his office.
"I never cough," said Mark Loukides.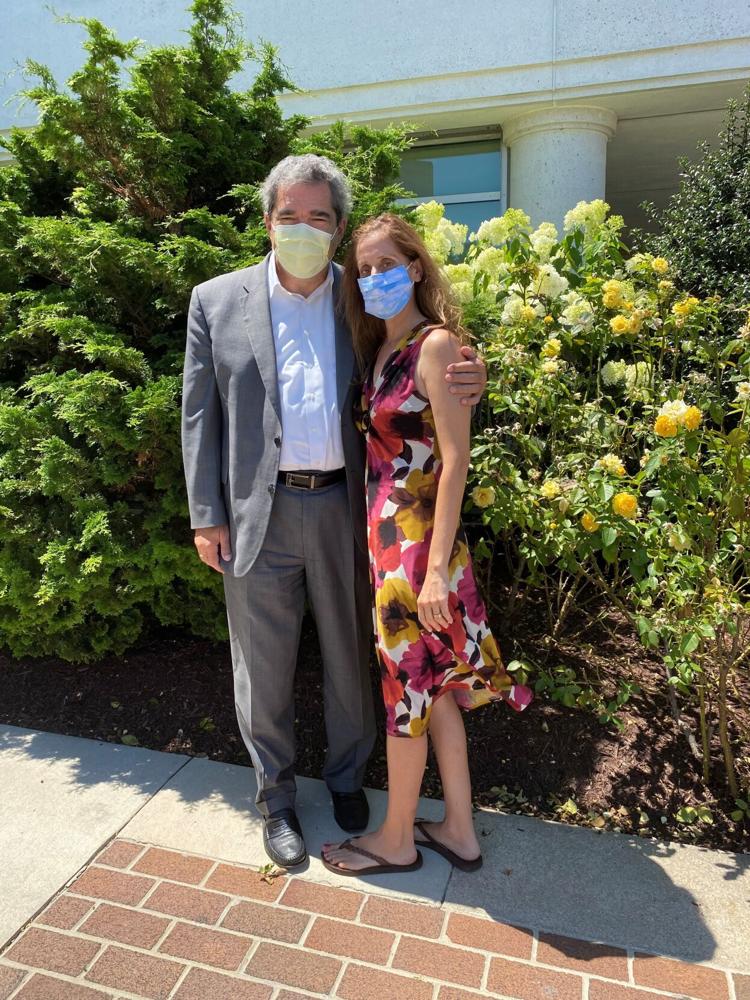 But within days, Loukides, Beebe Healthcare's vice president for facilities, was on a ventilator in the very hospital where he worked, having been diagnosed with COVID-19.
That's how Loukides starts the story of his journey with the novel coronavirus. Coincidentally, that day he noticed the cough was the same day Gov. John Carney gave a press conference just a few miles away, at Cape Henlopen State Park on a summerlike March afternoon. It was after that press conference that Carney announced the first in a series of emergency declarations as part of the State's response to the virus.
The next day, March 21, Loukides said, he was tested for COVID-19. By then he was running a fever and feeling tired.
He self-quarantined, and over the next few days, the virus seemed to run its course; he was sleeping better and his fever had broken. He thought he was on his way to recovery.
But then, Loukides said, the tiredness and the fever returned — which he now knows is not unusual in the progression of the virus.
On March 29, he arrived at Beebe Healthcare's Lewes campus in an ambulance.
"That is the last thing I actually remember," he said of getting in the ambulance. He said he doesn't remember arriving at the hospital. He said he agreed to be put on the ventilator the following day, but he doesn't remember that either.
For the next 15 days, the ventilator breathed for him. He was told later that his chance of survival was "less than 20 percent."
And yet, he did survive. A total of 15 days after being put on the ventilator, he came off of it, having no idea how much time had passed. Having no idea, in fact, that he was married to the woman who had been checking on him with the help of Facetime video calling, for all those days.
"I thought we were dating," he said. "I thought my kids were my siblings." And in his confused state, he thought his father, who had died years 19 years earlier, had just died of the coronavirus.
He refers to the process that followed, as he regained his memory, as a "computer reset."
"They asked me when I thought it was, and I said 'January,'" he said. "That's how disoriented I was."
He recalled knocking over a cup of water, and then trying to pick it back up and not being able to.
"I thought I was in a dream," he said of those early days, recalling seeing people walking around outside his room and then realizing he wasn't dreaming.
At first, Loukides said, 'They had to help me sit up, and eventually stand up." By the time he left the hospital, "I was able to walk about 10 feet" without help, he said.
By the time he left after a subsequent period of rehabilitation at Bayhealth, he said, he could walk several hundred feet.
Loukides said he feels like he was the beneficiary of two "miracles" — one, that he survived at all, given his initial prognosis; and, two, that he seems not to have any lasting effects from the virus. "And also, that I recovered so quickly," he said.
He was told he could have memory issues for up to a year.
"But I felt I got my memory back almost fully within six weeks," he said.
One of the things he still marvels at is that he has no lasting soreness from all those days on the ventilator, except, he said, for a slightly odd feeling when he yawns.
Looking back, he said he is stunned by the number of people at the hospital "who were directly involved in my care" — by his count, more than 100. "Nurses, doctors, lab tech, [physical therapy] people, the lift team —they pick people up — the pulmonary team…"
Although he was authorized to have home healthcare for several months, Loukides said he was released from that after a few days, when he surpassed all the benchmarks necessary.
Asked to what he attributes his rapid recovery, he mentions two things — a "great care team," and being "bathed in prayer" during his illness. He said he knew of groups praying for him in nine states.
He acknowledged that during the height of his illness, "I actually had the easy part. If you think about it, all I was doing was, I'm sleeping. The people who were carrying the load were my wife, my mom, my family — who were dealing with the unknowns," as well as his caregivers, he said.
The reactions of others who saw him when he was on the ventilator, Loukides said, helps to give him a window into what it was like to watch him in those days. People tell him "You were in bad shape," he said.
"It just didn't make sense," that he survived, he said, except for the fact that he had no underlying health conditions.
On the other side of his health battle, Loukides said he has a new outlook on life.
"It made me appreciate life, and it makes me appreciate relationships."
As a hospital administrator, he said he also now has a better understanding of "what patients go through."
Loukides said he also has a greater appreciation for what the healthcare providers go through with seriously ill patients.
"I can't imagine," he said, "how difficult it must be for them when they lose someone."
He said he has gone back to the room he spent those weeks in, just to see it from a different perspective now.
"There was somebody in there," he said of the room's current occupant, adding that he had asked hospital personnel, "Was that me?" and they told him, "You were worse."
His wife, Kelly Loukides, said that not being able to be with her husband during that time was extremely hard.
"Just the unknown, and the waiting" were the most difficult aspects, she said. She was given daily updates and was able to "see" through the efforts of hospital chaplain Paula Waite, who held an iPad up to Mark Loukides' bedside.
"The support was incredible," Kelly Loukides said. She added that she also feels her strong faith got her through the most difficult days.
Their 14-year-old son and 16-year-old daughter, Kelly said, didn't really realize how sick their dad was.
"They knew he was on a ventilator," she said, but they didn't understand the gravity of his illness. He joked that he had a "fantasy" of his children running to greet him when he was released from the hospital, but the reality wasn't quite as enthusiastic. "It was like, 'Oh — Hi, Dad,'" he said, laughing.
Having missed seven weeks of work, Loukides returned in mid-May. He said he was constantly cautioned by co-workers, "Don't push it," but is now back to work full-time with no issues.
"The compassion of the leadership team here is amazing," he said.
Loukides said the two things he would like people to know from his experience are (1) "COVID's serious. You gotta wear your mask," and (2) "Life's too short. If you have relationships that need healing, forgive the person. It's not worth holding a grudge."