"It was like a Fourth of July weekend. But it was March."
Normally, for a business owner, that would be good news.
Except for the fact that the business wasn't stocked for a Fourth of July weekend. Because it was March, and therefore weeks away from the time when resort-area businesses typically start increasing their inventory for the busy summer season.
That was the reality facing Gerry Hocker and his family, owners of G&E Supermarket at the Salt Pond, and Hocker's Supercenter and Hocker's Deli, both in Clarksville, last weekend.
It was a perfect storm of events, as visitors descended on the beach when their schools at home closed due to the COVID-19 virus. Friday, March 20, saw temperatures near 80 degrees, and it was, in many ways, like a summer day at the beach.
Delaware Gov. John Carney appeared at Cape Henlopen State Park in casual attire and a baseball cap emblazoned with "Delaware" as other state officials stood behind him — attempting to keep the new "social distancing" norm of 6 feet apart.
While Carney spoke, his facial expression was one of slight alarm as he watched batches of people go by, walking, skateboarding and bicycling through the park on the unseasonably warm day. There seemed to be no attempt at social distancing in the park.
Before his press conference, a long line of cars snaked around the road into the park, partly because of the unexpected crowd and partly because of an accident just inside the park between a Department of Natural Resources & Environmental Control truck and a car.
Even Lt. Gov. Bethany Hall-Long had trouble getting into the park for the press conference, being redirected to a longer route to the event at the Biden Environmental Training Center.
All of Delaware's beach towns saw unexpectedly large crowds last weekend, particularly in light of the "social distancing" recommendations, event cancelations, and business limitations and closings that were already taking place.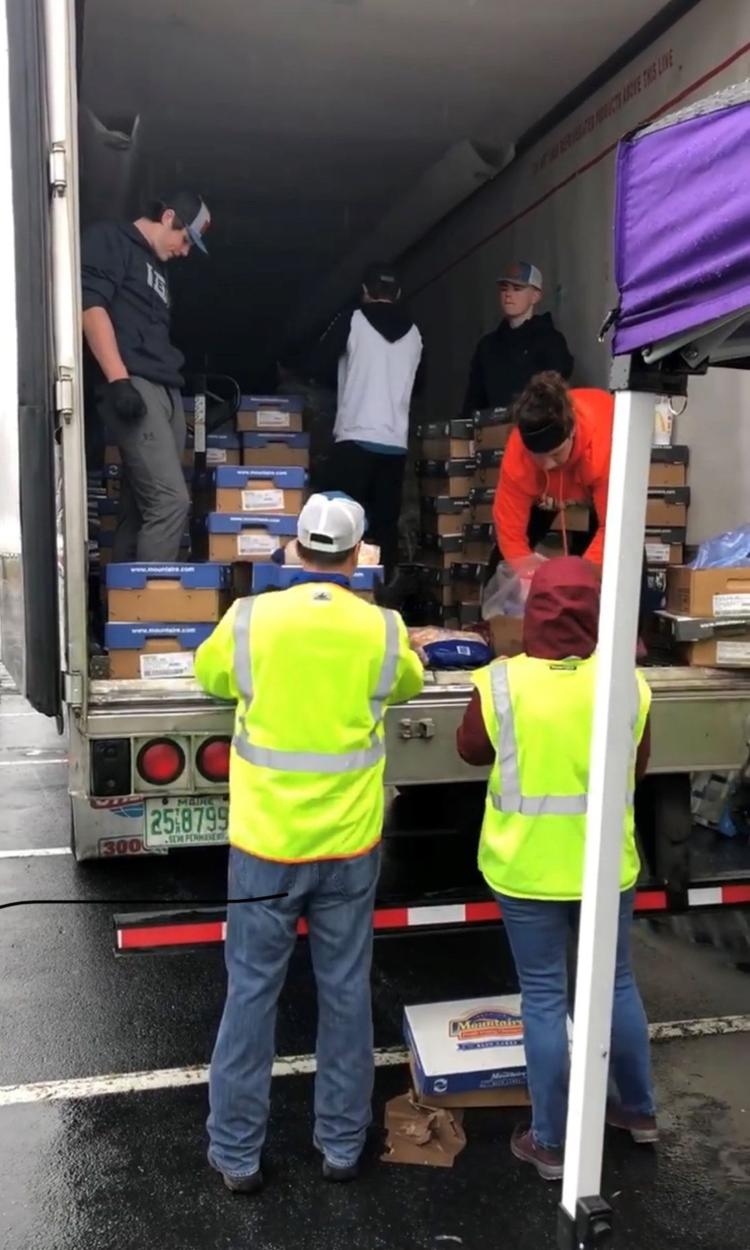 Meanwhile, Hocker and his family were planning for an unprecedented event at the Salt Pond store.
At around 8:30 a.m. Saturday morning, March 21, a Mountaire Farms truck full of chicken arrived at the grocery store for a special sale.
The event, Hocker said, was an attempt to meet the needs of a community where proteins such as chicken and beef had suddenly become hard to find, along with items such as toilet paper, bread, hand sanitizer and cleaning supplies.
The shortage was a result of too many people buying too much product in a short period of time, prompted by fears of being shut in at home as a result of the novel coronavirus known as COVID-19.
"We didn't see this coming," he said. "We had March staff, March inventory. Overnight, we went to July business."
The chicken sale, Hocker said, was the result of a call from Mountaire leadership, offering to bring 10-pound packages of "wingettes" and boneless thigh-leg combos for far below the normal market prices.
"We've never put a program together so quickly in our life," he said.
"Our intent was to feed the locals," Hocker noted. But he said he talked to customers at the March 21 sale who had come from upstate and as far away as Virginia and Pennsylvania after seeing notices about the sale on Facebook.
That, along with all the vacationers in town and locals trying to take advantage of the chicken deal, "created a mad rush to get to the parking lot," Hocker said.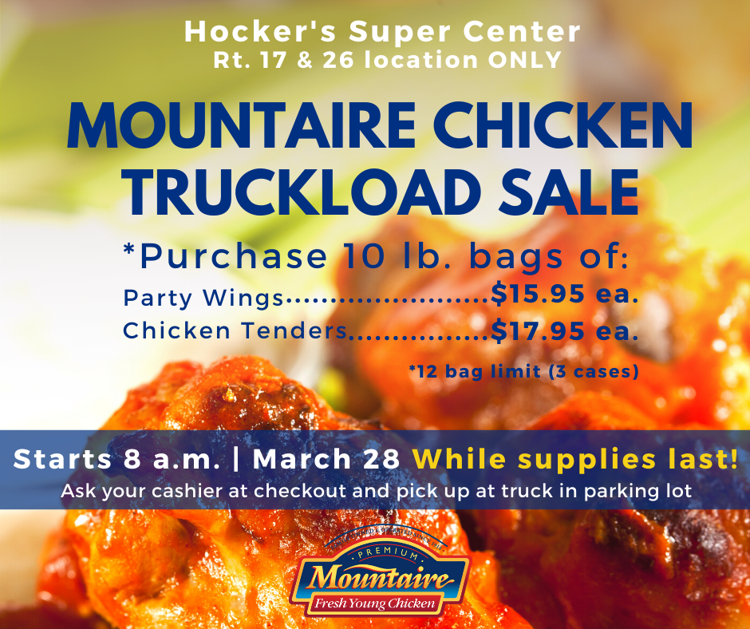 Hocker said that, although there were police officers at the store during the sale, helping to control the crowd, they were there as the result of a call he made Friday afternoon to the Delaware State Police asking for help from off-duty officers, in anticipation of crowds.
"I realized that this event might be a little bigger than we thought. I did not want any issues with traffic. My first thought was safety."
The morning of the sale, Hocker said, Mountaire provided 12 or 15 employees to help distribute the bags of chicken, which was accomplished "four cars at a time" during the height of the sale Saturday morning.
The scenario came at the end of a week that was the marked by what Hocker characterized as "panic" behavior by customers buying up food and supplies in unprecedented amounts.
"In 48 years, never have we seen anything like this, to this degree," he said.
The sharp increase in business has been difficult for Hocker's employees.
"It's been very overwhelming on all the employees," he said, adding that "they know their jobs. We always pride ourselves in having the best employees."
Many have crossed into different departments to help fill in when needed, he said. Cashiers, who deal the most directly with customers, are particularly hard hit by the recent days' events.
As fears mounted that state officials were about to start closing businesses and limiting people's movement, there was a dramatic shift in buying patterns.
"Once more of the panic set in, of the people hearing the horror stories on the news, and whether they lived here or wherever," Hocker said, "then we were seeing a different mentality of shopper."
Very quickly, staples such as pasta and bread and paper goods were wiped out.
One thing that has worked in the store's favor, he said, is that now that schools are closed, summer employees are available to work, which has helped ease the burden of the full-time employees as they struggle to meet the community's needs and take care of their families.
Hocker said his stores also have an advantage over larger chain stores because they are independent and are able to deal with distributors directly, rather than having to wait for the corporate warehouses to send trucks to the stores.
He said he deals with four produce suppliers; one of which is his "main" supplier.
"All the warehouses are getting overwhelmed," Hocker said, and he had been getting only a quarter of the produce he normally would get from his main supplier, so "we pick up the rest from the others."
Keeping his employees safe and keeping stores stocked at as close to a normal level as possible is Hocker's main concern now.
"This has been rather challenging," he said.
The stores' online ordering service, Hocker said, has seen an increase.
"The biggest dilemma now is satisfying those orders," he said, because some items in the orders are out of stock.
In addition to stepping up efforts to clean the stores at night, Hocker said he has instructed employees to "self-analyze" their own health status every day before coming to work.
"We're asking them to be mindful of their own bodies," he said.
Until the public health crisis is over, Hocker's stores will close at 9 p.m. rather than 10 p.m. Due to panic buying of toilet paper, Hocker said, his stores are now limiting customers to two packs at a time.
Hocker said he feels that if the virus abates quickly enough that it doesn't impact the summer season, it could be a good year for Delaware's beach businesses in the end. He said he expects people to be hesitant to travel far from home, and that more might decide to "take a shorter trip and come to the beach."
He said he feels that businesses helping each other will be the key to making it through the crisis as well as possible.
"Hopefully, we will all stick together," he said.