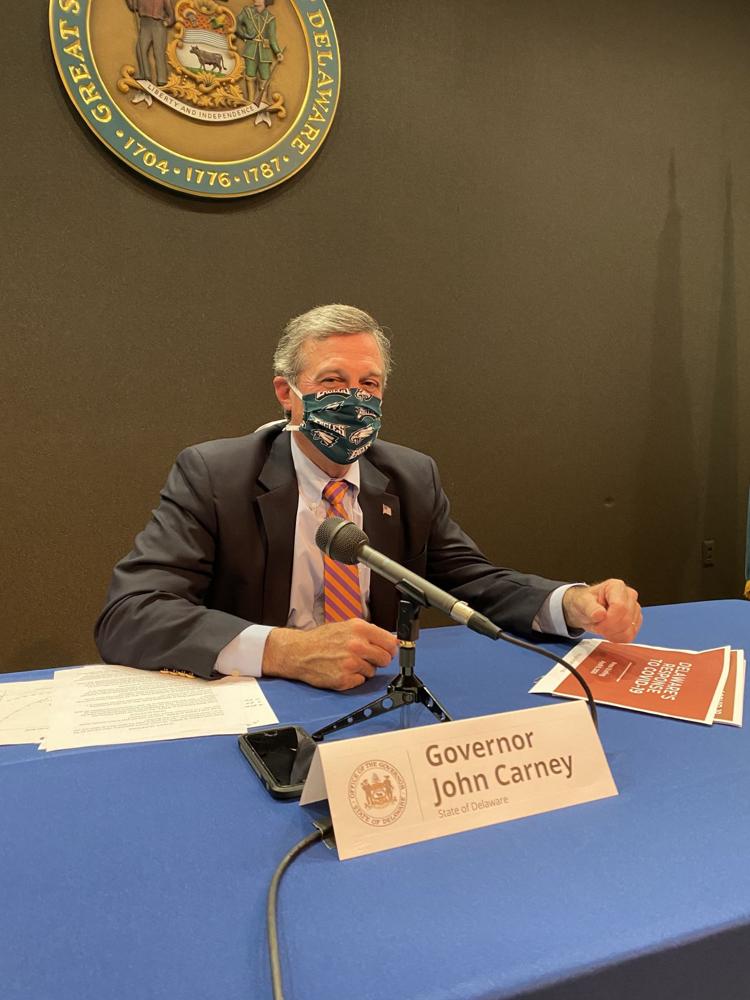 The mood was serious Tuesday afternoon, May 19, when Gov. John Carney was asked his opinion of a sternly-worded letter, signed by several members of the Delaware General Assembly, asking him to "give people and business owners back their freedom" and claiming his administration "favored large and powerful business interests over our local merchants."
"We have seen businesses shut down and their owners threatened with criminal charges. And we have listened as mixed messages and confusion have caused panic and fear to spread far and wide," the letter, signed by 15 lawmakers, including state Sen. Gerald Hocker (R-20th), states.
The document firmly calls for starting Phase 1 of reopening the state's economy before Memorial Day weekend, lifting the short-term rental ban and the mandatory quarantine for out-of-state visitors, and allowing wider latitude for daycares, youth sports and camps.
"This virus will be with us for some time. It is up to all of us to adjust to its existence. We believe in the people of the state of Delaware. We hope you will join us," the letter states.
"In the end, we all want what is best for the people of Delaware. But the time has come to express our opinion on how to reach the best outcome. We urge you in the strongest possible terms to give people and business owners back their freedom and let them assume responsibility for themselves and their communities," it states.
Carney, asked about the letter during one of his regular press briefings, conducted week after week in an affable and informative manner, said on Tuesday that he was disappointed.
"For a letter like that, with the obvious political language and divisive tone to it and the inaccuracies, it's just very disappointing, disturbing," Carney said.
Many lawmakers did not sign it, he said, but those whose signatures he found most discouraging were members of the General Assembly he regularly talks to, who never expressed those sentiments.
"We can disagree and not be disagreeable. Some of the tone and some of the parts of that letter were just over the line in my view. This is not a time for politics. This is a time for the people of our state to pull together. This is as situation we have never experienced in our history," Carney said.
The letter asked for Carney to take a more aggressive approach to lifting restrictions on businesses, churches and citizens.
"In the end, we all want what is best for the people of Delaware. But the time has come to express our opinion on how to reach the best outcome," it states.
Another letter disagreeing with Carney's methods, written by Sussex County Councilman John Rieley (R-5th), was read at the May 12 county council meeting. Councilman Sam Wilson (R-2nd) motioned to mail it to Carney, but Council President Michael Vincent (R-1st) said that wasn't possible because it was not an agenda item for that day's meeting.
Rieley told Coastal Point this week that he didn't send his comments to Carney, but was trying to make the point that the governor was "acting alone without the input, advice and consent of the General Assembly, and without the checks and balances of the courts."
"The doors to Legislative Hall have literally been locked and the members' access cards deactivated," he said. "Constitutionally, the governor cannot make law, only the legislature. So, I am concerned at the precedent being set here," he said.
While he agreed the governor and other state officials should accept guidance based on science, he said they can't "abdicate their decision-making authority."
"It is up to the elected body to represent the people and give voice to their concerns, and provide a way to redress grievances," Rieley said.
Not directly addressing lawmakers, but speaking adamantly during the press briefing, Carney said state and health officials "are not making this stuff up."
The recommendations of the CDC are being followed, Carney said.
"Telling people they have to wear masks is not to annoy people. It's to protect others and the community," the governor said.
"The virus hasn't gone away. It's not going to go away," Carney said.
"We're all in this together. It can't be every man or woman for himself."