With 104 cases of coronavirus in the state and 23 in Sussex County, many Delaware residents — being reminded daily to stay home unless a trip out is essential — needed, and got, a little encouragement Wednesday morning, March 25.
"It's important to stay positive," Dr. Lynn Morrison, CEO of Brandywine Counseling & Community Services, said during a live Facebook update Wednesday morning.
She was with Dr. Karyl Rattay, director of the state's Division of Public Health.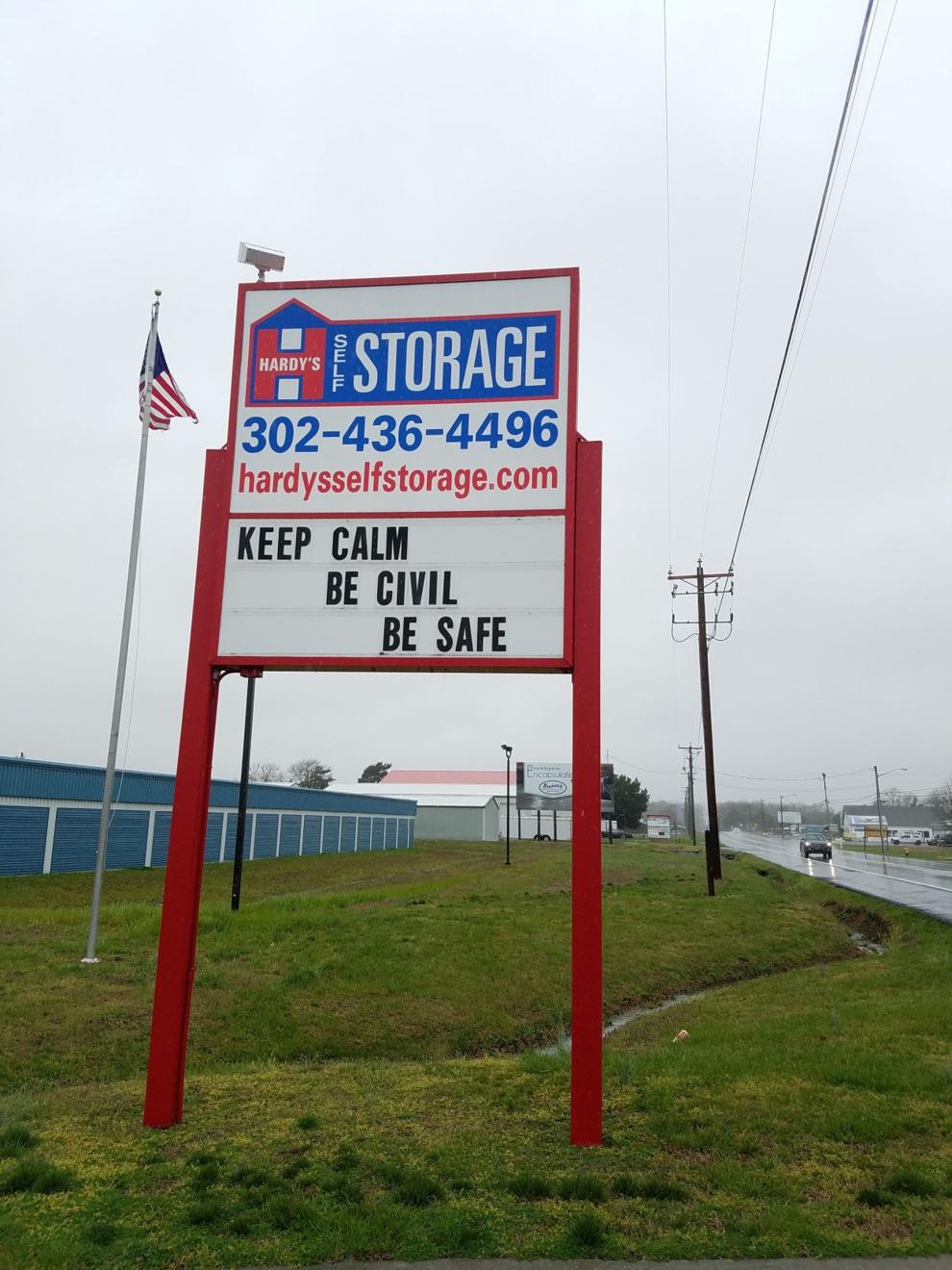 "I'd like to see people meditating. … Keep your heart rate up and exercise. Depression can sneak up on you, so stay connected — friends, families, doctors, counselors," Morrison said.
She recommended walking, even if it's just around the house, socializing through Facebook and Skype, enriching lives by reading and completing chores, and doing arm curls with gallons of milk, if free weights aren't available.
"It's challenging in many ways, but it's really important for people to do everything they can and stay away from other people," Rattay said.
"We're seeing a lot of people who aren't abiding by that. We have to do all that we can as a human race, as a group of Delawareans. When we look at our cases now, we are seeing a lot of cases people whose illness starts with muscle soreness or even sore throat," she said.
"Now that we have community spread, we know we have COVID-19 around the state, so we have to act as though we have the virus and we have to act as though everyone else has the virus. We need to stay at least 6 feet away from everybody else," she said.
Update on symptoms
While classic symptoms of the 2019 novel coronavirus include fever, cough and shortness of breath, Rattay said doctors are "noticing initial symptoms of those who test positive for the virus often include body aches and sore throat."
Nausea, vomiting and diarrhea are also now being reported as symptoms.
Ten times more deadly than flu
Dr. Kara Odom Walker, secretary of the Delaware Department of Health & Social Services, recommended using a thermometer to frequently take one's temperature, with those in the healthcare field taking it twice daily, to be sure it isn't 101.7 or higher.
Nobody should shake hands or touch their faces, and everyone should sanitize their hands after being in a store or pumping gas.
"We know this is a challenging time for a lot of people," Rattay said.
"We'd love to say this is just for a few days, but this may be a way of living our lives for a while, so it's important we do everything that is being advised," she said.
Testing sites
Delaware health systems now have sites open for those who have symptoms of the coronavirus and a physician's order to be tested for COVID-19.
Beebe Healthcare is operating two sites, in Millsboro and Frankford. In New Castle County, Christiana Care is operating two testing sites, in Newark and Wilmington. In Kent County, Bayhealth has a site in Dover.
Teleconsultation is preferred unless the doctor determines in-person consultation is needed, according to information provided by state Rep. Ruth King Briggs.
Gov. John Carney, along with the Delaware Department of Health & Social Services, early this week announced a plan to ensure those with symptoms can be tested throughout Delaware.
Those who don't have a doctor can call the DPH Call Center toll-free at 1-866-408-1899, or call centers run by Christiana Care or Bayhealth, and medical personnel will determine if testing is needed.
Testing is not recommended for those who do not have symptoms.
Patients are being advised against going to hospital emergency rooms, unless they are having difficulty breathing.
Those who have been exposed to someone with the coronavirus, or who have symptoms, should remain at home and stay away from those 60 or older and from people who have chronic health conditions or who are immunocompromised.
Many people who have the virus recover by resting, drinking enough liquids and taking pain-reducing medications.
Explaining the virus to children
Morrison advised letting children take the lead in addressing the virus, not overwhelming them with too much information and being sure they have facts. Children should be told everything will be OK, as long as everyone does what experts are advising.
Rattay said to ask older children what they are hearing and seeing on Facebook and Instagram "to help them understand the facts."
Sussex County government
Sussex County government, at mid-week, suspended public hearings for ordinances, land-use applications and other matters requiring citizen input.
Public hearings already scheduled for the County Council, Planning & Zoning Commission and Board of Adjustment were discontinued. No new hearings will be scheduled at this time.
Sussex County Council meetings will continue so elected officials can conduct business and matters that have moved through the public hearing process, but no members of the public will be allowed in the council chambers. The County Council is not scheduled to return to session until March 31.
Meetings will be broadcast live, and archived, at www.sussexcountyde.gov.
County offices are operating but closed to the public. Only those needing to drop off or pick up critical documents are allowed into the County Administrative Offices building, and only in the lobby for those purposes.
Presidential primary moved to June 2
Gov. John Carney on Tuesday issued a sixth modification to his State of Emergency declaration, moving the state's presidential primaries to June 2.
He also suspended residential foreclosures and evictions.
The order went into effect at 8 a.m. Wednesday, March 25, and will continue until May 15, or whenever the health threat is eliminated.
Landlords will be prevented from evicting Delawareans from their homes and may not charge late fees or interest for late payment.
The order also prevents lenders from beginning foreclosures during this period. Residential mortgage foreclosures that began prior to the State of Emergency declaration will not move forward until the 31st day following the termination of the emergency declaration, at the earliest.
The order also prevents utility companies from terminating service or charging late fees.
School board elections
Elections for school board members in any Delaware school district scheduled for May 12 are delayed until June 16.
Carney clarifies order to close non-essential businesses
Q. Does the order require that I obtain any paperwork, either as an employer or an employee of an essential business, to clarify the essential status?
A. No such paperwork is needed. If your business activity is on the list of essential businesses, it may remain open as long as it follows all necessary Center for Disease Control guidelines.
Q. What happens if my business fails to comply with the order, either regarding our status as essential or non-essential, or with following CDC guidelines?
A. Failure to follow CDC guidelines will result in closure of a business until the State of Emergency is lifted.
Businesses that continue to operate will be given an initial grace if failure to comply was done after a good faith effort to clarify their status, but those who do not comply and knowingly do so will be subject to civil and in some cases criminal penalties.
Beaches closed
Carney closed Delaware beaches last weekend and, a day later, announced a shelter-in-place order. This week, he announced that all Delaware schools will now remain closed at least until May 15.
"On March 13, after significant discussion with superintendents and charter school leaders, I ordered public schools to close through this Friday, March 27," Carney said. "This two-week period was intended to help school leaders and educators plan for what came next.
"We have spent a significant portion of the last week discussing plans for remote instruction, the delivery of meals, and other social services. This is an unusual time — but children still deserve access to a quality education, and families rely on the social services we deliver in our schools every day. We'll continue to work directly with school leaders on these important issues," he said.
Carney announced that Delaware will recommend that no school district or charter school extend its school calendar beyond the end of June. Delaware Department of Education Secretary Susan Bunting will formally make that recommendation to the State Board of Education, upon submission by each district and charter.
The governor also noted that the State had submitted a waiver to the U.S. Department of Education requesting Delaware be exempt from state testing requirements this year to focus efforts on student instruction.
Property owners' association urges responsible behavior
Joe Mormando, president of the South Bethany Property Owners Association, sent a message to its members this week, reminding property owners they have a duty to the community to behave responsibly.
"Our population here has a large percentage of the age group susceptible to a more severe response from the virus — over 60.
"Anything we can do to mitigate the transfer the infection should be done as a matter of course, being extra sensitive to the town's specific makeup. We need to keep that in mind during our daily routines.
"Especially combined with the fact being stated above that our healthcare system in place here is in no way equipped to handle a severe outbreak.
"This all will pass. We need to be patient, understanding and vigilant," Mormando wrote.
For more information
• Call the Division of Public Health's Coronavirus Call Center at 1-866-408-1899, or 711 for individuals who are hearing-impaired, from 8:30 a.m. to 8 p.m. Monday through Friday, and 10 a.m. to 4 p.m. Saturday and Sunday. Questions can be submitted by email at DPHCall@delaware.gov.
• DPH will continue to update the public. See de.gov/coronavirus.
• Also see the Centers for Disease Control & Prevention website at www.cdc.gov.
Closings in nearby Maryland
Wicomico County Recreation, Parks, Tourism and Civic Center programs and events are canceled until further notice. They include Kids Klub After School, Westside Community Center programs, Happy Timers, sports programs and events at the Civic Center in Salisbury, Md.
Closed to the public are the Wicomico Civic Center, Wicomico County Welcome Center, beach areas at Roaring Point and Cove Road, playgrounds, pavilions, tennis courts, basketball courts and pickleball courts.
Day-use areas at parks, trails, marinas and boat ramps will remain accessible.