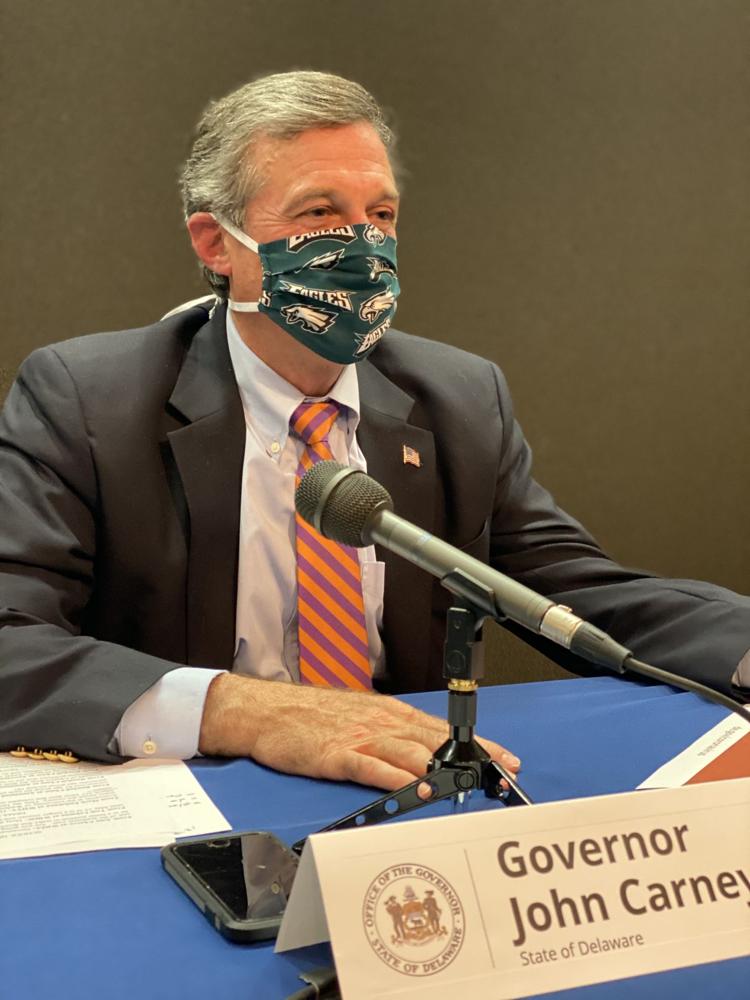 Gov. John Carney took a cautious approach in announcing the reopening of the state, saying it would be coming in phases, like the dimmer switch he often uses as an analogy.
"Now is not the time to run to the beach and to go wild. Continue to be vigilant," he said during his Friday, May 15, afternoon press briefing.
"We have mixed messages a little bit today, as we talk about reopening. Now is not the time to let down. Now is not the time to just go right back to the activities in the way we conducted business prior to the COVID-19 pandemic," he said.
Phase 1 of reopening will allow more freedoms, but distancing, use of hand sanitizer, cleaning surfaces that are touched often, avoiding large gatherings and being thoughtful so others can be safe, are important, he said.
"It would be a shame to lose ground … by getting a little bit sloppy, a little bit careless," he said.
On Thursday, May 14, Carney had announced that restrictions will be lifted on beaches and community pools on Friday, May 22, at 5 p.m. Ice cream shops and trucks were able to re-open as of 5 p.m. on Friday, May 15, with restrictions.
But those coming to Delaware from other states must still quarantine themselves for 14 days. The state's ban on short-term rentals will remain in effect.
Although swimming pools will open, swim team practices won't be allowed because it's difficult for youngsters to remain safe distances apart.
"There's a lot of physical interaction. We're trying to be careful about allowing that early on," the governor said.
On the beach, everyone must stay 6 feet from one another. Masks must be worn on the boardwalks and are being encouraged on the beach.
Restaurants and bars will only be allowed to offer carry-out and curbside pickup, as has been the case for much of the state of emergency.
"We're all ready to get our economy going again, and to spend more time with our friends and loved ones. Since Day 1 of this crisis, Delaware's response to COVID-19 has been driven by the science. We can't have a healthy, functioning economy again until our communities are healthy.
"There is good news. Delawareans have worked together, stayed home, and saved lives. Your actions have driven down cases and hospitalizations statewide. That will help us reopen Delaware's economy safely in the coming weeks — while protecting the most vulnerable Delawareans," Carney said.
Dr. Karyl Rattay, director of the Delaware Division of Public Health, during the press briefing on Friday, said testing and contact tracing are essential for keeping residents safe as the state reopens.
"We are excited to open pools, but this is not the time for pool parties. … Memorial Day is not going to be the time to invite 50 people over for a pool party. We all have to continue to behave as though we all have the virus," she said.
"None of us wants to go backward as we start reopening. … We have to stay 6 feet away from each other. I worry that message might get confused as we start to go back to what seems like a sense of normalcy," Rattay said.
"The virus is still there. It hasn't gone away," Carney said, adding that expanded testing and contact tracing will cost the state millions of dollars.
"It's not inexpensive. A lot of the CARES Act funding from the federal government will be used for both of these programs," he said.
About 200 contact tracers will be hired to work for about one year.
"The trade-off is, in order to bring that economy back, to have people go to work, earn wages, and all the rest of that, you have to have a way to manage the public health side of it and do enough testing," Carney said.
By next week, the state will have tested thousands of poultry-plant workers, Carney said.
A.J. Schall, director of the Delaware Emergency Management Agency, said more than 600 people were tested in four hours this week, with results being available in about 36 hours.
The goal is to test 80,000 each month, but even those who test negative should continue to take every precaution to protect themselves from the virus.
"Our risk is going to be just as great as it is today, knowing that people are going to be getting out, going back out to restaurants," he said.
Schall emphasized that everyone who has been exposed should be tested.
All nursing home residents and staff will be tested, in a move Carney called "critically important as we allow people to circulate."
Carney and Rattay on Friday reviewed the most recent statistics, saying 271 Delaware residents had died from the virus as of 6 p.m. on Thursday, May 14, with 108 of them being from Sussex County, 114 from New Castle County and 48 from Kent County.
Since March 11, there had been 7,373 positive cases of the coronavirus in Delaware, with 3,565 in Sussex County, 2,619 in New Castle County and 1,146 in Kent County.
There were 269 patients hospitalized and 54 critically ill as of May 14, although 3,210 patients have been deemed recovered and there have been 30,905 negative test results.