Those with immunocompromised conditions have already started receiving the third dose of either the Pfizer or Moderna vaccination to increase the production of antibodies that protect against the coronavirus, but booster shots for the general population aren't likely to be available until next month.
"When it comes to the immune-compromised, they should be able to receive the third dose at pharmacies and from those who provide healthcare. For the booster shot, for the general population, we should receive FDA guidelines by around Sept. 20, although that date could change," Dr. William Chasanov, an infectious disease physician at Beebe Healthcare, told the Coastal Point this week.
He clarified that third doses — the terminology being used for those with compromised health, as opposed to the word "booster" for others — are only available for Moderna and Pfizer vaccinations. There is not yet a recommendation for a Johnson & Johnson booster, although data is being reviewed by the Centers for Disease Control and the Food & Drug Administration.
Those who received two doses of the Pfizer vaccine should try to get the same manufacturer for the third shot or booster, and the same for those who received two doses of the Moderna vaccine, he said.
The Food & Drug Administration has amended emergency use authorizations for both the Pfizer-BioNTech COVID-19 vaccine and the Moderna COVID-19 vaccine to allow an additional, third dose for those who had organ or stem-cell transplants; are being treated for cancer; or are taking medications that weaken the immune system, according to information provided this week by the Delaware Division of Public Health.
"The third dose has to be given 28 days from the second dose — around 28 days. For the booster, the recommendation is that someone should be consider for it eight months from the second dose of either Moderna or Pfizer, with the idea that it will boost antibodies that may have decreased over the past eight months. It is all the same amount of medicine and the same formula as the original vaccines," Chasanov said.
Similar side effects can be expected with both the third dose and booster shots.
Chasanov said it isn't yet known if boosters will be recommended regularly, for a lifetime, as flu shots are.
The Pfizer vaccine this week moved from emergency-use authorization to full FDA approval for those 16 or older. For those 12 to 15 years old, the Pfizer vaccine remains under emergency-use authorization, while the Moderna vaccine is only approved, under emergency-use authorization, for those 18 or older, with the manufacturer having requested approval for use in those ages 12 to 17.
The single-dose Johnson & Johnson vaccine remains approved only for those 18 or older, with no guidance yet issued on possible booster shots for those who received it. No vaccines have been approved for children younger than 12.
In Delaware, as of Aug. 22, 444,986 people had been fully vaccinated, and nationwide, 189.9 million people — or 57 percent of the total U.S. population — have received at least one dose of the vaccine, according to the CDC. About 163.9 million people, or 49 percent of the total U.S. population, have now been fully vaccinated. Worldwide, more than 4.96 billion vaccine doses have been administered, equal to 65 doses for every 100 people, according to the New York Times Vaccinations Around the World tracker as of Monday, Aug. 23.
Chasanov said he expects the number of cases of the coronavirus — particularly the Delta variant — to increase before they level off or decrease, and strongly advised those who are not vaccinated to consider getting the vaccine.
"That is No. 1. For those considered fully vaccinated, with the new recommendation that immune-compromised get a third dose, please consider that third dose if you are in that category. We have high community spread in Delaware, so please wear a mask everywhere indoors to provide another barrier to keeping us all safe. Washing hands is very important, and following guidelines for distancing are all important and are all still very valid, as they have been since the beginning of this pandemic," the doctor said.
COVID-19 cases, hospitalizations on the rise again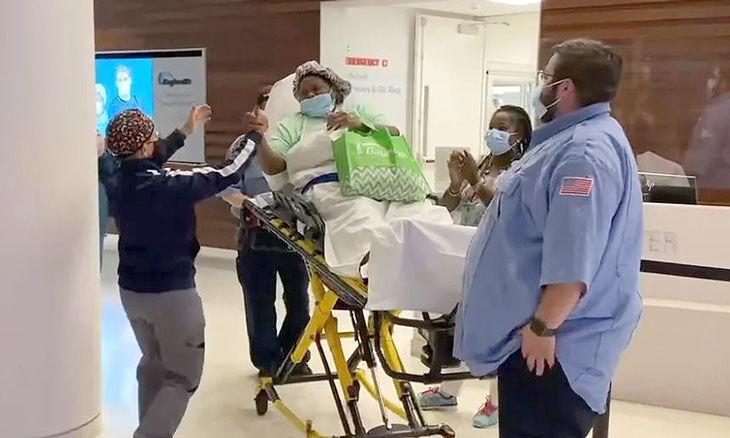 The Delaware Division of Public Health this week reported there had been 115,665 positive cases of the coronavirus among Delaware residents since March 11, 2020. The seven-day average of new positive cases increased to 303.3 as of Thursday, Aug 19, and the seven-day average for the percentage of total tests that were positive was 7.9 percent, an increase from 6.2 percent as of Tuesday, Aug. 10.
The report also stated that 165 people were hospitalized in the state due to the coronavirus, an increase of 54 since last week, with 29 of those hospitalized critically ill, an increase of 19 from last week.
A total of 1,854 Delaware residents have died from the virus, including four last week and a total of 549 from Sussex County.
The Department of Public Health is recommending people get tested for the coronavirus after attending any large public events, such as concerts, college parties and weddings — especially if the gatherings were indoors. The recommended testing period is generally five to seven days after attending such an event.
DPH also recommends testing for anyone who has symptoms of COVID-19, including those who are fully vaccinated. Other testing recommendations include:
Unvaccinated people should get tested once a week.
Unvaccinated people should get tested five to seven days after being exposed to someone with COVID.
Unvaccinated people should isolate at home immediately if they develop symptoms of COVID-19, and quarantine at home if exposed to someone with COVID-19.
Fully vaccinated people should get tested three to five days after being exposed to someone with COVID-19. Fully vaccinated people do not need to quarantine after exposure. They do need to wear a mask in public indoor settings for 14 days, according to the CDC.