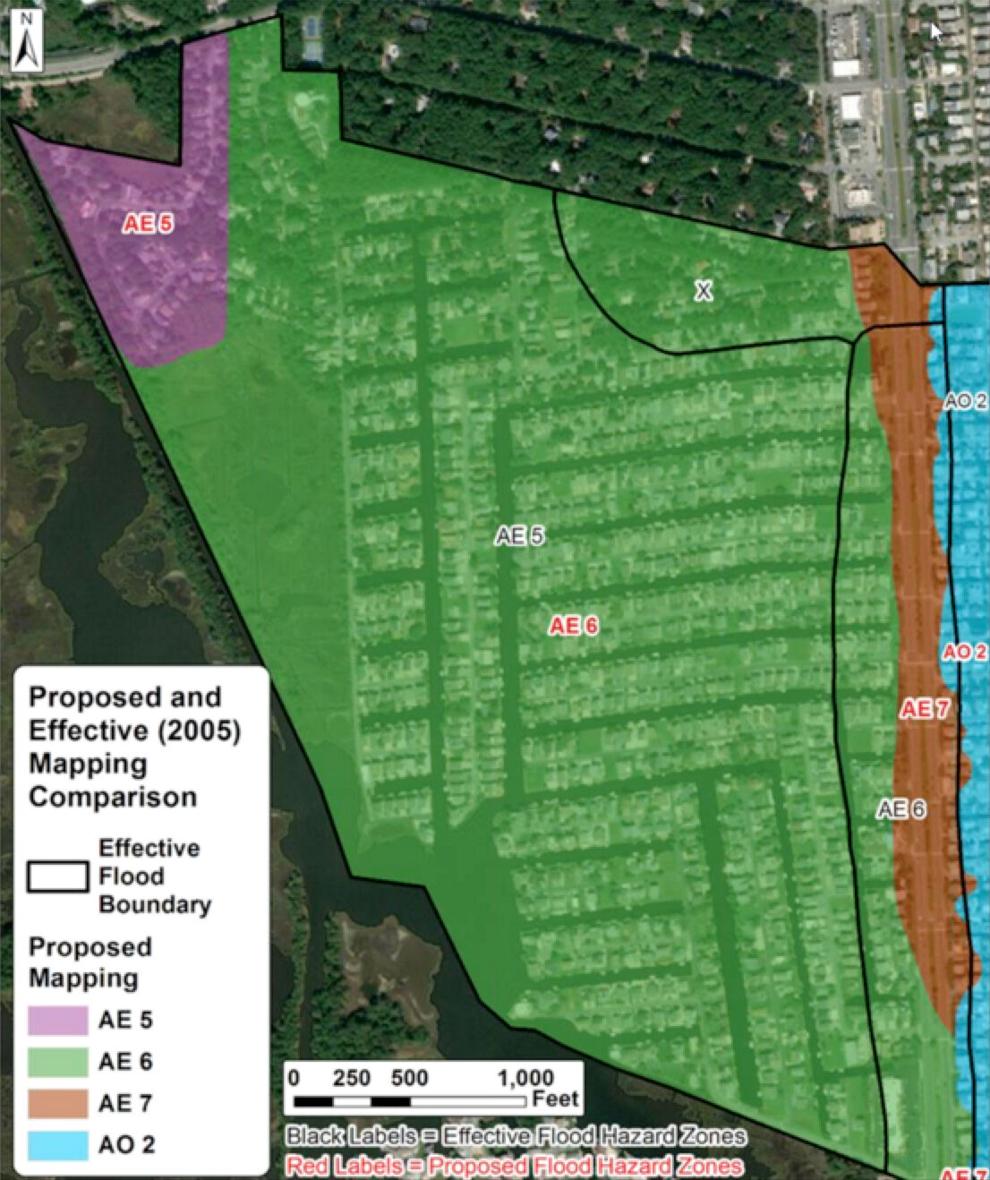 South Bethany has the good fortune of being surrounded on both sides by water sources, offering picturesque views and recreational opportunities that increase property values, but that location also means the Atlantic Ocean and Little Assawoman Bay are pushing South Bethany underwater from opposite directions. With the peril that can pose for property in the town, residents got a detailed look at how their flood insurance rate map (FIRM) is created during a public meeting with FEMA on Oct. 27.
FEMA is accepting feedback until Nov. 18 on a Letter of Map Revision (LOMR), which would once again change the perceived risk of flooding in South Bethany — and therefore, some people's insurance rates.
FEMA has only filed the first of two LOMRs, so the Oct. 27 meeting pertained to about 80 percent of town, on the west side. All changes in the first LOMR are based on flooding from the western canals and inland bays. The second LOMR will be released in December or January, regarding the eastern ocean impacts. (Another meeting will be scheduled later regarding that easternmost chunk.) The boundary between the two halves is a vertical line through town, about halfway between Route 1 and Ocean Drive.
Because South Bethany's most recent maps were rescinded after a lawsuit, the town is currently under a 2005 map, based on data from the 1980s and 1990s. It's time to start again with modern data, FEMA decided.
Today, new mapping technology contributes to parts of South Bethany's perceived flood risk increasing by 1 foot of elevation. The new maps result from "a much higher level of detailed modeling and much newer information, and it's just causing that … value to go up ever so slightly," explained Adam Clinch, coastal engineer from the Compass company.
Proposed changes for most of town
All of South Bethany is considered to be in the flood plain, meaning there is a flood risk during the severe storms with a "1-percent chance" of hitting during any given year.
For each zone, two letters indicate the type of flooding, and the number afterward is the anticipated floodwater height, in feet. For instance, if Anchorage Drive has a base flood elevation (BFE) of 6 feet, houses must be built to at least that elevation, or risk even higher flood insurance premiums.
The proposed Dec. 18, 2020, map would place most of the town, on the west side, in the AE 6 zone, while it would keep part of the northwestern Cat Hill at AE 5. Most properties bordering the highway would increase to AE 7. Between the highway and the coast, the strip of AO 2 will shift slightly. Properties nearest to the ocean will likely remain in the VE zone, but those elevation changes have not been announced.
Homeowners should note that the shape of the zones will change, so their household designation might not change in the same way as their neighbors' designation.
The new figures generally align with the neighboring community of Middlesex Beach, although South Bethany will again bid farewell to its own one-time "X" designation on the north side of town, (indicating little or no flooding during a 1-percent storm).
Yes, the beach replenishment program will be factored into the flood mapping where the houses are subject to the Atlantic storm surge, the experts said. But the renourished sand dunes don't impact the bayfront flooding in the current LOMR.
"Flooding from the ocean does not cross the highway, so even though we have new studies for the ocean side, the flooding that comes from the ocean does not impact the west of town," said Heather Zhao, a project manager with Compass.
"The open coast area is more complex, so we are evaluating the new nourishment … and there will be more details to come in that LOMR," said Clinch.
Studying hundreds of storm scenarios
"When they engineer the mapping, they do consider the land use and also, for example, how much farther away it is from the flooding source," said Zhao.
The final maps are based on thousands, if not millions, of data points, where topography, wave height and intensity are just the start.
FEMA maps hundreds of points across town, then throws about 156 different storm scenarios into that model, noting how the floodwaters could rise or fall in each spot. Those nearly endless scenarios are then averaged into a specific flood risk for each spot, for the 1-percent storm. Finally, any additional wind and wave action is added — sometimes just a few inches' worth. The flood depth is rounded up or down to the nearest whole number and grouped into sections of town. So one end of Henlopen Drive might risk 5 feet, 7 inches of flooding, and the opposite end 6 feet, 4 inches, but they'll both be rounded into the 6-foot BFE.
There are so many plot points that a standard PowerPoint map can't show all the numbers simultaneously.
"These models are designed to account for a lot of variations in storm surge. I think a lot of us … have seen more severe impacts to the oceanside or bayside areas of South Bethany, based on the type of storm you've experienced. So that's one of the things this … model [captures]," said Clinch.
"There's no doubt, when we have water stuck in the back bay because of tides, that area of town will get flooded," Mayor Tim Saxton mused, looking at the map.
Flood insurance varies by house
"Independent of map changes, we feel it's best if everybody if everyone who owns something as valuable as a home seriously consider the purchase of flood insurance, before or after a map change," said Rich Sobota, FEMA insurance specialist. "Obviously, the ramification of not having insurance when a flood event occurs is pretty dire."
Because every single property and house design is different, the experts couldn't speak to how even 1 foot of change might impact people's insurance rates. But they encouraged people to call with specific questions.
"Insurance is rated individually per structure in the National Flood Insurance Program, so I would really need to talk to the owners," said Sobota. "There are a number of rating options that are part of the program. We look at every single one … and we will provide the best possible rate for everyone who's insured through the National Flood Insurance Program."
Sobota encouraged individuals to contact him for more details. People can fill out and email him a "FEMA Insurance Specialist Contact Record" (download at https://southbethany.delaware.gov/flood-protection-information).
Houses are typically subject to the rules under which they were built, so they can be "grandfathered" in under a previous set of standards, as long as they purchased a policy and kept it up-to-date. Essentially, the goal is to reward people "who play by the rules," Sobota said.
The National Flood Insurance Program offers a total of $250,000 in building coverage (a number determined by Congress), so property owners may want to purchase supplemental insurance from another company.
If residents are unsure whether their house met the flood insurance requirements at the time of construction, they should contact Town Hall. There would be certificates of occupation if the house complied with community's regulations of the time. Anyone with further questions on the map changes is also welcome to call Code Enforcement Constable Joe Hinks at (302) 539-3653 to schedule a meeting.
The South Bethany Town Council is not currently considering requiring additional freeboard on houses as a result of these changes.
For more information:
• Town updates: www.southbethany.delaware.gov;
• Official FEMA notice: www.floodmaps.fema.gov/bfes/viewnotice.php?PDFnoticeId=13222;
• FEMA Flood Map Service Center (includes current FIRMs and Dec. 18 revision): www.msc.fema.gov;
• FEMA Map Information Exchange (toll-free): 1-877-336-2627;
• Flood "Zone" definitions: www.fema.gov/flood-insurance/terminology-index.