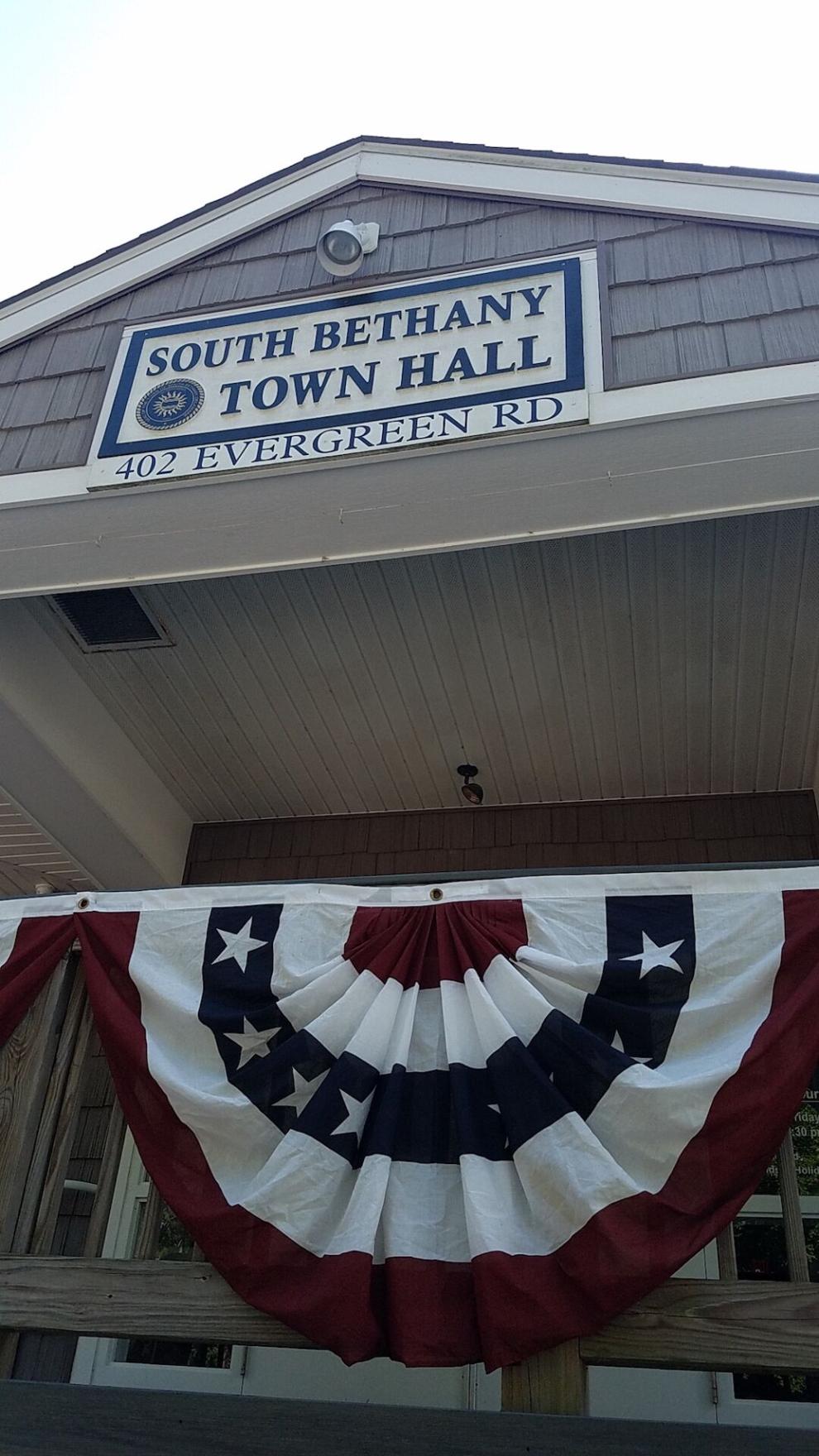 Five candidates are sharing their final thoughts ahead of this weekend's 2021 South Bethany Town Council election. Voting will be in-person at South Bethany Town Hall on Saturday, May 29, from 9 a.m. to 3 p.m.
For the three council seats, voters will choose between five candidates: Carolyn Bell, Edith "Edie" Dondero, Richard "Dick" Oliver, William "Tim" Shaw and Maureen "Mo" Webster. The elected candidates will be sworn to two-year terms in early June.
Absentee voting was permitted. Voter registration is not required beforehand. Eligible voters must be a U.S. citizen and be either: a town resident for at least 30 days beforehand; a freeholder who holds property through a deed or trust at least 90 consecutive days before the election; or the spouse of a freeholder, whether their name is on the deed or not.
Details are online at https://southbethany.delaware.gov/election-information, or contact South Bethany Town Hall at 402 Evergreen Road, (302) 539-3653 or townhall@southbethany.org. Visitors must follow any COVID-19 precautions for entering the building.
Carolyn Bell
Q. Tell us about your background and why you seek a position on South Bethany Town Council this year.
C.B.: I am community-oriented and have a strong desire in seeking a position on South Bethany's Town Council. My husband and I retired to South Bethany in March 2019. As a full-time resident, I have the time available and want to do more for our community. My goal is to work with my fellow council members to do what is needed to maintain and improve this wonderful beach life that we all enjoy. I want to learn and advocate the needs of all South Bethany homeowners and renters.
While campaigning, I have met with many resident and non-resident property owners to understand what they like, dislike and how I can best serve them. If I am elected, it would be such an honor to represent them. Most discussion centered around beach access, bike racks, beach retention and no shuttle buses to the beach; water quality and next steps towards improving it; traffic congestion and educating residents and renters on safety in crossing Coastal Highway to/from the beach. I am impressed that most discussions were not complaints but things to focus on to protect the community. Those that I spoke with refer to South Bethany as a quiet, peaceful paradise of happy people and they want it to remain as "The Quiet Resort."
For a little about my background, my strongest skills are in leadership positions. I worked for 32 years with USAirways. During that time, I earned a B.A. degree and M.B.A. As a versatile business executive, I oversaw multi-million-dollar budgets; was responsible for overseeing the performance of 4,000+ employees spread among nine nationwide call centers; had numerous assignments working through airline mergers; spent one year in London on an international assignment and consulting on the building of a second call center in Frankfort, Germany. I was elected as the first woman president of USAirways Management Club.
Upon leaving USAirways I spent three years with Performix Technologies, headquartered in Dublin, Ireland. I was hired by the president of Performix Technologies because of my business background with the intent to move the company to the United States. I was their director of business development with a focus on the travel industry in the United States.
I have been a member of the Old Dominion Boat Club in Alexandria, Va., since 1999. The club has approximately 1,000 members and was founded in 1880. It is a boating and social community with a strong fellowship. I held numerous elected and appointed volunteer positions over the last 22 years including being elected as the club's first woman president for two terms. My latest responsibility in 2017-2018 was chairman of the Board of Governors.
Throughout my career, I have continued to demonstrate a dedication to deliver successful results. With that same dedication, I plan to deliver successful results as a South Bethany council member.
Q. What is the next big challenge South Bethany faces, and how will you address it?
C.B.: Our two greatest assets are our beaches and our canals. I will focus on ways to enhance and protect the quality of South Bethany beach life. As more residents and renters are biking to the beach, we want to monitor and evaluate the use and location of the bike racks. I propose more education for South Bethany and public individuals on how to be safe as possible when crossing Route 1 and how to use the lights.
I am opposed to any type of shuttle service from areas other than South Bethany. I am also opposed to any buses stopping near Ocean Drive to offload beachgoers. In addition to beach access, beach erosion and beach replenishment needs to be a priority, with continuous focus on federal and state funding resources and action.
The Town Council has a South Bethany Water Quality Committee that has worked to develop a plan to improve the canal's water quality. They have worked through two phases and are now planning to explore canal "hot spots" for dredging. I was impressed by the quality of their work on the plan. I support being cost effective moving forward and exploring possible funding opportunities or assistance. I also want to monitor the performance and quality of the work of the new company the Town has contracted to perform various tasks within our canals.
Q. What other issues do you hope to address?
C.B.: Traffic congestion will be a concern this summer. There is no doubt the continued housing development surrounding South Bethany will increase Coastal Highway traffic and increase traffic going through Cat Hill to reach Kent Avenue or Coastal Highway. My concern is for pedestrian and bike safety. I would like to explore new options on ways to reduce speed and traffic through our Town. I would like to see more education for our property owners and renters on staying safe on our local roads and Coastal Highway.
Q. What else should voters know about you, or your goals for the town?
C.B.: My goal is to learn and advocate the needs of all South Bethany homeowners and renters. I am a strong leader. I am a visionary and a proven problem solver. I have the energy and dedication to deliver successful results. I bring people together and I make things happen. And I believe communication is the basis of effective leadership. It creates mutual understanding and trust. As a Town Council member, I will focus on ways to ensure good communications with the community at large.
---
Edith 'Edie' Dondero
Q. Tell us about your background and why you seek a position on South Bethany Town Council this year.
E.D.: My background makes me uniquely qualified to serve on Town Council. I have several years of experience in municipal land-use planning, have worked extensively with local governments and served as the chairperson of a committee in a New Jersey township. I am comfortable navigating and analyzing code and ordinances, writing comprehensive and master plans, and reviewing development plans.
For eight years I managed the administration and enforcement of conservation and historic preservation easements (i.e., restrictive covenants) on more than 50,000 acres of land. Being in any enforcement role necessitates excellent communication skills, the ability to mediate disputes, and a talent for building good relationships, all skills that will certainly be an asset to the council. Further, I understand the importance of working cooperatively to achieve shared goals and how to hold difficult conversations respectfully.
On a personal note, I am an avid reader, kayaker and traveler, and have taught yoga for almost 10 years. I share my South Bethany home with my partner, Ian, and answer to my 5-year-old mixed-breed rescue dog.
Q. What is the next big challenge South Bethany faces, and how will you address it?
E.D.: Like any coastal community, the effects of sea-level rise are our most significant challenge. These effects include beach and dune erosion, and the nuisance flooding that occurs during storms or higher-than-normal tides. With the increasing rates of precipitation and intensity of storms that are predicted for our region, these problems will only grow worse if we do not take steps to mitigate the effects.
The scale of the beach erosion issue is bigger than South Bethany and will require the Town to work cooperatively with the State of Delaware and the federal government, both of whom currently fund beach replenishment efforts. Areas of nuisance flooding need to be mapped and individual site-specific solutions researched. I think it would be of great benefit to form a new committee to oversee this work.
Q. What other issues do you hope to address?
E.D.: Traffic on our roadways will continue to increase as development in Sussex County continues unabated, particularly in the unincorporated areas west of South Bethany. Ensuring safe streets for residents and visitors of all abilities — including children, the elderly, and less-than-confident cyclists — is a priority of mine. I walk and bike our streets daily and know that there are areas of town that can be a challenge to navigate safely. We need to continue to enforce traffic laws and speed limits, employ all available traffic calming measures, and make reasonable, cost-effective efforts at keeping our streets safe.
Q. What else should voters know about you, or your goals for the town?
E.D.: My motivation for seeking a seat on council is simply to serve my community. More specifically, I chose to run because I understand the workings of local government and can draw on my experiences in municipal land-use planning and conservation to bring new ideas and perspective to some of the issues our community faces.
My goals as a member of council will be quite simple: protect the character of South Bethany that led us all to buy homes here, ensure safe streets for pedestrians and cyclists, and improve communication and transparency between Council and residents. I commit to putting the needs and concerns of property owners first, and to representing all residents fairly — irrespective of residency status (full- or part-time) or street address.
---
Richard 'Dick' Oliver
Q. Tell us about your background and why you seek a position on South Bethany Town Council this year.
D.O.: I am on the council running for a second term. I think that this council has done a fine job. I wish to continue to serve the town, as I have for some time. Before I was elected to the council, I:
• Was on the planning commission for nine years, seven as chair. We got the 2016 South Bethany Comprehensive Plan approved by the state when I was the chair.
• Am liaison between the council and the planning commission and am working with the commission on the five-year update.
• Introduced and got passed an ordinance about improving sight lines at intersections.
• Am on the committee working with Mediacom and Comcast to improve the quality and variety of services.
• Am recording secretary of the board of the Friends of the South Coastal Library.
• My wife and I have been Neighborhood Watch walkers for over 10 years.
• Served as a member of a team of volunteers who checked the water quality in our canals bi-weekly for eight years.
We have been property owners in South Bethany since 1983 but built our current home in 1999. I retired as a senior manager at NOAA (National Oceanic and Atmospheric Administration) in 1998, and started my own consulting business which I operated successfully until 2016. We moved here permanently in 2012.
Q. What is the next big challenge South Bethany faces, and how will you address it?
D.O.: Explosive growth in the surrounding area. More population means more pressure on our precious beach and our tranquility. We need to protect the town from potential heavy traffic on our streets, as well as overcrowded parking by non-residents.
Really, we are on our way. The Town has enacted and is vigorously enforcing parking restrictions, particularly on the ocean side of the highway. We must continue to move in the direction while being alert to any future developments such as the introduction of shuttle buses coming through town and discharging passengers on Ocean Drive. If I am re-elected it will be one of highest priorities.
Q. What other issues do you hope to address?
D.O.: Traffic safety and particularly pedestrian safety on our streets deserves major attention. We have no sidewalks, and our streets are narrow. I will make every effort to encourage pedestrians to walk safely toward traffic and that drivers are continually made aware of their responsibilities. The police should vigorously enforce the traffic laws both on Route 1 and on our residential streets. The introduction of enhanced lighting at intersections on Route 1 was a huge step forward. I am acutely aware of the danger, since I was struck and seriously injured by a car as a pedestrian several years ago.
Completing the beach walkways is a major project that needs to be completed as soon as possible. We have done a good job so far. Six will be done by late June, and we need to complete the remainder before next summer This will be a major asset to the livability of our town.
Water quality in our canals in another concern, and the town needs to keep this in mind as a priority as we move forward.
Q. What else should voters know about you, or your goals for the town?
D.O.: An important goal is to maintain the continued financial stability of the town. We are in good shape right now, but we need to continually look for ways to keep out revenue stream strong and stable, and to focus spending on spending priorities that maximally benefit to the whole town. If I am re-elected it will be one of highest priorities to keep South Bethany "The Best Little Beach in Delaware."
Personally, I am a native Washingtonian, a proud veteran of the United States Marine Corps and a graduate of American University in Washington D.C.
---
William 'Tim' Shaw IV
Q. Tell us about your background and why you seek a position on South Bethany Town Council this year.
T.S.: I am a permanent resident of South Bethany, having moved here from Baltimore six years ago. We have owned homes here since 1998, but they were primarily rentals so we mostly came here during the "off-season." I have kids and a grandson, of whom I am quite proud. I have been a technology entrepreneur during most of my career and hold advanced degrees in electrical engineering and computer science. I was also an associate professor in the graduate engineering department of Loyola University in Baltimore. I have published several books (all technical and boring), and I still teach online classes in computer science and cyber security. In the last decade, I have worked with the Nuclear Regulatory Agency and domestic nuclear power plants on establishing physical and cyber security programs.
I was on the council a few years ago and I am still involved in the Town as the chair of the Charter & Code Committee and a member of the Planning Commission. I am also a Neighborhood Watch member and member of the SBPOA. I am also a boat owner and recognize the value of our canals, as well as our beach.
I want to return to the council because I want to start nudging the Town about taking actions to mitigate the effects of sea-level rise, particularly the flooding on the bay side of the town. We need a multi-year plan that spans multiple administrations in order to ensure that the town doesn't end up looking like Venice and we all need to buy gondolas to get around.
Q. What is the next big challenge South Bethany faces, and how will you address it?
T.S.: The ever-increasing nuisance flooding and the eventual loss of properties due to sea-level rise is the elephant in the room that the Town continues to ignore. But it will continue to occur more often and more seriously, regardless of our paying attention. Prior administrations took a "we can't do anything about it so let's just ignore it" approach. I prefer that we attack the problem and find some solutions.
Clearly, raising bulkheads on the canals is one possibility, and the entire Town needs to participate and help fund this, just as the entire Town benefits from beach and dune replenishment. I don't have all the answers, but I think we need to begin an effort to find and fund some.
Q. What other issues do you hope to address?
T.S.: A growing concern for the Town is the exponential development occurring all around the town and the expectation that these unincorporated developments will expect us (including Bethany and Sea Colony) to provide police, fire and EMT support, as well as using our roads and beach, but with no mechanism in place to provide funding to cover our costs. I believe we need to collectively (possibly via ACT) approach the County and possibly State government about addressing and correcting this inequity.
Q. What else should voters know about you, or your goals for the town?
T.S.: We love the quiet, family-friendly nature of the town, and I want to preserve and protect that nature. The Town is financially sound at the moment, but we need to start putting funding actions in place for larger, longer-term efforts, such as canal dredging and beach replenishment and (as I mentioned above) sea-level rise. We are also at a point where the nature of the town is changing such that revenue sources may begin to shift, and we need to plan for this.
---
Maureen 'Mo' Webster
Q. Tell us about your background and why you seek a position on South Bethany Town Council this year.
M.W.: I have owned a house in South Bethany for four years, so I am a newcomer to the politics of our wonderful community. I am passionate about contributing to our town and currently I am very involved in the South Bethany Community Enhancement Committee. At home back in Baltimore County, I contribute to local initiatives as well. I have served on our previous neighborhood's HOA, have been a co-chair for the local recreation council, and have dedicated seven-plus years to the Community Leadership Board for the Y of Towson, serving as the community engagement chair.
Professionally, I began my career as a high school teacher in the inner city and later left to work for a variety of EdTech companies. As a leader in EdTech, I have managed large teams, multimillion-dollar project budgets, tight deadlines and customer success. I have a Project Management Professional certificate (PMP), so I have been specifically trained in how to execute on high-stakes projects and how to effectively communicate with stakeholders.
All in all, I bring energy and a positive nature to everything I do. I am accessible and open to new ideas and believe that we need to listen first, then form solid solutions that will work for the majority of stakeholders. The only way to make decisions for the entire community is to focus on listening to the whole community, from ocean to bay and in between. Therefore, I want to improve communication, and make town decisions transparent and informative.
Q. What is the next big challenge South Bethany faces, and how will you address it?
M.W.: I think our next big challenge in the next several years will be beach overcrowding. The Town of South Bethany has put in many creative ways to assist with the large number of people who want to enjoy our beach, including increasing bike corrals. We as a town need to look at the overabundance of growth to the west of our town, review our current protocols, and determine next steps in order to make sure all town residents can enjoy the beach safely.
Q. What other issues do you hope to address?
M.W.: I have two other items that I think are necessary to focus on: continued safety improvements and water quality initiatives. The Town has done a great job in the past few years with continued funding of police, new lighting and the barrier extension. As well, the recent light installation on Route 1 was a great stride in this realm. We do need to look at lighting in other areas where people walk and bike. As for water quality, I do worry about our canals and overall water quality in our small town. With so much construction going on, our ecosystem is going to take a hit. I think we need a renewed focus on protecting our water ways in partnerships with state and regional entities.
Q. What else should voters know about you, or your goals for the town?
M.W.: I possess the desire and expertise to bring about change with positive energy, passion and proven dedication to community. I strongly believe that communication is the foundation of great results and we as a community need more voices to be heard, whether it's through town halls or more surveys on improvements.