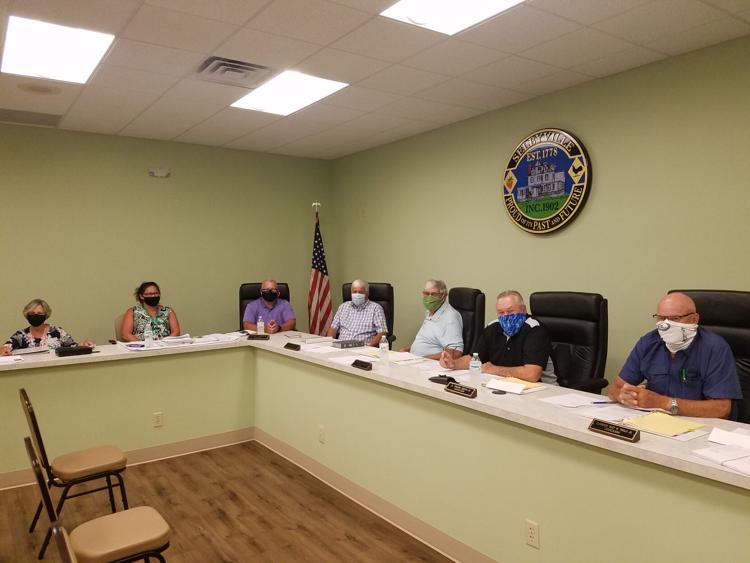 The Selbyville Town Council and its committees have begun meeting in person again, sometimes with protective face masks and sometimes without. The council had canceled its monthly meetings from mid-March until mid-June.
But development continues, leading the Planning & Zoning Commission and Selbyville Town Council to have each met twice in the past month.
Along Polly Branch Road, the proposed Creekhaven housing development (formerly known as Cypress Shores) was granted preliminary site plan approval for a 72-lot single-family subdivision (Tax Map ID 533-16.00-81.01 and 92.00) owned by DCB Properties.
Daniel Bunting of Bunting Construction described a vision for workforce housing, for young couples who want smaller lots.
"We're really trying to attract people my age looking to buy their first home," said Bunting, who is among the younger generation of property developers, "and it's gotten pretty hard to do close to the beach."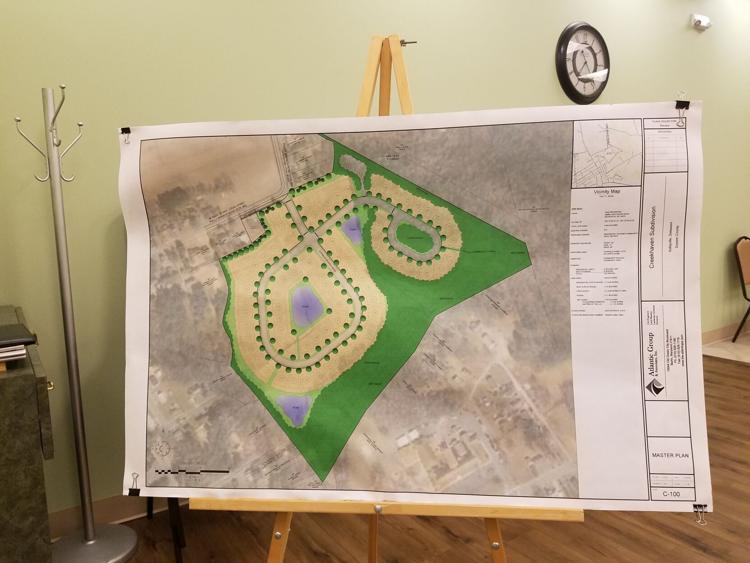 First, the council amended the lot lines for the 33.42-acre residential property (zoned R-4 with a proposed RPC overlay).
Council Member Frank Smith's concern was the traffic impact caused by 72 single-family homes on the two-lane road, which has two very sharp curves. The Buntings suggested that "a development of this size will not be a huge impact on the road," but the extra people could help rejuvenate the downtown commercial area.
Smith pressed on — this side of Polly Branch Road has about two dozen houses on that strip of road. The new neighborhood would more than quadruple the overall housing there.
In terms of traffic safety, Bunting said the proposed speed reduction is from 40 to 25 mph. Also, the neighborhood entrance sits on the outside of the first nearly 90-degree curve of Polly Branch Road, which will provide a broad view for drivers entering the road, he said.
However, where Delaware Department of Transportation might have required sidewalks or widening of Polly Branch Road, Bunting will request a waiver, citing the homeowners' and Town's request not to take more property from private residences.
The developer also requested a variety of waivers: minimum lot size reduced from 9,000 to about 7,300 square feet; minimum lot width reduced from 75 to 61 feet; rear-yard setback reduced from 30 to 20 feet; and required RV/boat storage reduced from 15 to eight spots, since other neighborhoods are using that type of storage less than anticipated and young working families are less likely to own such amenities.
With the stormwater ponds, pavilion, park and wetlands, the density does not exceed the town's maximum of 2.2 housing units per acre, said Chris Carbaugh of engineering firm Atlantic Group & Associates.
Housing prices may start around $225,000. Several builders are under consideration for actual construction.
Councilman Jay Murray abstained from the otherwise unanimous votes for approval.
Schooner Landing gets final approval
Final site plan approval was unanimously granted to Schooner Landing, consisting of 129 total units, located at the northwest corner of Polly Branch Road and Lighthouse Road (Tax Map ID 533-17.00-107.00, 108.00 and 109.00).
The neighborhood surrounds a flag-shaped parcel with an old graveyard. The homeowner association for the development will have easements around the parcel and have maintenance of it.
It will have a clubhouse, pool area, 30 RV/boat spaces (which appear to be in higher demand there). Housing will start in the high-$200,000s to low $300,000s, which Chad Davis of DBF said is "pretty typical for the area." There will be plenty of street lighting, and the drainage will not impact neighbors, developers said.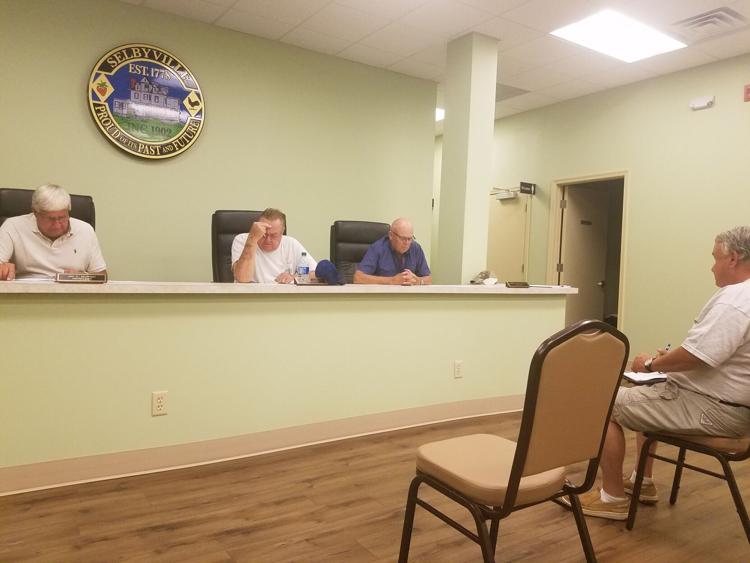 In other Selbyville Town Council news:
• Selbyville Self Storage unanimously received preliminary site-plan approval for four 40-by-60-foot buildings on Hosier Street.
They already had a conditional-use permit for the business. They proposed a lattice fence with an evergreen ivy for the required buffer to screen the buildings from their residential neighbors. Besides installing stormwater ponds, they will likely replace some of the existing drainpipes.
• The town council will consider annexing into town 3.88 residentially-zoned acres, owned by Ronald and Josephine Hamblin, along Lighthouse Road (Tax Map ID 533-18.00-35.01).
The Annexation Committee discussed water and sewer options. There could be cost-share benefits for the infrastructure, if neighboring properties also choose to be annexed. Even with cost estimates of $25,000 for water, sewer and impact fees, it could be cheaper than installing a new septic system at $30,000 or $40,000, the Hamblins mused.
The Annexation Committee (composed of three town council members) unanimously voted to recommend the issue to the town council. The application will still require several official approvals, including a public hearing.
• An agreement between neighbors has allowed for the council to issue a conditional-use permit for parking and storage on a residential property at 32 Clendaniel Avenue (Tax Map ID 533-16.11-35.00). Haines Fabrication & Machine will be purchasing the property from Brendan Doyle in order to park trailers or heavy equipment, since the company's existing property needs more employee parking.
The Rogers family had taken some issue with the proposal, citing potential impacts to the value of their neighboring property. The town code's required setback would also have rendered the project practically impossible. However, the Haines company has now proposed to also purchase the Rogers property, so the family dropped their objections, and the permit was unanimously approved with few conditions.
• The Atlantic Lakes housing development (Tax Map ID 533-17.00-170.00) was approved for smaller rear-yard setbacks, reduced from the required 30 feet down to 10 feet. The RPC zoning codes allows for flexibility of rules for the sake of design, and the developers said that Ryan Homes' building design requires more space. The affected properties back up to a buffer, not another back yard. Not all houses will need the modification, but developers said it will help them keep a consistent streetscape if prospective homeowners choose a longer design option. The council unanimously approved the modification to the final site plan.
• The Town will replace the in-car cameras for Selbyville Police Department patrol cars. The State of Delaware requires the feature in every vehicle that has public contact. The Town started with in-car systems around 1996, and most of SPD's existing cameras are at least 10 years old. The cost from Watch Guard is $56,885 for outfitting nine cars, including equipment, training and the five-year license, plus $1,000 per vehicle, annually. The system has several options for body camera upgrades if they are ever required; remote viewing access; and other optimizations of the video feed.
• With the former town hall building mostly vacant, the council is considering whether to attempt salvaging any parts of it, or whether to just demolish the old one-story structure and build a pole barn for the neighboring water plant.
"Have you been through that building lately? It's pretty rough," Tingle said.
• To improve water pressure on the west side of town, the Town has increased its daily purchase from the Artesian Water Company, from purchasing 50,000 to 130,000 gallons of tap water a day.
• The 63rd Annual Old Timer's Day festival has been canceled, due to restrictions on social gatherings. The 2021 celebration will probably feature the Selbyville Police Department's 90th anniversary of incorporation.
• Mountaire Farms' Mike Tirrell has retired from the company as of April 1.
The Selbyville Town Council's next monthly meeting will be Monday, Aug. 3, at 7 p.m.