Route 54 will be getting some new stop signs along an increasingly busy stretch of highway. An all-way stop is being installed this month at the Hudson Crossroads in Selbyville, where Hudson Road intersects Lighthouse Road (Route 54).
The public has called for more traffic control in that location over the past few years, and Delaware Department of Transportation (DelDOT) officials said the intersection now finally warrants new safety measures.
New stop signs, warning signs, "stop ahead" pavement markings and flashing beacons will be installed along Route 54. Previously, only Hudson Road traffic stopped, yielding entirely to the busier Route 54. Now, all motorists traversing the intersection will have to take their turn coming to a complete stop.
Drivers should expect delays from 9 a.m. until 3 p.m., until Feb. 23 (pending weather). They are being urged to pay attention to flaggers and lane shifts in that area. Police officers will also keep an eye on things, to ensure that Route 54 motorists adjust to the new stop condition.
Selbyville Police Chief W. Scott Collins said he had worried about the intersection for some time.
"It's a huge thoroughfare, because it's the shortcut from Maryland" to coastal Delaware, Collins had said in the spring of 2019. "The intersection is completely wide open. You can see clearly in nearly every direction. … And the vast majority of our accidents are daytime."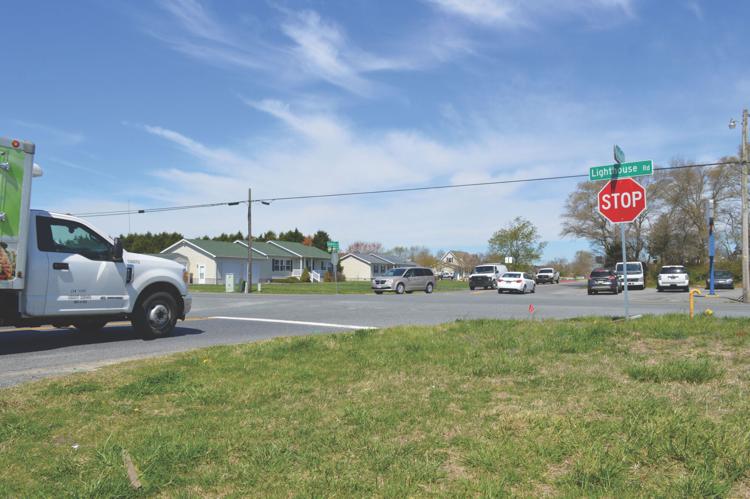 "The intersection's angle crash history has continually been on the cusp of further warranting … safety countermeasures," said Kathryn Beasley, DelDOT community relations officer.
From January 2014 to November 2019, the intersection saw two fatalities among its 10 angle crashes (which an all-way stop should reduce by an estimated 90 percent, officials said), plus four crashes involving deer and two roadway-departure crashes. Southbound Hudson traffic also has some difficulty seeing oncoming cross-traffic from the left, since utility poles and a business parking lot are flush against the corner.
The intersection now sees enough traffic volume to warrant all-way stop. There's no doubt that the intersection will only get busier in the next few years, since the Town of Selbyville has approved three new housing developments in the immediate area, in addition to others in the larger area.
"Intersection volumes are anticipated to increase significantly as redevelopment is slated for three of the four intersection quadrants — e.g., 'Coastal Villages,' 'Selbyville Town Village' and 'Saltwater Landing' (about 900 to 1,000 homes collectively)," Beasley said.
The 50-mph speed limit on Lighthouse Road will not be lowered in the vicinity of the intersection. Hudson Road will also keep its current 45-mph limit.
This isn't the end of the story, either. The stop signs are expected to help in the near future, but DelDOT staff have officially proposed another measure to keep traffic flowing safely: a roundabout. More information will come in future years, if and when a roundabout is approved, they said.