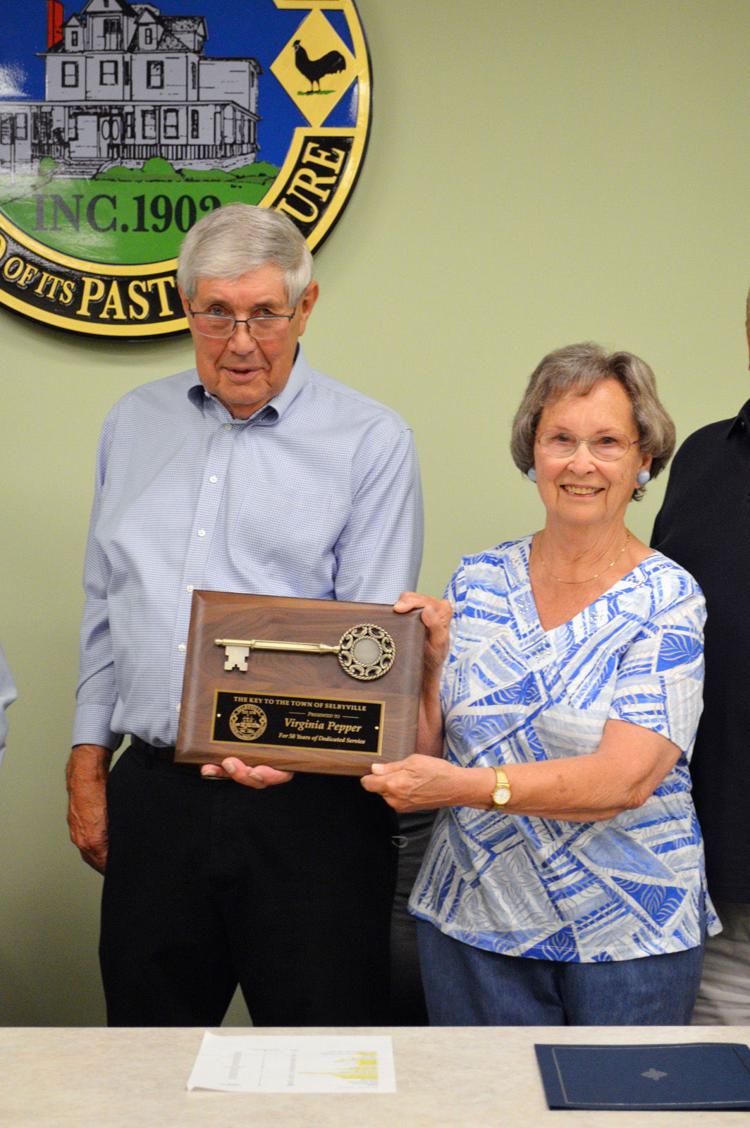 In a classic move reserved for only the most dedicated of public servants, the Town of Selbyville has bestowed a longtime employee and resident with a key to the city.
Virginia Pepper was completely floored to find a surprise party at town hall on June 17, the exact 50th anniversary of her hiring.
Since 1970, Pepper has worked in three town hall buildings, with six mayors.
"You've certainly been good to work with," and all employers should be so lucky, said Mayor Clifton Murray. "Everybody knows Virginia."
Pepper described her hiring as a simple phone call: "Virginia, we just fired the town clerk. Would you be interested in this job? … I said, 'Well, I'll give it a try.' 'Just come open the mail and answer the phone.' … So I've been here ever since."
Today, Pepper is in charge of permitting and the town museum. Moreover, she's part of the Town's institutional knowledge, and she's has helped answer questions for everyone, from officials who've been around for 20 years to staff who've been around for four years.
The town council members thanked Pepper for "keeping them straight" and shared how much they enjoy working with her.
"We're just so proud to have someone like her that's dedicated to the town," said Town Manager Stacey Long. "She's still on it, she's still sharp."
"Thank you. I've enjoyed working with you all," said Pepper, age 82, who joked that she'll continue to stick around "as long as I'm happy."
This was certainly no retirement party, as Pepper is still happily employed by the Town. Indeed, she told Coastal Point, she has always enjoyed the job and never dreaded coming to work.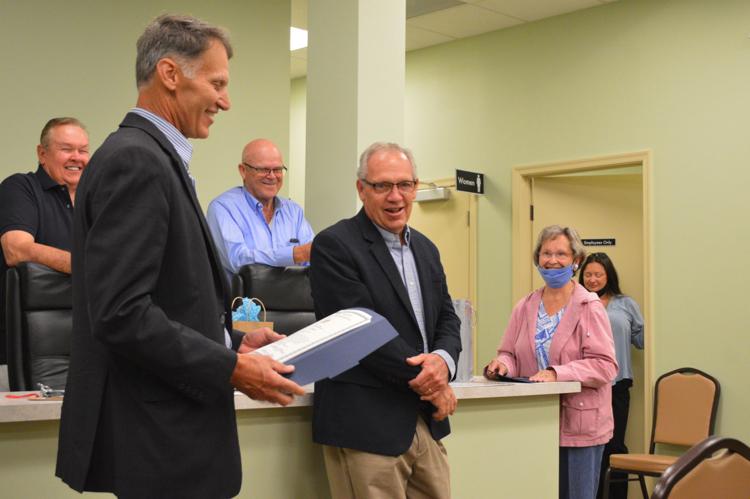 Pepper received an elegant plaque with a large metal key from the Selbyville mayor and council. Several state and county officials also read proclamations honoring her for her service. Particularly touching was the Sussex County certificate, read by Sussex Council Councilman John Rieley, which said Pepper's "honesty, integrity and dedication" have earned her a special place in Selbyville's history and in the hearts of its people.
"Thank you all. I really appreciate it," Pepper said.
"Well, we appreciate you," Murray said.
Rain pushed the event indoors at Town Hall, where social distancing was difficult to maintain. Breakfast sandwiches, coffee and doughnuts were served for the celebration, which featured more well-wishers, including members of Pepper's family, the Selbyville Community Club and the Selbyville Volunteer Fire Company Ladies' Auxiliary (where Pepper was a longtime treasurer and recently won the president's award for service).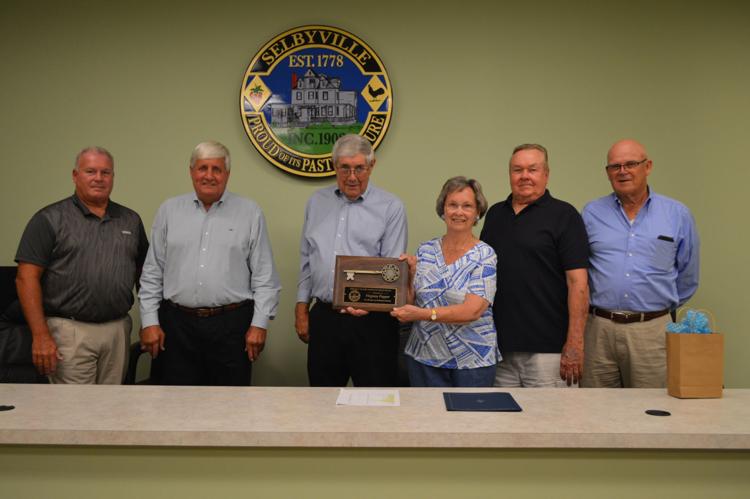 Having been a resident of Selbyville since moving there in 1960 for her late husband, Bruce, Pepper said she still loves the town.
"It's grown and changed for the better, I think," she said. "I'm just proud to be able to work for the Town for all these years, and I've worked with such good people."