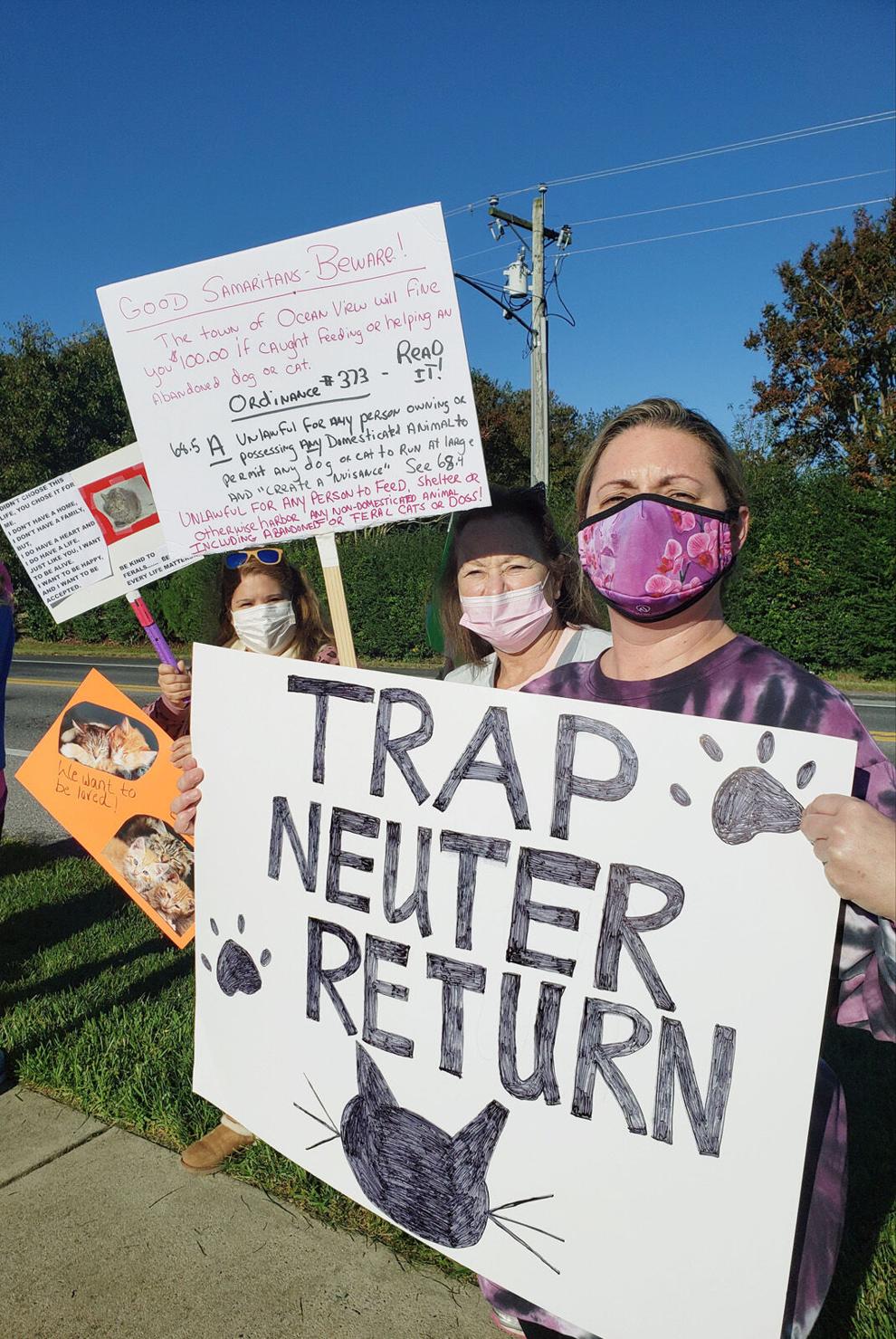 Members of the Cats Around Town Society (CATS) held a peaceful rally opposing the Town of Ocean View's new ordinance that increases the fine for feeding or harboring feral cats, and the group agreed to collect signatures on a petition they will present to the town council.
"If they present a petition, we'll take a look at it, of course," Mayor John Reddington told the Coastal Point, following the Saturday, Oct. 17, rally, which was held in front of the Town's Administration Building.
But Town Solicitor Dennis Schrader said that, regardless of the number of signatures on any petition, there is no mechanism in Ocean View's charter to force a matter to referendum vote.
"If the people who want the ordinance reconsidered present a petition that makes good arguments, that petition might be thoughtfully considered by the town council, but there is nothing in the charter to compel them to have a referendum. If it's not in the charter as part of the organic organization of the community, it doesn't happen," he added.
Nancy Ward of CATS, who organized the assemblage and spoke to those attending, said town leaders "need to know there are a lot of us in opposition."
"These people think we are going to round up all these cats and we are going to trap them and euthanize them and that's it. No! There will be more cats, even if we do that. They think it's going to work out this way, but we know it's not. … We are not going to let these cats drop to the bottom and forget about them. That's not our hearts. Hopefully, they will listen to us," Ward said.
One woman among those holding signs and waving at drivers who blew horns as they drove along Central Avenue, read what a stray cat might be thinking: "I didn't choose this life. You chose it for me. I don't have a home. I don't have a family. But I do have a heart and I do have a life. Just like you, I want to be alive. I want to be happy and I want to be accepted."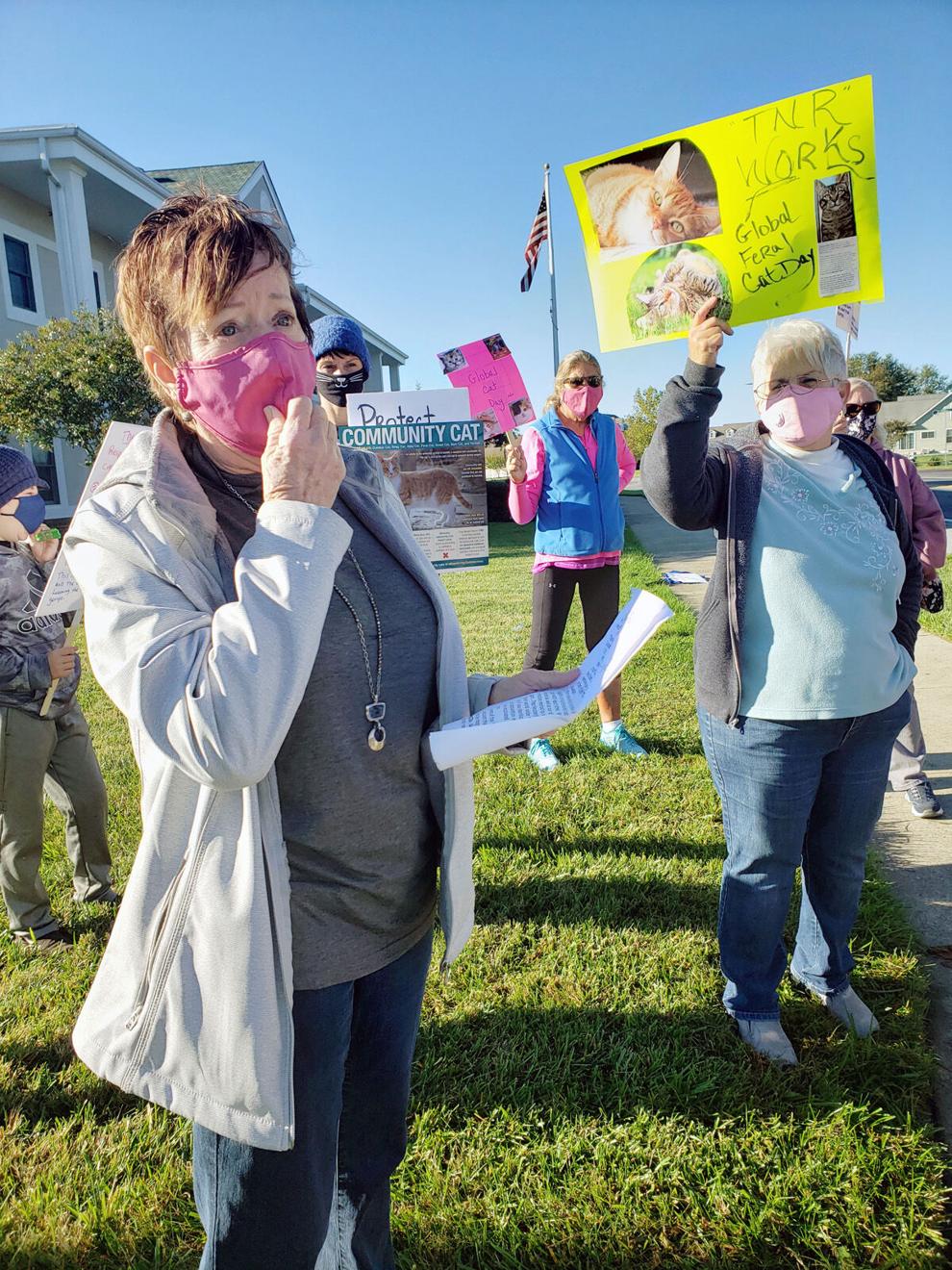 Reddington said he doubts there is a "happy medium that we can come to, to satisfy everybody."
He said he and other council members learned while researching the matter that feral cats may kill billions of songbirds every year in the United States and Canada, and are considered a "nuisance to smaller animals and birds," the mayor  said, citing an article at www.nola.com that states feral cats "carry a dangerous parasite that has been linked to schizophrenia, Alzheimer's, memory loss and learning problems."
The article calls feral cats "ecological serial killers" who carry rabies and the parasite toxoplasma gondii.
Walt Fentermacher, director of operations for the Brandywine Valley SPCA, this week told the Coastal Point, "Our wish is for the free-roaming cat population to be reduced through TNR or RTF efforts, which ultimately will reduce the impact on any bird or wildlife population." (TNR is short for trap-neuter-(vaccinate)-release, and RTF is short for return-to-field.)
"Delaware was not the first state to recognize a public concern in free-roaming cats. Nor were we the first to realize that so-called traditional solutions were not producing results. TNR efforts and the studies around them have been shown to have dramatically reduced this issue in countless communities as close to home as Baltimore, Md., and Atlantic City, N.J. These projects have also begun in our own back yard.
"The alternatives are to maintain the status quo, which has proven not enough to decrease the free-roaming cat population, or some would prefer that these cats be trapped and killed, which we do not believe a humane practice nor one that has been proven to work, since new cats will move into an area for its resources if cats are killed and a colony's size immediately decreases," Fentermacher said.
Reddington said he doubted the ordinance will change to allow trapping, neutering and returning.
"I think it is very difficult, given that our first duty was to look after the residents who had been damaged by these cats," he said. "What we really would like people who take care of cats to understand is that they are causing damage and they are causing wildlife deaths and that they need to do a better job of controlling the cats. We haven't seen evidence that TNR does that. These colonies go on for decades. The lifespan of these cats is longer than it should be," Reddington said.
Council members would like to see cat lovers domesticate the animals instead of allowing them to roam, the mayor said.
Ward said she feels the organization and town council have the same goal — to reduce the feral cat population.
"Our mission statement is to reduce the over-population of these cats. That's the first thing out of the gate, and when I read about this ban, I said, 'Their goal is our goal, too,'" she said.
Ward penned a letter to the editor of the Coastal Point; spoke and wrote to town council members; and delivered informative literature to each of them.
"I hope it will change. If feral cat colony feeders stop feeding, we will have sick and hungry cats who are unvaccinated. That's a big part of what we do. We make sure every cat has been vaccinated for rabies. But with this ordinance, now we're going to have a whole generation — and three months is a generation for a cat — being more visible. You are going to see so many more cats now that are unvaccinated," Ward said.
"Feeding bans don't work. It has been proven scientifically it doesn't work, because it's in opposition to trap-and-neuter," she said.