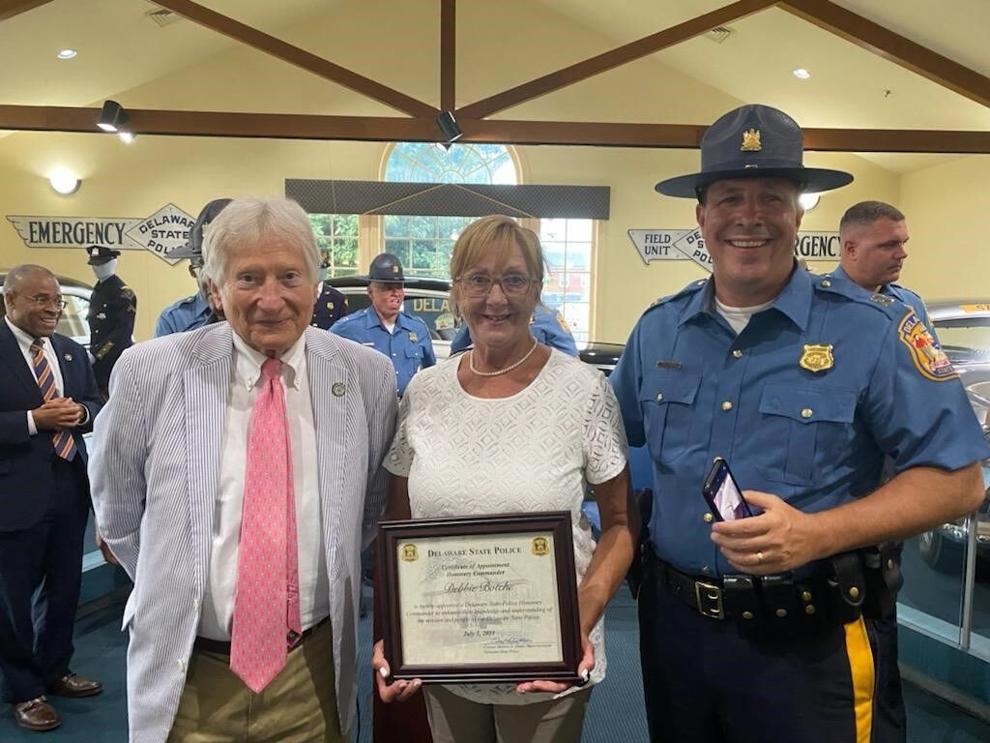 The day after Deborah Botchie was named Delaware State Troop 4's Honorary Commander for 2021, she started getting calls from state troopers that started with "Good morning, ma'am!"
Although the greeting could have been just a simple sign of respect they'd give anyone, Botchie knew it was a nod to her new title.
She laughed and said, "Don't call me ma'am," but admitted this week that she's honored by the title, and excited about the duties and responsibilities that come with it.
The Honorary Commander program was started under former DSP Col. Nathaniel McQueen as a way to involve businesspeople, community leaders and politicians in the daily activities of the state police organization.
As Millville's town manager, Botchie is familiar with Troop 4 and knows many of the troopers assigned there, since Millville contracts with the DSP for the town's police coverage.
During her time as Honorary Commander, Botchie said, she will be paired with a member of the troop. She will be invited to attend DSP events, such as Police Academy graduations, promotions, award ceremonies and memorial services. Botchie will also be invited to see troop operations first-hand, though ride-alongs, training exercises and other activities.
The DSP website's page dedicated to the Honorary Commander program explains that, in addition to familiarizing the honorary commanders with police operations, there is the hope that working with involved members of the community will give the troop commanders themselves insight into the professional lives of the honorees.
Botchie said she feels especially honored that her nomination was approved by DSP Superintendent Lt. Col. Melissa Zebley, who was named to the top state police position a year ago this week. Zebley is the first female DSP superintendent. Botchie was nominated for the Honorary Commander designation by Zebley.
"It was an honor. I was really taken aback," said Botchie, who has been Millville's town manager for 15 years. During that time, the town has grown from 282 full-time residents to 1,700; she has overseen the increase in state police coverage in the town, from eight hours a week to 40.
The induction ceremony for Honorary Commanders was held July 1 at the Delaware State Police Museum in Dover, where Botchie and the others were officially given their commands by Zebley. She succeeds the Most Rev. Roland Mifflin in the role. Biographies of each of the new inductees, as well as photos from the ceremony, will soon be viewable on the Delaware State Police website under the "Community" heading.
A 1973 graduate of Indian River High School, Botchie spent 21 years in the banking field and seven working for a local law firm before joining Millville's administrative staff. In her bio for the DSP program, she said working in municipal government is "the most rewarding career I've ever had." She has three grown children and nine grandchildren.
Botchie said her good relationship with the DSP "goes way back," because several of her "school buddies" went on to become members of the state police.
"We have a really good rapport with one another," she said of the Town and the state police, adding that she has gotten to know many of the officers from Troop 4, as well as other Sussex County troops who have spent time patrolling Millville.
Along with other volunteers from Millville, Botchie has raised funds for the DSP's summer camp, Camp Barnes, and has worked at the camp to help prepare the Bayard facility for campers.
She said she has heard from many troopers that she will enjoy her time as Honorary Commander. "The night of the ceremony, a bunch of people told me, 'You're gonna love it,'" she said.
Although she hasn't yet received word of her first official duty, Botchie said she hopes to be able to fly in one of the state police helicopters and try her hand at a state police shooting range. She said one duty she hopes not to have to fulfill is attending a memorial service for an officer who has passed.
But Botchie said she relishes any chance to work with members of Troop 4, particularly during the next year as Honorary Commander.
"The Delaware State Police are the finest there is," she said.