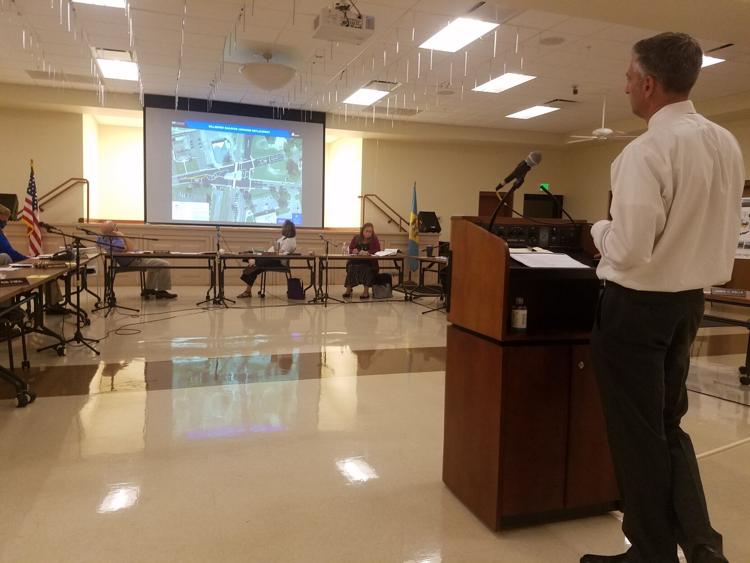 Several people have asked the Town of Millsboro about the possibility of absentee voting in future town council elections. But the council members didn't show much interest in that suggestion at their monthly meeting on Sept. 8.
"Personally, I'm not a fan. I prefer that we maintain the status quo," Town Manager Sheldon Hudson said upon broaching the topic.
The town charter already provides a path toward absentee voting, but the council would have to pass an ordinance to implement an absentee process "for any qualified voter to cast an absentee ballot if such person is unable to appear and cast his or her ballot."
Ultimately, no one made a motion to consider the idea any further or bring it to a vote.
Councilman Larry Gum said an absentee-voting process might make things more difficult to manage.
"People aren't staying home," which means they can vote in person, Gum suggested.
"We're thinking a lot of that is probably COVID-related, but I try to bring what I hear in the community to council, and then we can make a decision together as a team," Mayor Michelle Truitt said afterward.
In Millsboro's June elections, as in most of the area's inland towns, voters must be a resident of the town, not just a property owner there.
Truitt was asked how someone would vote if they were elderly or homebound.
"We had quite a few, and we would help them in. I was here at elections. … The Town has plenty of staff, that we can help. It truly was spaced out, and there were plenty of safety precautions taken."
If someone is away for college or deployed for military service, how do they vote?
"They would have to be back here to do that," Truitt said. "We can always revisit that … adjust it and bring it back. And we do that a lot of times, revisit."
There was not a full slate of council members present on Sept. 8. Truitt, Vice Mayor Tim Hodges, John Thoroughgood and Gum were just enough for a quorum. Absent from discussion were Councilmen Bradley Cordrey, James Kells and Ron O'Neal.
Plantation Lakes shows full amenity plan
Since the meeting was held in the Millsboro conference hall, rather than their usual chambers (with a telephone option for the audience), there was room on Sept. 8 for the council to spread out and display some highlights of Plantation Lakes.
As part of the conditions for their final site plan, the Plantation Lakes developers presented the full amenity plan for the 2,495-unit housing development west of Route 113. That includes a 550-foot pedestrian bridge over Betts Pond, 6.5 miles of walking trails, outdoors pool and kiddie splash fountain, picnic and gazebo areas, 18-hole Arthur Hills golf course, 22,500-square-foot The Landing clubhouse and pro shop, restaurant, driving range and various practice areas, several community centers, tennis, pickleball, volleyball, basketball and outdoor table tennis. There will be an 11.2-acre public park dedicated to Town of Millsboro, with amenities to be determined.
"It's very, very important to the Town that we are appealing to all the demographic ages. … We want to make sure families are welcome. … Thank you for hearing that," said Hudson, adding that he hopes Millsboro will stand out from its beachy neighbors with this all-ages emphasis.
Although the town solicitor said the Town's role in the plan was to acknowledge that the presentation is acceptable and meets the permit conditions, the council still made sure to include their pleasure in the vote.
The council also approved the final site plan for "Section D," located on the north side of Betts Pond, with 30-foot-wide "villas," or townhomes, and 40-foot-wide single-family homes. Some will jut out into a cul-de-sac, surrounded 50-foot buffer from the water's edge. The developers said this property is not in the FEMA floodplain.
The council also approved the final site plan for the community center in the west.
Halloween and Christmas
After some debate, the town council agreed to schedule Millsboro's trick-or-treating for Saturday, Oct. 31, from 6 to 8 p.m., for those 12 or younger.
The police department was given permission to host its annual Halloween event, but will only proceed if they can meet safety guidelines for the public and staff. That could mean a drive-through event instead.
The motion passed with a majority of those present, 3-1, with dissent from Thoroughgood, who said he preferred trick-or-treating only.
Hudson and the council expressed interest in trying to host a public Christmas event, recognizing that it could be very different from the usual. A parade could be tough, since events of 250 people or more require state approval, and schools aren't hosting marching band right now.
"I've been to some events where the State has shown up and said, 'You're not following guidance with social distancing and guests,'" Gum said. "All it takes is a complaint from a person and they're mandated to show up."
Millsboro police wouldn't have time to enforce mask-wearing or social distancing along the city streets because they'd be busy with traffic control, said Police Chief Brian Calloway.
Calloway suggested a tree-lighting where people can remain seated in their cars, and possibly play music through the radio.
"I would prefer to see the Town keep everything on that we possibly can, instead of canceling everything that we have on our agenda," Hodges said.
If any event occurs, it would be on Saturday, Dec. 5. The town staff said they will evaluate the situation and report back next month. They also expect the governor's office to issue guidance on holiday events.
"We might come back next month and say it's not viable," Hudson concluded.
In other Millsboro Town Council news:
• Railroad repaving will cause the main road through town to be closed completely for about 11 days, from Oct. 1 to 12 (weather pending). Construction will occur near the split of Washington Street, between Railroad Avenue and Monroe Street. The town, state and railroad company should all benefit to improvements to the tracks, the surrounding roadway and sidewalks. The council discussed logistics and will likely need support from adjacent property owners.
• The Millsboro Police Department is now hiring for one officer position. Two new recruits will also begin police academy on Oct. 4: Cody Justice and Cody Jackson. Due to COVID-19, the Delaware State Police are focused on training their own recruits, so the Dover Police Department has invited other municipalities to attend its first academy in 28 years, Calloway said.
• Demolition of Warren's Mill could be far costlier than expected. Indeed, it would be cheaper for a thunderstorm to blow it down, the council noted.
"I know some of us have an emotional attachment to the mill. I think we should look at donating — get what we want out of it and divest," opined Hudson, who said he feels that the reasons for rebuilding the landmark are evaporating.
With estimates coming in around $200,000 for demolition and traffic control for a tight space, the Town will speak with Delaware Department of Transportation (DelDOT) about cost-saving alternatives.
• The Town is in discussions to possibly sell water to a distributor for properties east of town, across the river and along Route 24 — particularly those affected by well contaminations that may be linked to the Mountaire poultry plant's wastewater treatment system. The council was interested in proceeding if (relating to who holds the Certificate of Public Convenience & Necessity, or CPCNs, they can also protect the Town's ability to potentially grow or someday annex these areas.
• The new dog park near town hall will remain a Town-sponsored entity.
"We want to make sure it stays open and free for everyone to use," said Truitt, rather than inviting a 501(c)(3) organization to manage it.
• Alderleaf Meadows has finally attained final site plan approval for about 150 single-family homes behind Millsboro Town Square (the Food Lion shopping center). Both entrances will be completed during Phase I of construction. Town officials noted that they are not responsible for sidewalks, so the Town is not responsible for any damage done if they need to access the water main below the walkways.
• An event permit was issued for a Sept. 26 "March for America" parade event at Cupola Park in support of police. There are no road closures planned at this time, although planning is still in its preliminary stages.
• No bids were received for the Main Street sidewalk project. Some general contractors said the project wasn't big enough, and others are too busy. After much discussion on option, the Town will officially request bids again.
The Millsboro Town Council's next meeting will be Monday, Oct. 5, at 7 p.m.