At 6:16 p.m. on Tuesday, June 2, about 25 protesters lay face down along the sidewalk by the Frankford Volunteer Fire Company's fire hall.
During the next nine minutes, the group lay mostly silent. Occasionally, one of the men called out "Mama!" And then "I can't breathe!"
Behind them, Frankford Police Chief Laurence "Larry" Corrigan and officers from surrounding law enforcement and public safety agencies kneeled or stood silently, in a show of solidarity with the protesters.
The protest was a reaction to the May 25 death of Minneapolis resident George Floyd while in police custody. A Minneapolis police officer has been charged with Floyd's death. Video of the incident shows the officer kneeling on Floyd's neck as he pleads for his life, repeatedly calling out "I can't breathe!"
At the nine-minute mark — roughly the length of time the officer kneeled on Floyd's neck — the group gathered their protest signs and formed a circle in the fire department parking lot. After a few remarks, they joined hands and recited "The Lord's Prayer" before departing.
The group came together through "more of a spread-the-word kind of thing" than any particular organization, said Deantrae Matthews of Georgetown.
After gathering in the fire department's parking lot, the group picked up signs reading "No Justice, No Peace," "United We Stand," "Black Lives Matter" and "End Police Brutality."
As they walked down Main Street, they were joined by a few residents, including Town Council Vice President Greg Welch, Council Member Skip Ash and Planning & Zoning Commission Chairman Duane Beck.
Some drivers honked their horns, seemingly in solidarity, as their vehicles passed the group, which stayed on sidewalks when possible.
The group chatted and chanted as they passed through part of Frankford's residential area, calling out, "What do we want? Justice! When do we want it? Now!" "Rest in Peace, George Floyd!" and "Say his name!"
Corrigan, who spoke privately to the group before the protest began, said afterward that he was "very happy with the outcome" of the early-evening event.
"Some new friendships and bonds were created," Corrigan said, "out of an absolute tragedy of a man wrongfully losing the gift of life."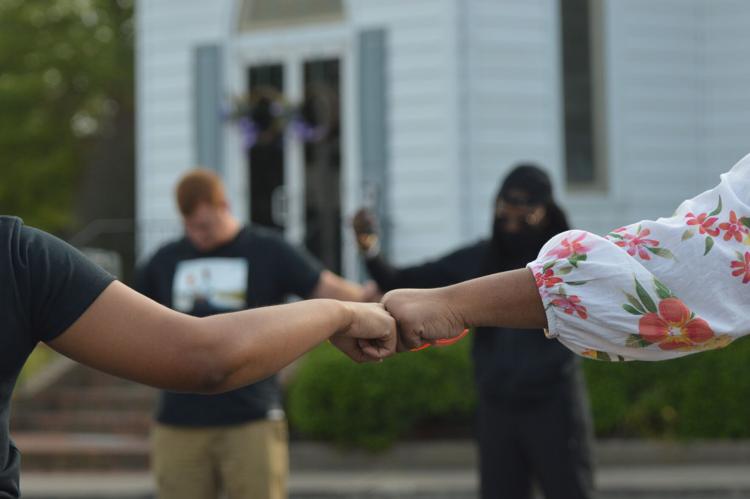 The protesters themselves seemed to agree that the march was a good beginning to what will be a long process of healing race relations, at least in Sussex County.
"It starts with us policing ourselves," Matthews said when the group was gathered in the parking lot at the end of the march. "We have to take care of one another."
Matthews said that although they came from different towns across the county, "We're all one. We've got to stay together. Stay positive and keep believing," Matthews told the group.
Another protester, Rashonda Goslee, said she was "born and raised in Frankford," but now lives in Delmar. Goslee said, "The part I'm the most passionate about is ending police brutality." She added that she was glad the group could come together as it did "and do this peacefully."
Frankford resident Fabrea McCray said the march gave her hope that race relations can improve, and that small towns can contribute to that effort.
"Starting small, you can go big," McCray said. "If you speak, you're heard, but if you keep your mouth shut, you're not." She called on her own faith in God, saying, "If you keep God in the center," better things will come "and this too shall pass."
McCray said she felt the Frankford march, though small, was "very successful" and that she "looks forward" to more events having a similar outcome.
Corrigan said representatives from the Selbyville, Dagsboro, Ocean View and Fenwick Island police departments were in attendance at the march, as well as Delaware State Police, the Delaware Fire School, the Frankford Volunteer Fire Company and the Sussex County Office of Emergency Management.
He had reached out to neighboring agencies on Monday, when he received word a march was going to take place that evening and having no idea how many protesters might attend. Corrigan is Frankford's only police officer. The event ended up being postponed until Tuesday and was peaceful and orderly.