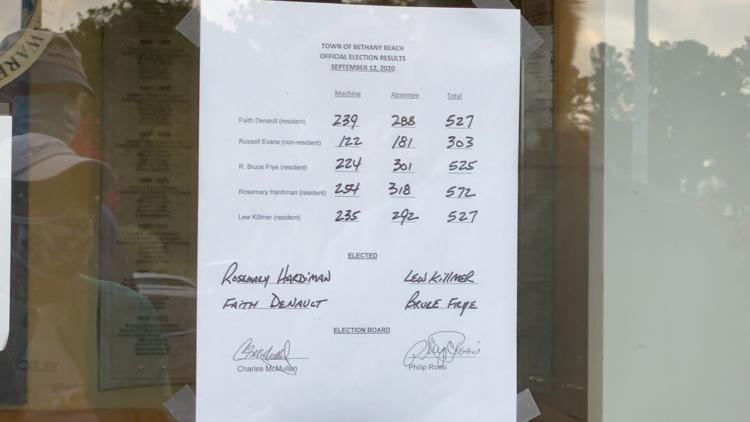 The incumbents ruled the day in voting for Bethany Beach Town Council on Saturday, Sept. 12, with Rosemary Hardiman, Faith Denault, Lew Killmer and Bruce Frye all winning election to new two-year terms on the council.
Hardiman led the voting with 572 votes (254 in-person and 318 absentee), followed by Denault and Killmer, who tied with 527 votes each (239 in-person and 288 absentee for Denault, and 235 in-person and 292 absentee for Killmer), and followed closely by Frye with 525 (224 in-person and 301 absentee).
Challenger Russel Evans, in his first bid for a council seat, garnered 303 votes (122 in-person and 181 absentee).
Social distancing and mask requirements were observed by election officials, candidates and voters, with voters being given masks (if they didn't have them) and disposable gloves as they went into town hall to vote and also being reminded to stay 6 feet apart.
While voter turnout was relatively steady once voting began at noon, it dwindled as the day wound down. But the final voter arrived at the polls at 5:58 p.m., with less than 2 minutes remaining in voting.