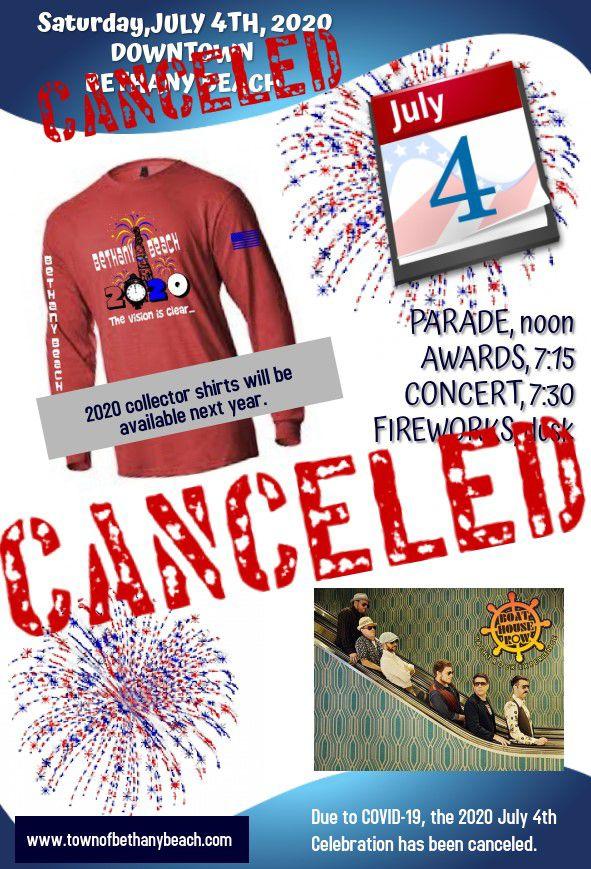 Despite a July 4 event invitation circulating on social media, Bethany Beach officials this week reiterated that the Town has canceled all special events through July 15, due to concerns about crowds and their impact on social distancing required for safe use of its beach and boardwalk during Phase 2 of reopening. No such event has been issued a permit, and none has been sought, according to Town Manager Cliff Graviet.
Graviet told the Coastal Point this week that the Town was aware of the event being advertised on Facebook by Republican U.S. Senate candidate Lauren Witzke, who has voiced support for the "reopen" movement that seeks to eliminate restrictions that have been put in place during the COVID-19 pandemic.
The "Lauren Witzke's 4th of July Celebration" event page states, "The Bethany Beach Town Council, along with many other local municipalities have cancelled 4th of July celebrations. Not on our watch. We'll be celebrating the 4th of July on Bethany Beach, directly off of the access from Campbell Pl. There will be food, music, games and fireworks. #OpenDelaware #Endthelockdown" The related event image depicts a large aerial fireworks display.
The event, set to take place on the evening of July 4, has been circulated widely, both by supporters and by those who point out that, as described, it could be a violation of state and municipal law.
"A few weeks ago, someone sent us a screenshot of the Facebook post for this event," said Graviet. "We sent Ms. Witzke an email advising that any event, such as the one she was advertising, needed to have approval and that shooting fireworks on our beach was prohibited by the Town and the State. We have not heard back, and we continue to try to contact her."
Graviet said the Town does not issue special-event permits for the beach during the summer, only hosting its own events, all of which have been canceled this year through mid-July.
"I believe the [police department] will, if they haven't already, send her a registered letter to see if she responds to that," Graviet added.
He noted that if a gathering were to happen on the beach and abided by state-mandated guidelines for social distance and other applicable laws, it would be allowed.
Under Phase 2 of the state's reopening, "Gatherings in parks and recreation facilities or in other locations without a fire code occupancy limit are limited to 250 people, and hosts of indoor gatherings must calculate usable capacity at 30 square feet per person up to a maximum of 250 people."
In such circumstances, face coverings are still required when people "are in an outdoor public area, outdoor gathering or outdoor event, including state parks, golf courses, wedding receptions or graduations, if maintaining social distancing of 6 feet between individuals of different households is impracticable."
Gatherings of up to 250 people are permitted in Phase 2 under a number of conditions, including that "hosts of gatherings or events should take steps to protect vulnerable populations, including by providing materials and equipment necessary for proper hand hygiene, enforcing social distancing, and requiring the use of face coverings." There are additional requirements for food service, and sharing microphones is prohibited.
"According to the CDC, gatherings of more than 250 people offer more opportunities for person-to-person contact and therefore pose greater risk of COVID-19 transmission," the Phase 2 emergency declaration information reads.
"Social, community, recreational and leisure events of more than 250 people ('large gatherings and events'), including but not limited to weddings, concerts, parades, festivals, conventions, fundraisers, sporting events and fairs, are hereby prohibited at all locations and venues, except that hosts of large gatherings and events may apply to host a large gathering or event by submitting a plan to covid19faq@delaware.gov at least seven days prior to the anticipated event."
The guidelines for such applications note that the gathering or event must comply with all other applicable state, county and local laws for gatherings and events.
"If Ms. Witzke's supporters gather on the beach, social distance and don't block or impede other beachgoers, certainly they can assemble on our beach," Graviet said of the Witzke event. "But there will be no amplification of voice or music, no structures, tables, tents, food trucks, etc., and no fireworks.
"Violations of the Town Code will result in citations from the Town, and I would guess an illegal fireworks display would garner attention from the State Fire Marshal, in addition to whatever citations Bethany Beach issues," he added.
Delaware state law has permitted consumer-grade ground-based fireworks for several years, after having banned for many years all fireworks except professional displays conducted with a permit. A state permit remains required for aerial fireworks displays.
The Bethany Beach Police Department, Graviet said, "will not bring any additional [law-enforcement] assistance in anticipation of this 'event.' Refusals to comply with distancing requests could result in arrest, but we generally find most more than willing to comply."
Graviet acknowledged that protective face coverings are not required on the beach, under Gov. John Carney's regulations that re-opened beaches statewide in late May, while they are required on the boardwalk, and signage to that effect has been in place in Bethany since the beach and boardwalk reopened.
Face coverings "are required where distancing isn't possible outdoors, but it is possible on the beach," Graviet acknowledged.
Neither Witzke nor her campaign responded to the Coastal Point's request for comment for this story prior to our press deadline this week.
Bethany Beach officials in a Facebook post on June 24 reiterated their announcement that the Town's annual Fourth of July events had been canceled for 2020. The post noted that the commemorative T-shirts that are sold each year to support the Bethany Beach Fourth of July Parade, in their 2020 version, will be available for purchase ahead of the 2021 events.
Fireworks displays and other Fourth of July events have been canceled throughout the area in 2020, including in Rehoboth Beach, Millsboro and Ocean City, Md., as public health officials continue to advise against large events and encourage social distancing and the wearing of protective face coverings to reduce the spread of COVID-19, which has killed more than 500 Delawareans and more than 123,000 people nationwide.