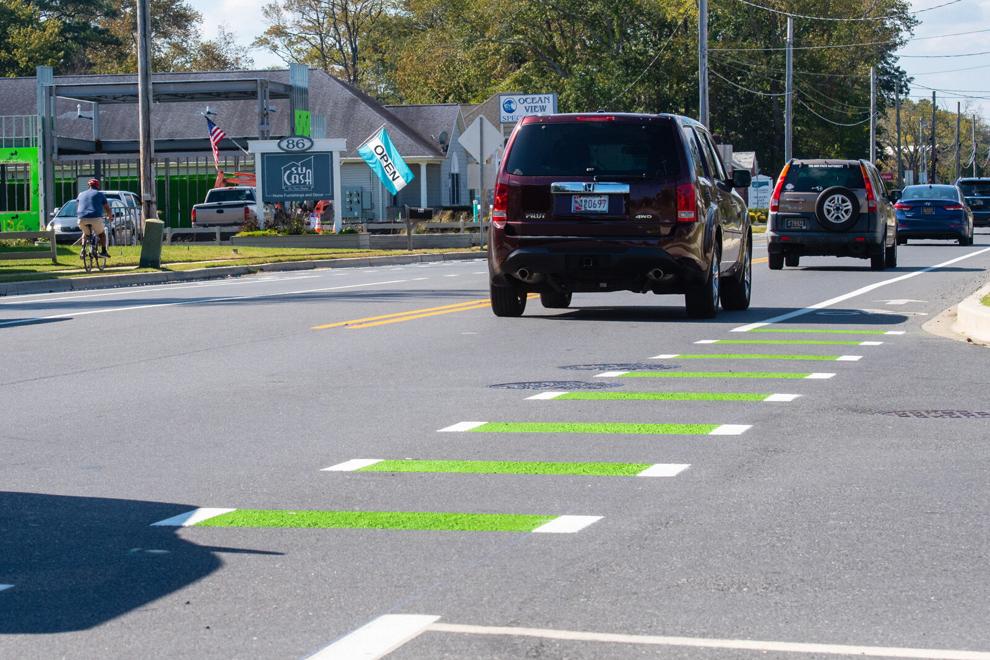 With the advent of its new Bicycle & Pedestrian Safety Committee, the Town of Bethany Beach is beginning to investigate and request new projects designed to improve road safety for cyclists and pedestrians. The projects range from encouraging cyclists to have and use bicycle safety lights and helmets, to improved pathways and crosswalks, to reduced speeds on speed-limit signs to keep vehicular traffic at safe speeds.
At the June 18 council meeting, Councilwoman Faith Denault reported from the prior day's committee meeting, noting a slate of issues committee members had discussed and would be recommending to the council. Some of the proposals come from Town Manager Cliff Graviet and will be coming to the council for consideration at their July council meeting.
A recent push from the Bethany Beach Police Department has focused on employees of local businesses who cycle to and from work — sometimes riding home late at night, despite some of their bicycles not being equipped with safety lights.
Denault said Police Chief Michael Redmon had obtained a grant to purchase 300 bicycle safety lights, which are being distributed at safety checkpoints and pop-up safety checks when officers see cyclists riding without lights when they're needed. She said a recent pop-up safety check had stopped 25 cyclists operating without lights, all of whose bicycles were immediately equipped with the lights provided under the grant.
That work — along with education efforts that include distributing safety tips for employees biking to and from work, and social media outreach — has already been noted by local businesses, with Denault reporting that one business owner had sent the Town a letter of appreciation for "really helping to improve the safety of these kids when they have to ride home from work at night."
Additionally, 80 hours of overtime this summer is allowing police officers to educate pedestrians about pedestrian safety.
The committee has also asked that an educational effort be made to ensure cyclists and employers are aware of state law requiring anyone younger than 18 to wear helmets when cycling, as some employees and businesses may be unaware of that state law.
Assistant Town Manager John Apple addressed some concerns about pedestrian and bicycle safety, showing the committee members, Denault said, locations where road improvements are planned and proposed, such as a proposed crosswalk at Wellington Parkway and Kent Avenue, by the South Coastal Library, which sees a good bit of pedestrian traffic.
Pedestrian improvements on Route 26 (Atlantic Avenue) by the Wawa and two DiFebo's locations (the market and the restaurant, which are across the road from each other) would be aimed at resolving the issue of pedestrians on the north side of the road having no walkway to cross unless they walk down to the traffic light. Those safety concerns are being assessed by DelDOT this summer, after business owner Lisa DiFebo-Osias requested pedestrian improvements there.
Town Manager Cliff Graviet told the council that, while Route 26 is "DelDOT's roadway," he would be asking the agency to take a look at that area, with a detailed assessment of Route 26 already planned this summer. He said DelDOT had already "refreshed" some of the crosswalks in that area and that the agency had "committed to do a hard review of things that might make Route 26 a little more safe."
Councilman Joe Healy said he felt Garfield Parkway (Route 26) between Route 1 and the Assawoman Canal bridge could use some directional signage on the roadway for bicycles, which are supposed to ride in the same direction as vehicular traffic, but which many a motorist has discovered riding the wrong way when they attempt to pull out and turn right on Route 26, only to find a cyclist is suddenly directly in their path.
Graviet noted that recent improvements for pedestrian and cyclists safety in neighboring Ocean View were the result of a similar study last year.
Town aiming to keep drivers at safe speeds
Graviet also noted that speed limit signs on Kent Avenue now show a reduced speed limit of 25 mph, with police doing enforcement of the limit at 25 mph. That signage change was a prerequisite from DelDOT, he said, before the agency would consider reducing the speed limit just south of town limits. Graviet said he would be pushing them to make that change.
The town manager said he planned to come to the council in July with a suggestion that the Town consider posting lower speed limits on residential streets' speed-limit signs that currently state the top speed as 25 mph. That's more of a psychological effort than a legal one, as the State has generally refused to allow municipalities to officially reduce speed limits below 25 mph.
But Graviet said that posting a 15 mph speed limit on some roads would not only serve as a reminder for motorists to slow down on those residential streets but would encourage police officers to cite drivers who were going, say, 30 mph in a 25 mph zone, which he said they have tended not to do, preferring a 7-10 mph buffer before they're willing to write someone a ticket for speeding.
Graviet, a former Delaware State Police trooper and Bethany Beach Police Department chief, said posting the lower speed limits was a move that he had, over the years, thought was not a good idea but now, "I think more than anything is something we should do" to encourage drivers to slow down. He said the Town continues to get complaints about people speeding on residential streets, though it is a very small number of people who actually drive above 25 mph.
"But the real problem is those streets aren't designed to accommodate traffic going 25 mph. … We're never going to be able to redesign those streets to accommodate vehicles at 25 mph," he said, but posting a reduced speed limit, even if it isn't enforced at 15 mph, would let that 15 mph sign "be its own reminder" and "might be some kind of help."
Graviet said he planned to vet the idea with the town solicitor. It has been discussed in the past with experts with the University of Delaware, he noted. The committee expressed its support for the idea and planned to recommend it to the council. A more formal proposal will be coming to the council in July, Graviet said.
The committee has also requested that the Town use technology to educate people about bicycle and pedestrian safety, create a volunteer group to address a campaign for safety, and use flashing lights to encourage safety along the roadways.
Former Walcek property could see improvements
Also on Graviet's list of proposals is "a pathway of some sort" for cyclists and pedestrians, running from 2nd Street to Central Boulevard, north of Route 26, that would be similar to what the Town has on its nature center property, where the pathway crosses over marshland, but not necessarily all elevated like it is in those marshy areas. Where it doesn't overtop marsh, Graviet noted, the pathway surface is an environmentally-friendly "crush-and-run" material.
He said that proposed pathway would connect that quadrant of town and Lake Bethany to allow cyclists and pedestrians to safety cut through to use the crosswalk at Route 1 and Central. He noted the idea had been proposed many years ago by a then-mayor, in conjunction with a developer seeking to develop the then-Walcek property in that marshy section of town. It was opposed by two council candidates at that time, and both of those candidates were elected, he said, putting an end to the idea.
"I believe it would be a significant benefit to safety," Graviet said, adding that he felt it would be "a great accommodation for people north of Route 26." He said hoped the council members now would consider it and look at it favorably.
In a related matter, Graviet said a grant request was being put together for the State to look at a restoration project for the former Walcek property, which the Town purchased in late 2020, and an adjoining property, and to help fund such a project for the Town.
"A good portion of that property is phragmites," he said, and the project would look to restore and re-create the "sponge" of a natural wetland soaking up rainwater by killing the invasive phragmites reeds that erode the land and instead replant the wetland areas with native species. He said the Town could also look at what it might be able to do with national societies, such as the Audubon Society, to make it an area that attracts birds and other wildlife, to create birdwatching and nature-watching opportunities. The idea wouldn't be to cut a path through that area, he said, but instead "make it a piece of fallow ground, to make it more natural and friendly than it is.
"The phragmites has destroyed the ecosystem of tidal marsh on that property," he told the council, saying that he would bring more details, and possibly a diagram of such a project, to the council at their meeting in July.