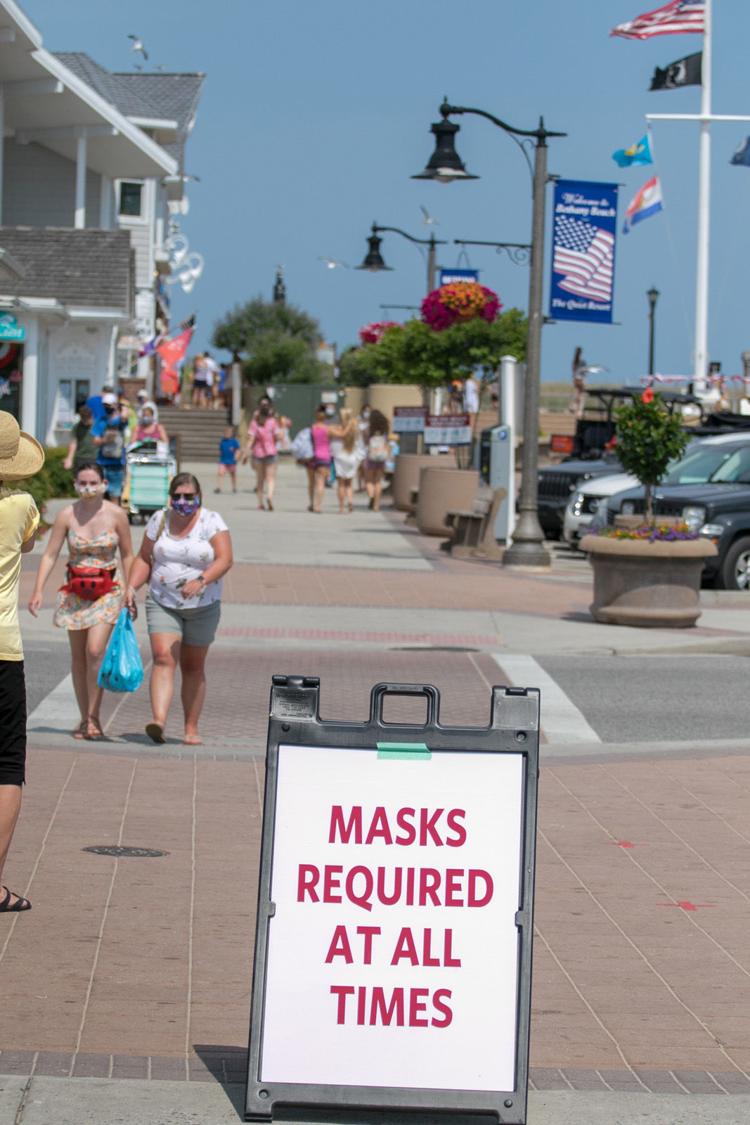 Enforcement was the key point in the discussions of the Bethany Beach Town Council on Wednesday, July 1, during a videoconference meeting aimed at addressing pandemic-related safety measures in the town — particularly in its downtown commercial district and on the beach.
Despite regulations put in place on the state level, requiring masks in public when social distancing is not possible and specifically requiring municipalities with boardwalks to enforce those restrictions on their boardwalks, town officials said they had found keeping crowding to safe levels and enforcing mask restrictions in some areas of town to be a real challenge.
"We now have been advised, yesterday, that the governor intends to keep Phase 2 in place and not move to Phase 3 because of kick-up in cases just north of Bethany Beach," Town Manager Cliff Graviet told the council on July 1. "In the last 18 hours, the City of Rehoboth Beach mandated masks be worn anywhere when outdoors, on streets and the bandstand and the boardwalk — and also on the beach," he noted.
Rehoboth Beach officials within a week had dropped the requirement for masks on the beach and when exercising — so long as social distancing is possible. But Bethany officials, meanwhile, had taken a look at their own enforcement issues and decided some additional options needed to be available.
The mask requirement hinging on social distancing "created some problem for us," Graviet explained. "There have been some misconceptions with visitors and residents — particularly the portion" of the governor's order "that said if you were unable to maintain a 6-foot distance while outside, you had to wear a mask.
But in Bethany's busy downtown commercial district, with the summer season finally under way, Graviet said, "The expectation became that anybody on the sidewalk couldn't maintain that, so they had to wear a mask."
He said the Town's enforcement officers had found they couldn't effectively enforce the requirement, which they were required to do under the state order.
"They couldn't go back and tell people they should have put on a mask when they walked past that person or while they were waiting at a food vendor. … It's hard to have any real impact except on the boardwalk. And without enforcement, we were seeing issues with compliance."
The Town needed a better way to ensure people understood what the requirements were, where masks were required, when they could take them off, who was exempt and what the consequences would be if they refused to comply.
"We discussed taking action to make clear to visitors and residents that masks were needed in Bethany Beach, and that was a simple ordinance that mandated wearing them in the C-1 district, on the boardwalk, the boardwalk plaza, and the ramps to the beach — a 24/7 requirement in those areas."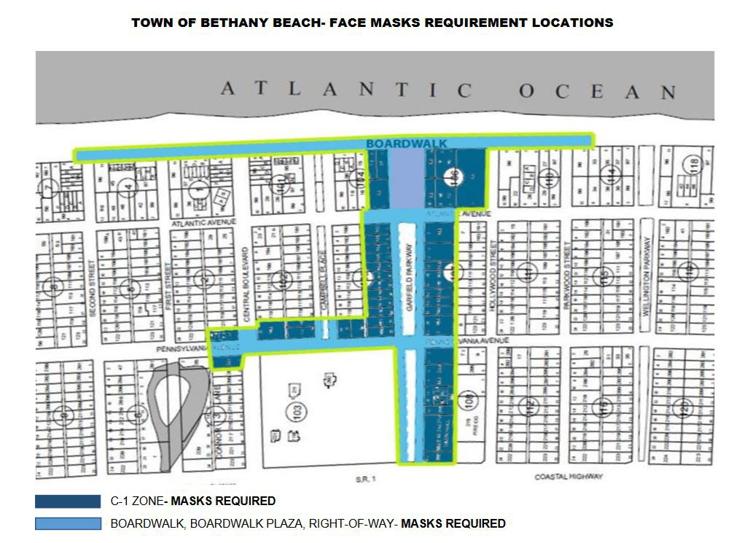 The ordinance requires protective face coverings for all individuals, with limited exceptions, in those areas, including all of the C-1 downtown commercial district, regardless of crowding or physical distance.
"It does not relieve the individual of the requirement to wear it in other settings per the governor's orders," Graviet said, noting it also does not apply to people 12 or younger or to individuals for whom it would inhibit their health — that's parallel to what is in the governor's order, but the ordinance is specific to Bethany Beach.
The ordinance includes a definition of masks that comply with the ordinance, and Graviet noted that a face shield — preferred by some over face-conforming masks, though close-fitting masks have been most recommended by health officials — would comply with the ordinance, as well as bandanas, neck gaiters and other similar face coverings. Under both the town ordinance and the governor's order, face coverings must cover both the nose and the mouth to be in compliance.
"The CDC says face shields are not recommended alone, but we're trying to be inclusive, and we want to acknowledge that wearing of a face shield is a step in the right direction," Graviet said, noting that a more specific definition of a compliant mask makes enforcement more difficult.
Refusal to comply with the Town's ordinance would result in a civil citation with a fine of $50 to $100. And that civil citation was a key point for Graviet — under the governor's order, failure to comply with the requirements is a criminal violation, requiring a police officer (currently in short supply in the town) to contact the on-duty Attorney General to get approval for a criminal arrest.
"That's almost an impossible standard to meet," he said. "I don't believe there's a sincere effort on the part of anyone on the state level to enforce this; but we are on the bottom end. This ordinance gives us the tools to get the kind of compliance that we need. It gets rid of any misunderstanding by residents."
Short on staff, Town looks to civil citations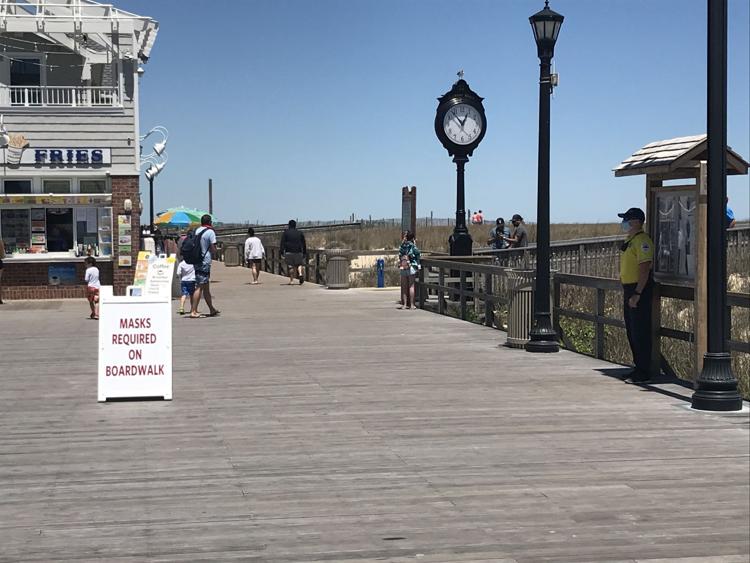 A civil citation from the Town could be issued by civilian code-enforcement officers, who are more numerous in the town, and it would be dealt with at the local level, as a civil citation, with no criminal arrest involved.
"We are short-staffed," Graviet said. "We're trying to bring more staff on. And we're going to do our best to enforce it. Once we get the ordinance in place, we're going to enforce it and hope for some self-compliance and that people are responsible."
Graviet said the Town currently has 16 seasonal police officers and eight full-time patrol officers, which works out to 1.5 or two officers in a car per shift.
"We had hoped to have 26 seasonal officers," he said, but COVID-19, travel and training had left them with only 12 seasonal officers on the street to enforce the ordinance, and in the prior 10 days they had been doing so, "with other civilians as code enforcement, dressed in white shirts and white hats. We will be putting them in something that stands out more clearly and identifies them as code enforcement and makes their presence known.
"We hope people care enough to self-regulate," Graviet added, though some of the comments in the meeting's chat conversation came from people who asserted that, contrary to public health guidelines, masks don't prevent transmission of the virus, or that masks themselves pose a health hazard. Others commenting in the chat dismissed those claims, as did Graviet.
"It's not our intention to approach this with some sort of draconian effort," Graviet said. "We would enforce it as we usually do — ask for compliance, encourage compliance, before a citation is issued," he said, adding that the Town was essentially taking the governor's order and "putting a twist on it to make it understandable and enforceable." The order, he said, was "not written to deal with sidewalks and the boardwalk. We needed something more specific. I wish we could just go with the governor's order — it would it make simpler for staff — but it is needed."
"There's a lot of misunderstanding about what exactly the governor's order required," said Vice-Mayor Rosemary Hardiman. "There's confusion about Garfield Parkway. This clarifies that people need to wear them when on Garfield, not just in the shops."
Patrick McGuire, commenting on behalf of the Bethany Beach Landowners' Association, said the BBLA "strongly supports approval of this ordinance. We recognize that wearing masks in public places and observing social distancing, coupled with the availability of widespread testing and contact tracing, is the only way to control this virus absent a yet-to-be-discovered vaccine. This ordinance helps clarify for us, our guests, and the Town employees charged with enforcement, that at a minimum, facial coverings are required in the declared public areas.
"We thank you for taking this important step, and encourage the Town Council and the Town employees to continue the fight against this invisible enemy. BBLA pledges its support of your efforts throughout this indefinite struggle."
Asked about requiring masks in the commercial zone along Atlantic Avenue/Route 26, west of Route 1, Graviet said, "We don't have the congestion that we have in C-1. At this time, I don't see a need, and I don't believe the council does either."
Masks not required on the beach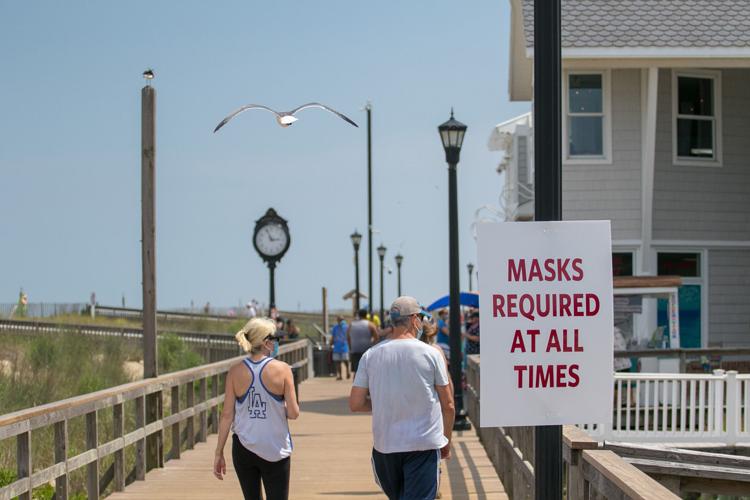 On the heels of the Rehoboth ordinance requiring masks on the beach, members of the public had been concerned that a similar requirement would be adopted by Bethany Beach, but it was not in the draft ordinance presented to the council on July 1, and support for such a requirement appeared to be very limited among both the council and members of the public participating in the meeting via chat.
"There was a suggestion that we do it on the beach as well," Hardiman acknowledged. "I think that would take away from the enjoyment of the beach, sitting in a chair or sunbathing in a mask all day. It's a little too much to ask. It would drive away a lot of our residents who would find that uncomfortable."
Asked about the potential risks posed by crowding on the beach, Graviet said, "We will attempt to make sure people maintain sufficient distance between different households. People are in and out of the water, eating and drinking, and I think it would be draconian and not the summer most people are planning," he said of a requirement on the beach. "People are coming to enjoy the beach, and I think we should make that happen," which he said he felt could be done if people keep distant and crowding can be reduced.
"We've had our enforcement people on the beach the last nine or 10 days, and have enforced it as best we could. The staff have generally had compliance," he noted, "but it becomes hard to get in areas close to Garfield where the beach is the narrowest," he said, pointing out that the beach at Garfield is so narrow now that at high tide the water sometimes reaches the toe of the dune, with tidepools also forming that further limit areas in which people can spread out. "We need to find the ability to limit the beach's attractiveness or availability in order to turn back crowding on our beach."
While some people had expressed concern that not putting a mask mandate in place for the beach would lead to former Rehoboth beachgoers heading to Bethany instead, Graviet said he felt the town's parking situation was a self-limiting factor that would control crowds.
Parking remains a tool to limit crowding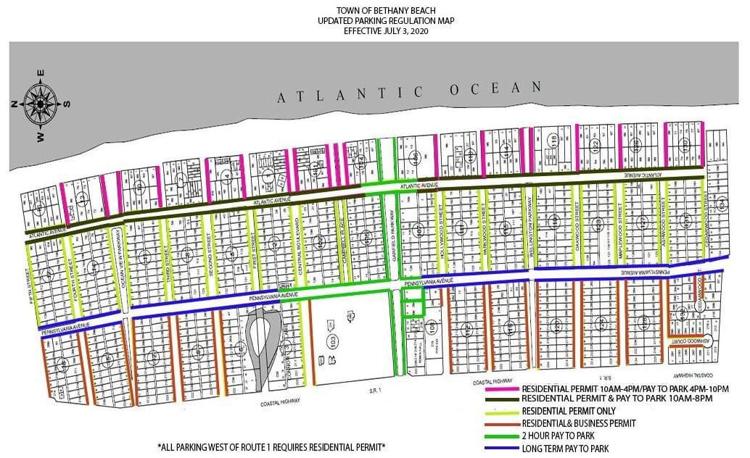 And so the concern about crowding was behind the second recommendation Graviet offered to the council on July 1 — to reinstate some (but not all) of the parking restrictions that had been in place though early June but that had been relaxed in recent weeks, when crowding had again become an issue.
"We had felt it might be a summer when people would self-regulate by not going out, and that that would give us a little bit of breathing space in town and on the beach," he said. "The reality has been different, especially the last couple weeks," when he said crowds were large, especially on the beach.
"This is about the narrowest the beach has been," Graviet noted, adding that while the beach in Bethany is due for replenishment in late fall, "that won't help this summer."
"Early on, when we were looking to reduce crowding, the council empowered me to make changes in parking, with the idea that it would limit crowding on the beach. … That had an immediate and dramatic effect on crowding very early in the season. But because saw it empty and very few people on the beach, we made adjustments to become more liberal to allow parking other than residents in those areas."
"This last weekend made it very, very clear that that is not being at all effective. There are large areas where it is impossible to keep that 6-foot space. So we need to make another change as relates to parking to see if has an effect on beach crowding.
"I don't believe we want to see masks on the beach, but if we're not able to limit crowding on the breach, we may be forced to wear masks. … People go downtown because the beach is an attractive place to be. If it becomes so crowded that it's not a pleasant place to be, then I think we've done a disservice to the residents and the community."
Making 250 parking spaces resident-only during peak beach hours of 10 a.m. to 4 p.m., he said, could be done with "the hope that pushes down some of our beach traffic and some of our beach crowding. They would revert to regular pay-to-park spaces after 4 p.m.
Saying that the beach-tag system in place in some other areas, while it raises revenue, doesn't work well to control crowding, Graviet said he felt restricting the parking again would "also take care of many of the concerns, including about people coming from Rehoboth Beach. The usual contingent from Ocean View and Millville will fill the other spaces. But at the end of the day, the 'garage' is full," which limits the number of people on the beach.
The change leaves three-quarters of the Town's pay-to-park spaces available from 10 a.m. to 6 p.m., in a compromise that Graviet said was an attempt to address the concerns of many people.
Restaurant owner Alex Heidenberg suggested the Town limit the resident-only parking change to be on weekends only and leave the spaces available during the week. He said the parking restrictions "will ruin the Town's relationship with the business community."
"We understand there's been a significant downturn in all of Bethany's businesses," Graviet acknowledged. But he pointed to a University of California survey of the pandemic's impact on life across the country, which found that 50 to 70 percent of people were reluctant to go back into restaurants and stores while COVID is the way it is today.
"It's too easy to say business is off because of what Bethany Beach is doing," he said, responding to opposition from some business owners in the meeting's chat conversation. "A lot of this is human reaction to COVID and not to any action Bethany Beach is taking. We have the health and safety of our residents to take into consideration. We have an obligation to make it as safe as possible for our residents. And limiting crowding and the new mask ordinance is a step to making it safer."
"I believe my first obligation is to our residents, to protecting the health and welfare of those residents. That also translates to people from outside the area and protecting their health."
While one member of the public suggested the parking restrictions were effectively making Bethany a "private" beach, Graviet denied that, saying, "I believe there is plenty of parking downtown. I don't believe it will destroy Bethany businesses," he added, noting that the Town would see what the holiday weekend brought, and if it was a non-issue on weekdays, the Town could go back and consider making the parking restrictions only on Friday through Sunday. "We will monitor it daily, and if the beach is not crowded as a result of this, we will make that change."
And if the parking changes made last week aren't effective in controlling crowds, Graviet said a second step to address the beach crowding could involve making the Atlantic Avenue spaces resident-only once again.
Others participating in the meeting suggested that the parking restrictions would have a lesser impact on businesses than a Rehoboth-style mask mandate on the beach, which could still be a possibility should the virus spread more extensively in the area. Graviet agreed. But with Rehoboth officials having backtracked on that plan, it seems to be an unlikely scenario barring a significant flare-up in cases in the area.
Councilman Patrick Sheplee said he supported the measures.
"To me, the three main issues discussed today come down to one overriding factor, and that's the health and welfare of everyone involved — residents, business owners, visitors, employees, everyone. This hasn't been easy, and we have listened to some alternatives, but it is what I feel is the best alternative to try to ensure, as much as we can, the health and welfare of everyone involved in Bethany Beach.
"I've listened to the business owners, and I empathize with you. We're trying our best to reach a compromise you can live with," he added.
Hardiman said she agreed with Sheplee.
"We all have to acknowledge that the virus is spreading. We can do very little to prevent it spreading. But the steps we're taking today is that little we can do. If this virus spreads and Bethany is closed down, the businesses will suffer even more," she said, emphasizing that the new configuration meant less parking restriction than was in place early on.
Councilman Jerry Morris, too, supported the measure, saying that the town's renters have parking passes available to them, so the Town isn't limiting the newly restricted spaces just to residents. He said the Town was doing the best it could to limit the restrictions while still being effective in controlling the spread of the virus, in hopes that it would not get "to where Rehoboth has and require masks on the beach. That would be the kiss of death."
Bandstand entertainment canceled for 2020 season
Finally, on July 1 the council also voted to cancel the remaining bandstand entertainment schedule for 2020. They had already canceled all special events through July 15, but the recent uptick in COVID-19 cases in the beach area has brought renewed focus on the potential for public events to spread the virus.
"Julie worked very hard all year to put together the program for the bandstand," noted Hardiman of Events Coordinator Julie Malewski. "It has to be a disappointment to her to have to cancel, but we thank her for all her hard work."
Graviet said a number of special-event permits had been issued for outside events planned for the fall, but that the applicants had been warned that the approval was conditional and would be reexamined later in the summer.
The council also approved not offering town trolley service this summer, citing both social distancing concerns and sanitization responsibilities on the Town if it were to operate the shuttle buses. Also included in that decision was not permitting outside beach shuttles to drop off passengers in the town this summer, to help limit crowding.