With family in Italy, Lisa DiFebo-Osias knew what was coming down the pike before coronavirus (COVID-19) was officially declared a pandemic.
About a month ago, she met with the managers of all three DiFebo's restaurant locations. Upon asking their perceptions of the illness, she got the impression at least half did not consider it a major threat — or worse, that it was media hoax.
"I explained to them that I had a lot of family suffering in Italy," which has been in a national lockdown since March 9 and, as of April 1, has had the highest number of deaths of any single country. The virus caught a foothold in the north, but southerners didn't pay much attention until northerners started travelling to the south, where the DiFebo family lives.
Now imagine if the same thing happened on the Delmarva Peninsula.
"With that, we started preparing, ordering the supplies I would need to keep my staff healthy," like masks, alcohol wipes and gloves, "and started getting everybody on board. You don't usually wipe down salt and pepper shakers after every single guest leaves," but that became the new norm.
True, COVID-19 will only produce flu-like symptoms for many people. But easily contagious, it will fly though the population and can mount a deadly attack on the lungs of certain people. Governments have asked or ordered people to stop physical contact, partly because the healthcare system simply isn't equipped to handle a simultaneous influx of everyone who could potentially need emergency treatment.
So when did DiFebo-Osias see more Americans taking coronavirus seriously?
"When everyone went, 'Hey boss, this shit just got real,' it was when the sporting world shut down. It was right at that moment when they canceled the NHL, when the basketball game got called before the teams came out … it captured a lot of attention."
She doesn't think she'll ever forget the Monday, March 16, when Gov. John Carney ordered restaurants to close their dining rooms. Like many places, DiFebo's began offering carry-out and delivery, but they closed the Rehoboth Beach and Berlin, Md., locations a day later.
"In Bethany Beach, I am micro-managing my staff, down to how they are touching their hair. By the time I come home, I am physically drained," and she knew she couldn't keep such close tabs on all three locations' worth of staff and customers.
"Food handlers have a huge responsibly on our hands," and business owners have to keep a flawless system, if they decide to stay open. "If you're prepared to mentally micromanage your team in a way that I've never done before, then go for it."
Some customers still disrespect the social distancing guidelines when they come for pick-up. But DiFebo's staff are wearing masks and gloves to stay safe and to make a physical statement: we take this seriously.
Compared to the Great Recession around 2008, the coronavirus affects every single person, and people need to respect that, DiFebo-Osias said.
The Catch-22 of restaurants
DiFebo's is fortunate to continue food service at their home location in Bethany Beach, and businesses are always grateful to customers who provide support in hard times. On the surface, shutting down the dining rooms and bars would hurt anyone who earns a living in those spaces.
But DiFebo-Osias has witnessed another kind of challenge: an overwhelming business rush that not everyone is equipped to handle. Many places don't have the staff or the inventory to serve a volume of customers typically seen in June.
"Everything we do down here at the beach is based on projection … and we purchase accordingly …we don't have the summer staff yet, but we have the summer [visitors], and we're just not equipped to handle it."
DiFebo-Osias feels this is partly fueled by the weekenders who continue visiting coastal towns, rather than quarantine in their home states. (Whereas plenty of property owners also declare their right to stay in their second homes at the beach.)
"I do feel bad for the tourists — I get it. We've lived such a great cohesive life together, the business owners and our beloved tourists … but homeowners have to reassess that we are not equipped to handle this," she said. "They're taxing the area right now."
More than one restaurateur is exhausted at trying to stay open with minimal staff.
"We have to be very mindful about what we're doing during these times," because a business can go into debt trying to stay open to meet demand. "It's a Catch-22. You're really damned if you do and damned if you don't."
She is grateful to the food distributors who have eased their usual rules, such as lowering the purchase minimums, or giving extra time to pay bills. She also feels pain for the vendors whose income derives from restaurants: equipment repair shops, finance personnel, the menu printing companies, the painters who touch up the buildings each year.
"I think that every restaurant owner, in their own way, is supporting everyone they can support," both in feeding the community and providing a job for employees, DiFebo-Osias said.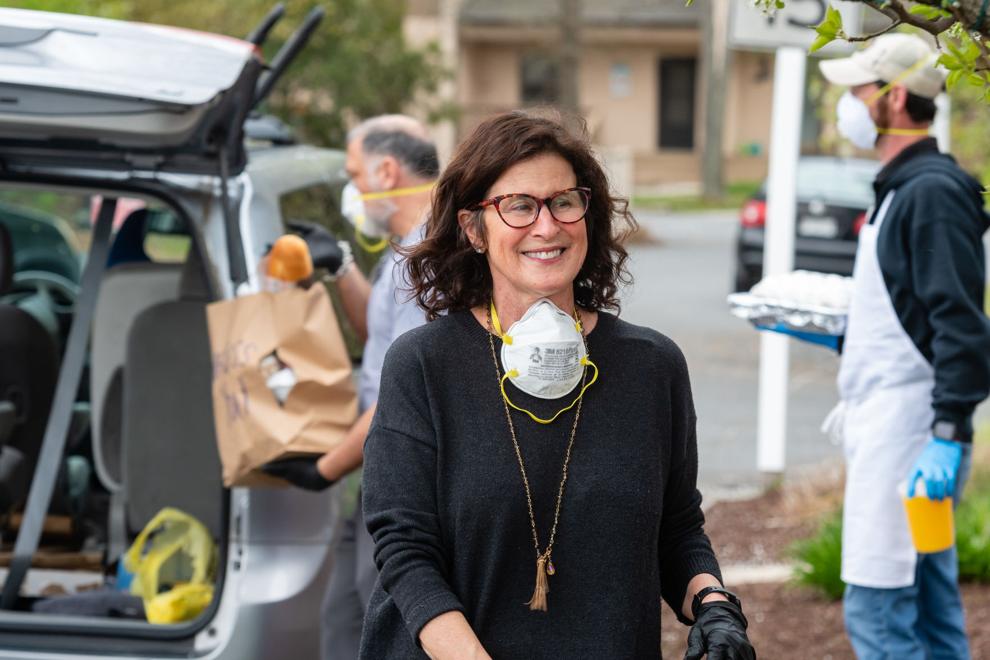 Feeding the staff
DiFebo's has been in business for about 30 years, with some people starting there 20 years ago.
This month, about 60 DiFebo's employees lost their regular employment. Lisa and Jeff Osias have tried to cycle the schedule so people can still work two days, while meeting the requirements for unemployment benefits.
But they needed to do something else, take their minds off the stress and thank their team. So, they cooked.
On Friday, March 27, they provided heaps of fresh-cooked pasta and groceries to about 60 employees from all three locations.
"No matter how financially positioned we are, there is always room for that," she said. "The best thing to do when you're in fear is to get out of yourself and help others, to be of service to others."
Everyone drove up through the meal line (keeping a safe social distance from each other). Pans of homemade ziti, brownies, loaves fresh bread, fresh squeezed orange juice, eggs, apples, potatoes, lettuces, broccoli, avocado and milk were all loaded into open tailgates.
DiFebo-Osias shouted encouragement to her people from behind a white mask, and blew kisses with gloved hands. Her team had written messages of encouragement on the brown paper bags.
"We are restaurant strong," DiFebo-Osias said. "We work weekends, we work doubles most of the time, morning to night, we work holidays, we have to deal with the front of the house, the public, high heat in the kitchen … we are strong, we are resilient, we are restaurant people. We will definitely get through this. Stay in today, and we will get through this together."
Of course, this is a business, so the workers and the owners make a living off each other. But "this team works hard … how could I not take care of them? They're loyal to us, to my family, and I'm loyal to them."
Although emotional, the atmosphere was jovial. "When they were all in the parking lot, it was clear that they missed each other. They didn't want to leave," surrounded by friends, colleagues and signs that said "Hang in there, We'll get through this together, We love you, and we miss you."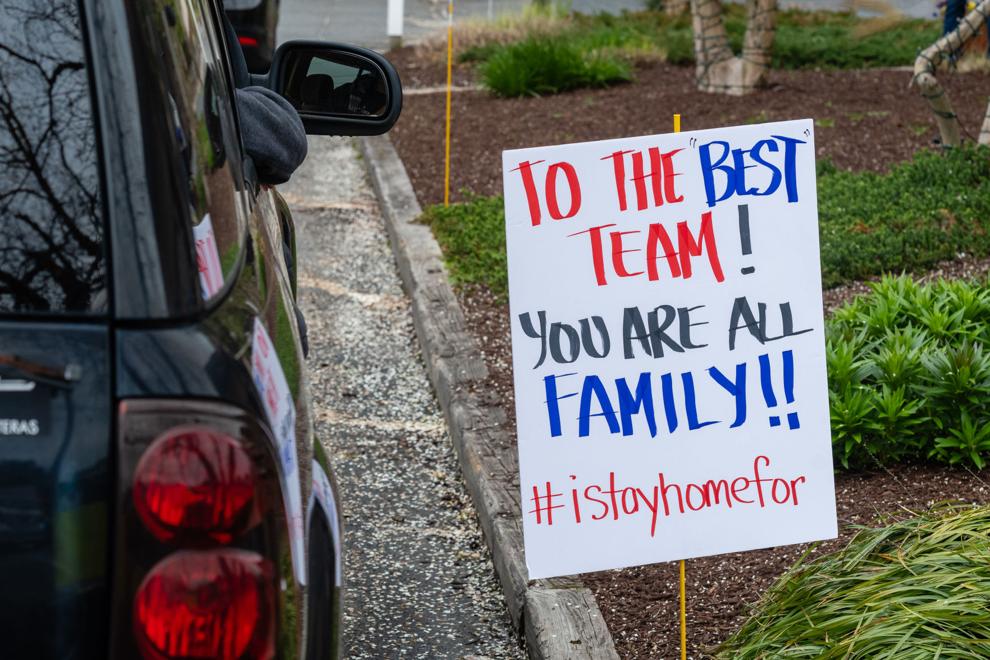 Empathy for young people
As an "essential business," restaurants are allowed to operate.
But otherwise, the family was grounded. With two kids in college and one in boarding school, "We scooped them up, we brought them home, and they have not been out," DiFebo-Osias said.
"I think the biggest thing for my husband, Jeff, and I is to be completely empathetic to what they are going through … it is horrible. There are seniors that will not get walk [in graduation ceremonies], that are getting their diplomas mailed to them."
"A lot of these college students, they were catapulted into independence, and all of the sudden, their independence was taken away from them in a day. Not only are they back home, but with restrictions," she said.
"I think to get through this, you're going to have to be very brave," courageous enough to have difficult conversations with landlords or bill collectors, and empathetic with people in our houses and the world.
"All roads lead to good, as my sister Michelle Freeman says," who is also trying to respect the shelter-in-place rules, although she has property, businesses and The Freeman Stage in Delaware.
DiFebo-Osias is looking for the silver lining of the coronavirus pandemic.
"It's a reset button for the world. We're reading. It's brought us back together again."