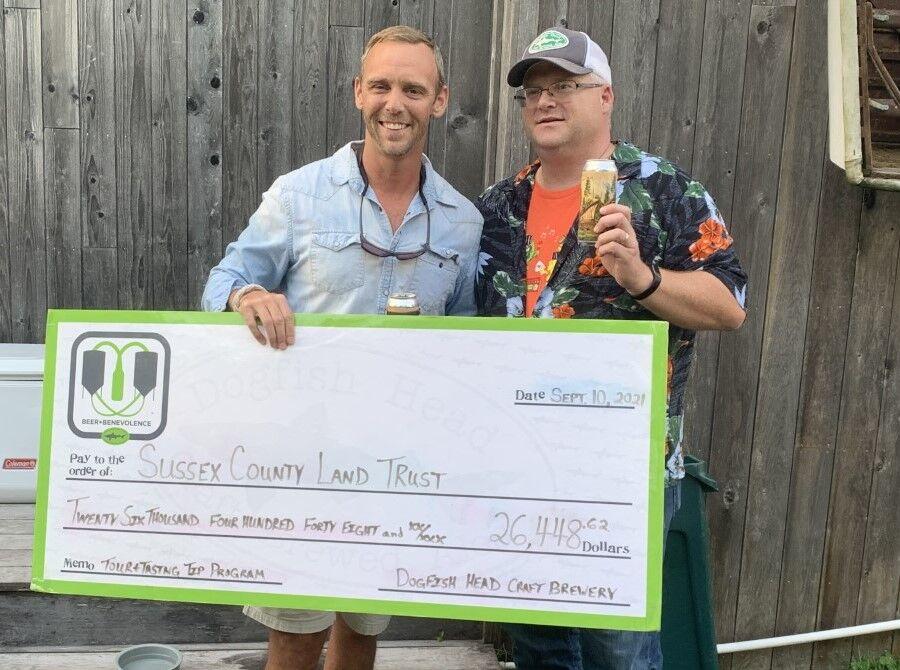 The Sussex County Land Trust (SCLT), a non-profit land conservation and preservation organization, recently accepted a donation of $26,448 from Beer & Benevolence, the philanthropic arm of Dogfish Head Craft Brewery. Beer & Benevolence contributed 100 percent of the August tips received at the Dogfish Head Tasting Room & Kitchen to the SCLT.
Dogfish also partnered with Revelation Craft Brewing Company, to create an IPA inspired by the Lewes-Georgetown Bike Trail, brewed to benefit the Sussex County Land Trust. The liquid collaboration, In Tandem, was released from the Rehoboth taprooms of both breweries on Friday, Sept. 10. A portion of proceeds from each four-pack sold will be donated to the SCLT to support the organization's efforts to build a trailhead along the bike trail. The soon-to-be-built trailhead is designed to provide more Delawareans with greater access to the trail and help better connect local communities by bike.
The mission of the Sussex County Land Trust is the continued protection of natural, cultural, agricultural and recreational resources through land preservation, stewardship and education for today and tomorrow.
"We are so appreciative of the longstanding partnership we have with Dogfish Head Craft Brewery," said Casey Kenton, chairman of the Sussex County Land Trust. "They recognize our mission in protecting our quality of life in Sussex County and the immense benefit these trails provide to our community."
"One of the many reasons that Dogfish Head is proud to call coastal Delaware home is the abundance of amazing non-profit organizations doing good work for our communities," said Mark Carter of Dogfish Head's Beer & Benevolence. "The work of the SCLT to establish a trailhead along the Lewes-Georgetown Trail will connect folks to nature and to each other by creating a safe place to access the trail. We are excited to see this trailhead come to life."