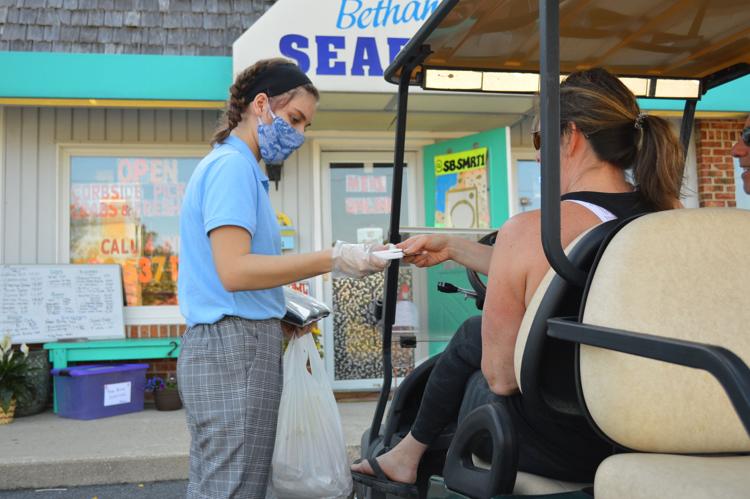 Beach businesses are gearing up for what could be a busy Memorial Day weekend. But this year, they're showing extra patience and ingenuity to safely serve customers during the COVID-19 pandemic.
On opposite ends of South Bethany, two food markets have been weighing safety options as they reopen to a public that certainly misses eating tasty beach food.
"We're pretty dependent on the beaches being open," said Richard Mais of McCabe's Gourmet Market. "That's how we make our money in the summer, being jam-packed in July and August."
Many beach restrictions are now being lifted statewide, so people will be allowed to sit or swim, not just exercise, starting Friday evening, May 22. Despite social distancing and a chance of showers, there is no denying the allure of Memorial Day, the classic start to the summer season.
Delaware still has shelter-in-place orders, but people were happy to roam last weekend.
"Saturday was just crazy. I was like, 'What is going to happen next weekend?'" said Zea Keiper of South Bethany Seafood Market. "There were people walking, running, on bikes, cars in and out. … We have a small staff, but figures showed that we were bigger than any other opening Saturday."
"I don't know if it was pent-up cabin fever," said Mais. "Certainly the biggest factor was the weather. I think people were eager to go outside and go places."
Now, Mais said, his biggest concern is having enough supplies at his small gourmet grocery store, which also offers sandwiches, coffee, baked goods and catering. McCabe's reopened daily for the season on May 15. As a grocery store, customers can go inside, but curbside pick-up service is also available.
"Friday was almost a normal day, aside from people wearing masks and social-distancing," said Mais, who owns the shop with his wife, Rebecca.
For Memorial Day, "I'm a little nervous of the potential for large crowds. That's good for business, but not good for safety," Mais said. "We're just kind of playing it by ear and making adjustments as we go. Our No. 1 concern is the safety of our staff and safety of our customers.
"It was pretty easy to keep the beaches and parks shut down when the weather was crummy," said Mais. "I think [Gov. John Carney] did a good job of watching all the factors," from the COVID-19 statistics to the weather forecast. "I think he was reasonable and did the right thing."
Anticipating a larger crowd for Memorial Day weekend, McCabe's will likely have a designated greeter stationed at the door.
It's hard to recognize regular customers behind the masks, but "many, many people thanked us for opening up, and wanted to make sure our staff was safe and that we were surviving, so lots of good feedback," Mais said. "Everybody knows it's not the best situation," but customers and staff seem to be working together.
And all these entrepreneurs are happy to be working.
"This is actually good for our sanity, because staying away from the 24-hour news cycle is a really good thing," said Andrew Keiper at South Bethany Seafood Market (SBSM).
Playing it safe at SBSM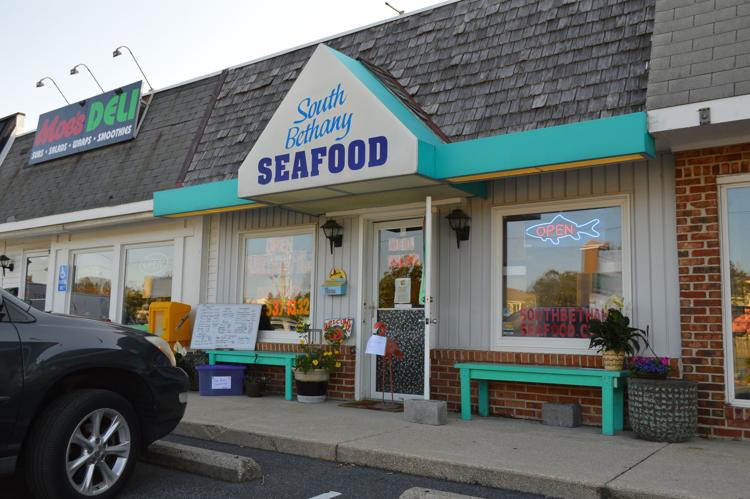 At the seafood market, everything is being done by phone, credit card and curbside delivery. No customers are currently allowed inside. SBSM only has room for a few customers anyway under the 6-foot social distancing guidelines, so it seemed safest to keep everyone outdoors. When the market opens more, two people will be allowed inside at a time. They must wear a mask, and they will be provided with disposable gloves.
SBSM already had a process for taking orders and credit cards remotely, so it wasn't difficult to continue that process.
"It's unrealistic to go and clean all surfaces after every customer," Zea Keiper said. "I'm all about the safety. I'm all about the economy and getting back to work, but if people are fed up and they ignore the precautions, then three weeks from now, there'll be restrictions again."
That's been tough for a fish market that partly relies on customers being able to see and pick out their fish.
"I hate that I can't have conversations with people right in front of the [case] and talk about fish and other things," said Andrew Keiper. "It's one of the downsides."
But the Keipers have gotten creative with their shopfront. They placed a TV monitor in the window with photos of the fresh fish cut daily. They display chips and sauces on an outdoor rack. When possible, they plan to sell more fresh produce, for people trying to avoid grocery stores. They've also continued their wintertime newsletter with weekly updates.
SBSM offers fresh fish, steamed crabs and other seafood, as well as a sandwich and dinner menu. The Keipers also own Sea Eagle Fish Company, a wholesale supplier to many area restaurants. Due to demand, the market actually opened earlier than usual. Typically, in winter, SBSM just sells raw fish on Friday afternoons, but heavy foot traffic in April prompted them to start cooking and begin the season.
Customers have said they appreciated that SBSM began precautions immediately. At least one customer, they said, has begun making a long drive to South Bethany because they were uncomfortable at another seafood market, where "nobody was wearing gloves, nobody was wearing masks. They called us, they asked if we were practicing all this, we said yes … and they've been coming down ever since," said Zea Keiper. She said she personally has also chosen to avoid businesses that weren't practicing safety precautions.
McCabe's on the responsibility to close
McCabe's typical season started at the same time that COVID-19 was making waves: St. Patrick's Day weekend. After two weeks, they decided to close up again. Business was quieter than usual, and the owners were concerned about staff safety.
"A lot of customers were from out of town, that we were seeing — and not that we disagree with them being allowed to visit," but Delaware was specifically discouraging beach days and vacationers. "We kind of felt we were contributing to the problem" by attracting people toward the shore, Mais said.
Employees were also able to collect unemployment, which made the decision easier.
"The State was offering a significant unemployment package to encourage them to stay at home and shelter in place and stop the spread of virus. … As a group, we decided to shut down," he said.
"For the first time in my life, yes, we [were] also collecting unemployment," Mais said of his own family. "I've always had to pay unemployment," he said, because the market closes for two winter months each year.
Their employees are doing all right, he said, although some have chosen not to return yet, preferring to see a further reduction in the risk during this uncertain time.
After all, there is no vaccine or cure for COVID-19.
"These folks are legitimately being smart. … You don't want to take any chances," Mais said. "The worst thing would be to reopen now and then have a huge resurgence in June and then have to be closed for any part of July or August. I'd rather wait until it's safer. I'd rather wait."
Meanwhile, Coastal Delaware is typically busy with foreign students on J-1 visas, who come to work and soak up the culture. But McCabe's was getting little guidance from the federal government for the one J-1 student they expected to employ.
"We suggested she try again next year, postpone," Mais said. "We were unsure on our end, and she was having trouble getting a flight on her end."
Questioning finances and food supply
"They're talking about some food shortages," Mais said. "If we can't sell chicken salad, we might as well not open back up. It's the biggest item we sell. In the summer, we make 100 pounds in a day. … It's probably our most popular sandwich."
Fortunately, McCabe's did get chicken for their opening weekend, and South Bethany Seafood Market got hard-shell crabs. But they're all keeping an eye on supplies that might falter.
"We're hearing to keep it simple, to maybe stock up a little bit, but not be hoarding," said Zea Keiper. "The feeling is there's going to be a break in the food chain … when the summer season hits. So we're just trying to prepare ourselves to be able to still stay in business and provide food.
"I think 'diversify' is the word of the year," she added.
"And flexibility," said Andrew Keiper.
But they do not expect a normal summer.
"There's such a huge question-mark in front of us," said Andrew Keiper.
It's been a strange "reset" on an otherwise "juggernaut economy," he added. "Nothing is the same. We can't have a set menu, we can't have a set staff, a guaranteed supply of really anything." But on the other hand, people are more understanding when inventory is unavailable.
"It's very up in the air, but if you're flexible enough, that's not going to stop business," said Zea Keiper. "…And hoping our customers can be flexible, too."
As the landlords of York Beach Mall, where McCabe's is located, the Mais family is working with each business individually regarding rent during the state-of-emergency.
The Mais family also owns some Fenwick Island rental cottages, but all short-term rentals, including general vacation rentals, are forbidden in Delaware right now. The April and May vacationers will be offered a refund or another week, they said.
"We're hoping that we'll still be able to have renters come in June, July, August," Mais said.
Mais said was planning to apply for the Economic Injury Disaster Loan but didn't have high hopes for what he heard was a busy and backlogged system. Although Congress has worked to even the playing field, Mais said he was frustrated that big businesses scooped up the first round of funding intended for small businesses.
The seafood market had a little more luck with the Paycheck Protection Program, although it's a numbers game for seasonal businesses to use it correctly.
The public can get more guidance on Delaware's economic recovery plan for Phase 1, set to begin June 1, online at https://coronavirus.delaware.gov.
"It's something that Rebecca and I think about and talk about every day. We watch all the news," Mais said. "I certainly don't have any magic solutions. Obviously, we wish everything would go back to normal — that's the scary thing, is they say we're not going back to normal … the idea that there'll be a resurgence this fall."
He said he's curious to see if the states that reopened early will experience a resurgence in COVID cases.
"We'll just step-by-step get closer to normality," said Zea Keiper. "I think it's a really big deal that everybody work together to help our customers feel safe and still get the little feeling that things are OK … help them to feel not panicky. That it's OK, we're here, we've got you, what do you need?"