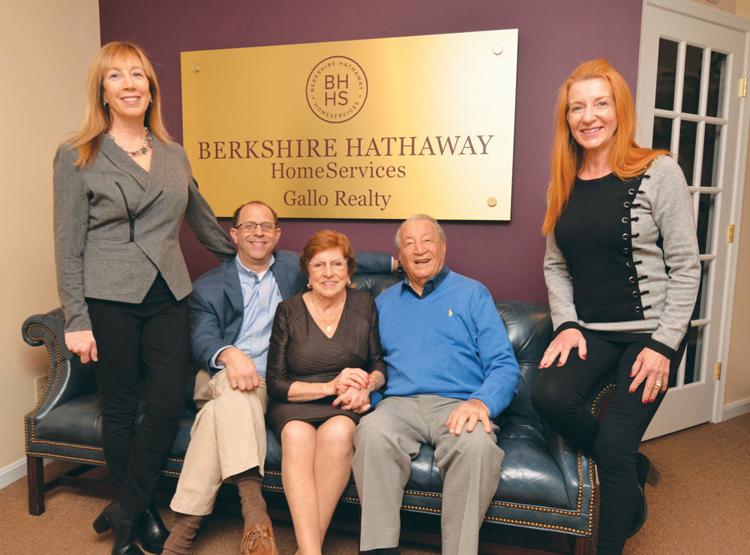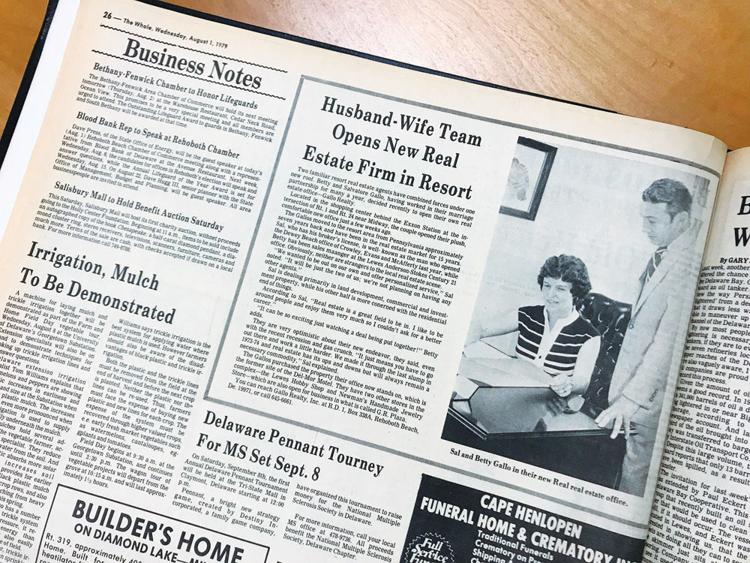 When the husband-and-wife team opened Gallo Realty in 1979, there were only a handful of other real estate firms in the resort region, and the real estate landscape looked much different, both literally and figuratively, they said. There was lots of farmland lining Coastal Highway, and a buyer could purchase a "beach house" in Rehoboth Beach or on Lewes beach for less than $50,000, they noted.
Gallo Realty focused on residential sales, vacation rentals and commercial property, and continues to do so today in their four offices in Bethany Beach, Rehoboth Beach and Lewes. The company is still family-run, and the couple was succeeded by daughters Lee Ann Wilkinson, Realtor; Tricia Ratner, marketing/philanthropic director; son-in-law Andrew Ratner, BHHS Gallo vice president; and granddaughters Taylor Wilkinson, listing coordinator, and Billie Wilkinson, Lee Ann Wilkinson Group personal assistant.
"At BHHS Gallo Realty, our goal is to exceed the customer's expectations for reliable service and professional assistance in buying, selling, or renting real estate," stated Bette Gallo. "Believe me — I have seen lots of ups and down and major changes in the market over the years. It takes a company of truly dedicated agents and staff members to endure these fluctuations, and that is one thing I am very proud of."
Sal Gallo noted, "Nowadays, our agents use Docusign, an electronic way to sign and initial contracts in just minutes! Bette and I used to pack the kids into the car and drive to Washington, D.C., to present a contract."
Even though technology has made the real estate process faster and physically easier, they both insisted that success is achieved with old-fashioned hard work, follow-up, personal contact, and the development of lasting relationships with customers and clients.
"We believe that we have instilled in our Gallo team just how important it is to communicate with their customers, clients and fellow Realtors with warmth, honesty and the utmost integrity," said Bette Gallo.
The management team includes Andrew Ratner, BHHS Gallo Realty vice-president/Rehoboth Beach office broker; Sandy Wright, Lewes office broker; Mary Cerami, Bethany Beach office broker; Adriane Gallagher, Lewes rental manager; Michelle Esposito, Rehoboth Beach rental manager; and Martha Smith, Bethany Beach rental manager.
"As Realtors, we simply provide a service, but our mission is to provide the best possible service. We have grown to over 100 sales and rental agents and 25 support staff. … Our goal is for every team member to truly live our mission statement every day," said Ratner.
"We have one of the larger firms in the market, and our franchise and knowledgeable support staff enable us to provide very innovative services. More importantly, however, it is the atmosphere of the original family-run business that has fostered in all of us the importance of providing genuine and exceptional service."
As a testament to the environment, most of the agents and staff have been with BHHS Gallo Realty longer than 10 years, and several will celebrate 20- to 40-year anniversaries in 2019.
"Since we are no longer in the offices daily, there is nothing that pleases us more than to reconnect with long-term agents and staff at Thanksgiving dinners, Christmas parties and annual meetings," said Bette and Sal Gallo.
The staff regularly receives inquiries from friends or family of Bette and Sal Gallo's past customers/clients who want to work with a "Gallo agent because they know they will be treated right!"
"Hearing these testaments from so many people and working with generations of families who love our resort home as much as we do make our jobs so much fun and satisfying," remarked Ratner.
Also contributing to the longevity and success of the firm, they said, the Gallo team is committed to the community in which it lives and works. As well as the Gallo Gives Foundation, which aids local organizations and charities, Gallo team members are active through volunteerism and financial support of many local arts organizations, schools, hospitals, charities, churches, and town and county councils.
"Sal and I have always given back to our community, and we are so happy to see that the next generation shares our philosophy. We are so appreciative of our community and their support of our business; we feel more than an obligation to return the generosity," Bette Gallo said. "It is a cornerstone of our vision for our company, and we know that the leadership team we have in place will carry that forward for years to come."
For more information, visit www.GoToGallo.com.