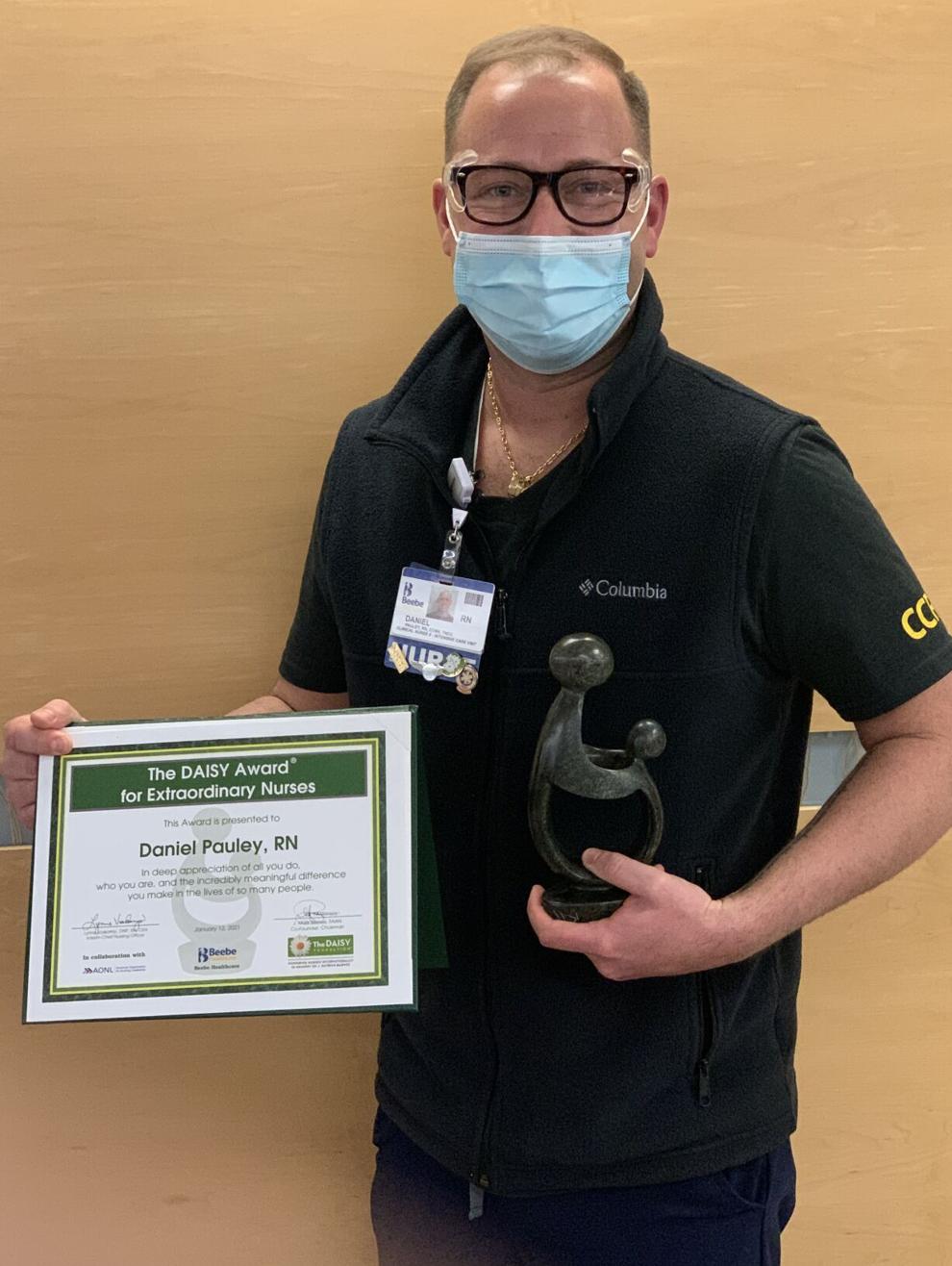 Daniel Pauley, RN, a nurse on Beebe Healthcare's Intensive Care Unit, has been honored with this quarter's DAISY Award. The award is a part of the DAISY Foundation's national program to recognize the super-human efforts nurses make every day.
Pauley received the DAISY Award because of the care and support he provided to both a patient and the patient's husband, Beebe representatives explained.
Due to COVID-19 restrictions, they said, the patient was unable to have visitors while in the ICU. The patient's husband said Pauley went above and beyond to help them both during that difficult time.
"He was one of my lifelines to my husband and called me many times," the patient's husband wrote about Pauley in the nomination letter. "Daniel would always tell my husband that I was outside, even though I wasn't, because he wanted him to know I was near, all the time."
One day, Pauley asked the patient's husband a few questions about what might make the patient feel better. He said that he thought a head massage or listening to his favorite song would help, so Pauley and another nurse played the song "A Groovy Kind of Love" by Phil Collins while they massaged his head. The patient responded well, sat up in bed, and smiled, they said.
"You're not going to get that in a big-city hospital. You just aren't," said the patient's husband. "This is what makes Beebe so different and so very special. It is everyone's deep, genuine compassion for their patients and their families. I firmly believe he is here today because of the excellent care and incredible compassion we both received at Beebe Healthcare."
Pauley was presented with a sculpture called "A Healer's Touch," hand-carved by artists of the Shona Tribe in Zimbabwe.
The not-for-profit DAISY Foundation is based in Glen Ellen, Calif., and was established by family members in memory of J. Patrick Barnes, who died at the age of 33 in late 1999 from complications of idiopathic thrombocytopenic purpura (ITP), a little-known but not uncommon autoimmune disease. The care he and his family received from nurses while he was ill inspired this means of thanking nurses for making a profound difference in the lives of their patients and patient families.
DAISY Foundation President and co-founder Bonnie Barnes said, "When Patrick was critically ill, our family experienced firsthand the remarkable skill and care nurses provide patients every day and night. Yet these unsung heroes are seldom recognized for the super-human work they do. The kind of work the nurses at TidalHealth are called on to do every day epitomizes the purpose of the DAISY Award."