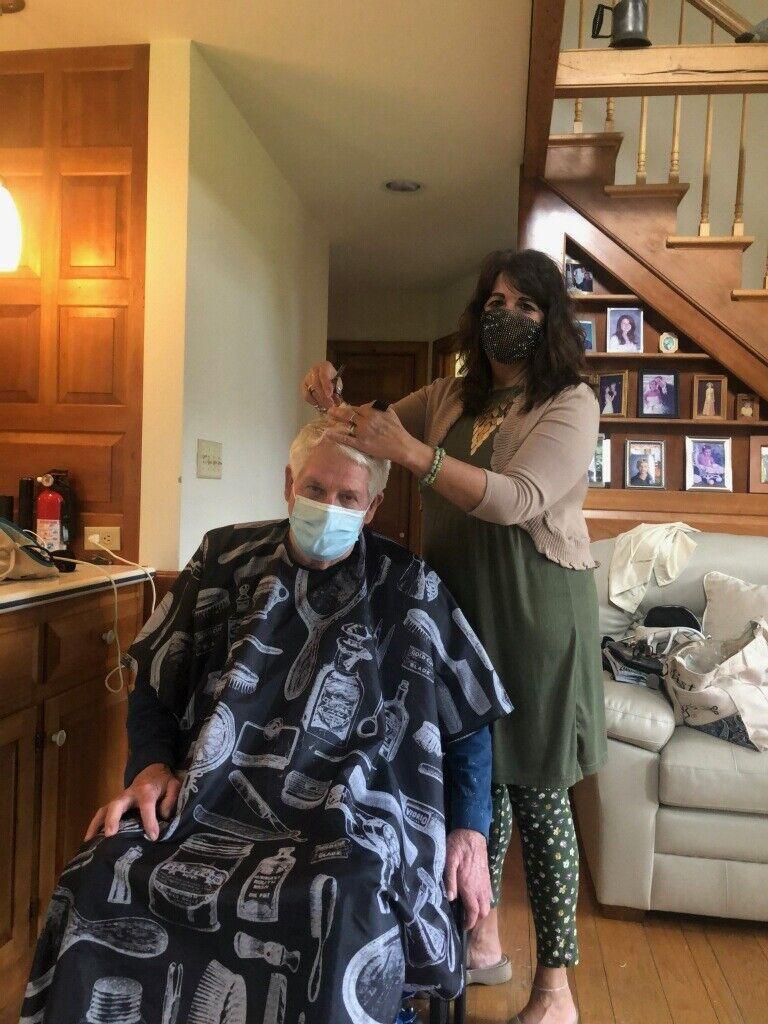 As British hair stylist Vidal Sassoon declared, "To sculpt a head of hair with scissors is an art form. It's in pursuit of art."
Millsboro resident Ann Gries takes that ability on the road. You might say she has scissors, will travel.
Knowing there has been hesitation among some who don't want to visit hair salons during the pandemic, the Millsboro resident, who has nearly 30 years of experience as a stylist, started a business that takes her, with comb and clippers, into homes, where she not only trims, but also perms, curls and colors.
"Some people just aren't comfortable going into salons, and in some salons, there are a lot of chemicals they use if they do nails. The smell might bother people with allergies. Some people are just more comfortable in their own homes," said Gries, owner of Ann's Mobile Salon Services.
"There's no mess in people's homes. I clean everything up. I have been doing hair for 30 years, and I wanted to help people," said Gries, formerly a stylist at a small salon in the CHEER Center in Georgetown.
"I have a 96-year-old client. A lot of older people, or people who have illnesses, can't get out. A lot of customers are bedridden, or they're using walkers or scooters," Gries said.
So, she snips and curls throughout Sussex County, and is licensed and insured. As required, she sanitizes all equipment.
"Some customers were calling me to come to their homes, and I thought, 'This could be a business.' I worked at CHEER center more than 17 years. A mobile home business is really good," she said.
Customers are plentiful, and include those who no longer drive, who have Parkinson's disease or who have Alzheimer's and might not cooperate with a stylist in an unfamiliar setting. One elderly customer was uncomfortable placing his feet on the metal bar at the bottom of the barber chair in a salon. Others couldn't wear face masks due to health problems, and commercial salons couldn't let them enter.
A stylist since 1993, Gries charges $75 for a perm and $25 for a simple haircut or clipper cut. She sets hair with rollers and has a portable dryer but doesn't offer waxing or foil hair coloring.
"A lot of senior citizens have very low income, and some of them can't afford more than $25. For me, it's all about helping people. That's what I'm about. I feel I have a calling to help somebody. It's kind of a calling.
"Sometimes I do extra things for my customers while I'm there. I might take out somebody's trash for them. One lady in her 90s said, 'Come back and visit me.' They get lonely.
"I have customers who have been with me many years and a few who have followed me just a few years," she said.
After the pandemic ends, Gries will continue taking services on the road.
"The big thing is convenience, and that people are comfortable," she said.
Call (302) 245-3609 or see Ann's Mobile Salon Services on Facebook for more information.