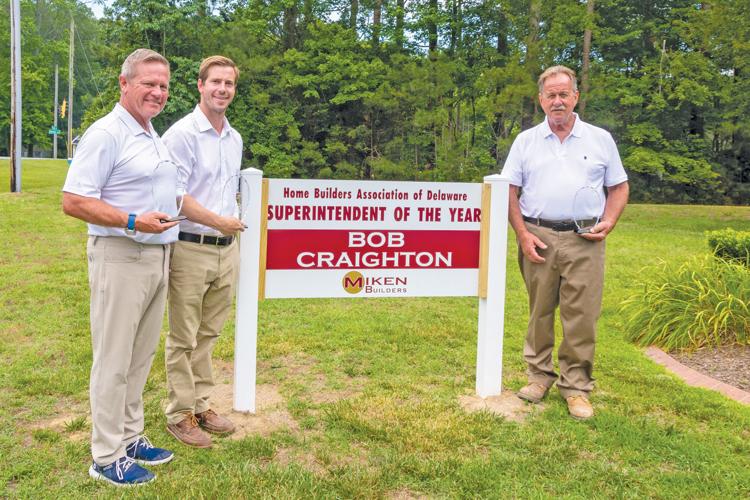 Miken Builders received several Regal Awards from the Home Builders Association of Delaware, based in Dover, in May.
Due to coronavirus restrictions, there was no awards banquet this year. Instead, glass plaque awards were delivered to the business, located on Cedar Drive in Millville.
Bob Craighton was named Superintendent of the Year. A 33-year employee of the company, he "works hands on with our sub-contractors," said Sean Cummings, a partner at Miken, project manager and son of owner Michael Cummings.
Gary Pitman received a superintendent award.
Miken won for Best Single Family Custom Home and Best Luxury Home.
"These homes are over the top. The Becker Morgan Group was the design company. Every detail was very high-end, right to the flower beds," Cummings said.
Miken Builders has been in business 35 years.
"We're very proud of the awards," Cummings said.
"This is our second superintendent to win this award. We wouldn't be the company we are if we didn't have these guys who have stuck with us 30-plus years. They are highly dedicated," he said.
Miken designs, builds and remodels homes and promises clients, on their website at www.mikenbuilders.com, "realizing your dream is our privilege, and all of our homeowners experience the true Miken difference."
The senior Cummings has 35 years of experience in the construction industry and is a "seasoned professional who brings his passion for building to all that he does."
A golfer who volunteers for Contractors for a Cause and attends St. Ann Catholic Church, he and his wife, Kathleen, have three children, Patrick, Catie and Sean, and grandchildren Noah and Savanna.