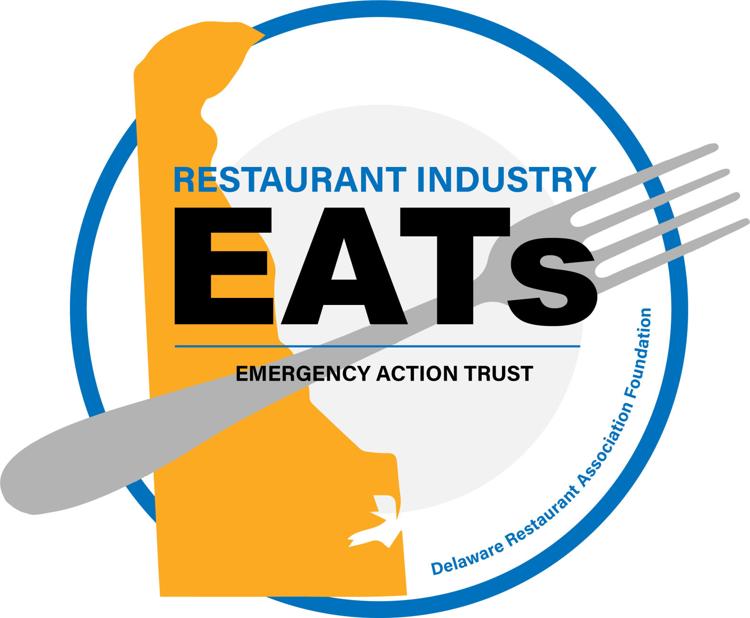 The Delaware Restaurant Association, through its 501(c)(3) foundation (Delaware Restaurant Association Educational Foundation/DRAEF) on Tuesday announced the formation of a new industry relief fund to aid workers displaced by the recent restaurant industry shutdowns.
Restaurant Industry EATs (Emergency Action Trust) will provide direct cash support to the many restaurant industry workers who have been laid off due to the recent restaurant restrictions in Delaware. The DRAEF will be funding the new trust with donations from individual donors and grants from local private foundations and corporate partners.
The Beer & Benevolence Foundation, created by Dogfish Head founders Sam and Mariah Calagione, is providing an initial $50,000 donation, with another $50,000 donated when the fund reaches $150,000. Their company will also donate profits from the sales of hand sanitizer the Dogfish Head Distilling Co. is currently producing for the State of Delaware to the EATs fund.
"Our company has benefitted from the support of the local restaurant community for the past 25 years," explained Mariah Calagione, Dogfish Head co-founder and communitarian. "As a beer supplier to the industry, and restaurant operators ourselves, we know the important role restaurants play in our local economy. We appreciate the Delaware Restaurant Association's quick response to the current crisis facing hospitality workers here in Delaware and encourage those who are able to join us in supporting the EATs fund."
Along with an anonymous individual donation, the trust has already raised more than $65,000. Text-to-donate and online links will be made public for individual donors in the next few days.
A record 11,000 Delawareans filed for unemployment in the first weeks following the restaurant shutdowns in Delaware. Delaware's restaurant workers (more than 49,000) make up 10 percent of the state's workforce and contribute more than $2.2 billion in annual sales. It is anticipated that as many as 25,000 will file for unemployment benefits in Delaware.
The coronavirus shuttered hundreds of restaurants in the first few days of the government mandated restaurant shutdowns, immediately displacing thousands of members of its workforce — and with 78 percent of individuals living paycheck to paycheck, immediate support of that workforce and their families is considered critical.
"We are seeing mass layoffs due to COVID-19, and I am blown away by the humanity of our amazing industry leaders and restaurant operators — each one asking the same first question — 'What can be done for my employees?'" said Carrie Leishman, president and CEO of the Delaware Restaurant Association.
"Together, we hope to raise awareness and funds to provide grants to full-time restaurant workers in Delaware who are dependent on wages to cover basic living expenses and provide for their families. Our goal is to provide $500 grants to as many qualifying displaced workers as possible. Our initial goal of raising $1 million would provide 2,000 grants to those most in need."
"Restaurants are truly the cornerstone of every neighborhood, community and provide a space to gather and connect for every type of occasion, but now is the time to give back to the industry that serves us all," DRA representatives said.
Those wishing to support restaurant workers and donate to the relief fund can make a donation at http://www.delawarerestaurant.org/relief. Any amount will be accepted, and a tax-deductible donation letter will be generated upon receipt of all donations.
The restaurant industry EATs relief fund will accept grant applications on a rolling basis via an online application at http://www.delawarerestaurant.org/relief and begin distributing funds on April 6, four weeks after the restaurant shutdowns began. Funds will be directly transferred into electronic PayPal accounts of applicants. Questions/comments can be directed to DEeats@delawarerestaurant.org.
The Delaware Restaurant Association is the state trade association dedicated to supporting, educating and advocating for Delaware's foodservice industry. Delaware restaurants are the largest small-business employer in the state and the largest component of Delaware's tourism industry. The Delaware Restaurant Association Educational Foundation is the non-profit, philanthropic arm of the Delaware Restaurant Association, dedicated to developing training initiatives for Delaware's youth and workforce.