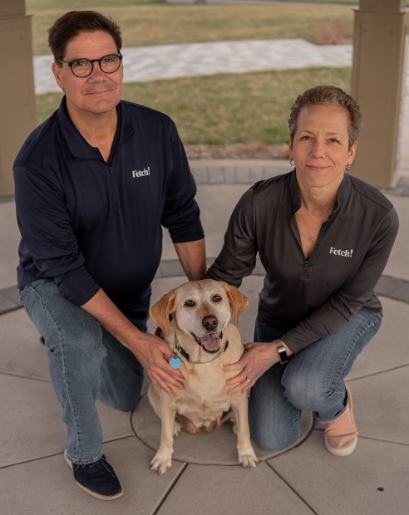 Fetch! Pet Care Coastal Del-Mar has opened in lower Sussex County, unleashing accommodations options for dogs and cats, as well as birds, parrots, gerbils and hamsters who need a walk, medication, dinner or somebody to keep them company, even overnight.
The company spans 29 states, with dozens of franchises, and the new Fetch! is owned by Charlie and Arlene McCullough, whose backgrounds are in the hospitality industry but who have worked for rescues and made rescued dogs their pets, including their 9-year-old Lab, Olive.
"We feel like we can help people. We felt this would be a good franchise to have pets watched by our trained sitters, because as pet owners we are familiar with the anxiety needing a sitter can produce," Arlene McCullough said.
"From a both a business and animal standpoint, we feel like we have a good feel for animals and a good feel for hospitality. As lifelong dog owners and animal lovers who have worked in hospitality for over 30 years, we are excited to combine the two passions and provide pet parents and their furry family members the highest quality service and hospitality," she said.
Serving towns including Ocean View, Millville, Dagsboro, Frankford and Millsboro, and Ocean City and Ocean Pines, Md., and the surrounding area, Fetch! will keep business hours from 8 a.m. to 8 p.m. Monday through Friday and from 10 a.m. to 6 p.m. on Saturdays, but sitters are available overnight, if needed.
"The company also uses a mobile scheduling and communication app called My Fetch!, which allows owners to manage each of their pet's care remotely, as well as receive updates on scheduling and services," McCullough said.
Prices include $25 for a walk or visit, and $90 for an overnight stay.
"We are a new business, so we are willing to work with people. If people need multiple services, we will work with them," she said.
Once a pet and his owners develop a tail-wagging relationship with a sitter, that same sitter, or a back-up, will return each time.
Sitters are being hired, and all of them will be trained, have background checks, be bonded and insured, and taught specialized skills needed to care for dogs, cats, birds and other small caged animals.
"We also do a little bit of home care. We will bring in your paper, check your plants, little add-ons. We check the lights. We offer overnight care or almost-overnight, meaning we come in for three hours, then we come back again in the morning," McCullough said.
Fetch! will even look after pets who are in wedding processions.
"There is a growing need for that kind of service. You want to have your dog in the wedding but you can't be carrying him all over all day, so we have pet manager and coordinator services for the day," she said.
Fetch! is also what she and her husband consider COVID-safe "because interactions are primarily with the pets."
For more information, call (302) 364-4025 or email coastaldelmar@fetchpetcare.com.